Tiny homes can be cosy, but there are days when you feel that walls are just closing in. And all the cluttered up space looks so untidy and drives you insane. We all have an area in our home where we wish that it was just a bit more roomy. Well, we have compiled up a list of ideas to maximize your space.
Light is right
Light colours make your space feel wider and add a good room to it.  The logic behind is that warm colours will give advancing effect while light colours will give a cooling effect and therefore recede. Oranges, yellows and reds are dark and so will give a cosy feel while blues, greens, white, peach and blue-violets in lighter shades will make room more spacious.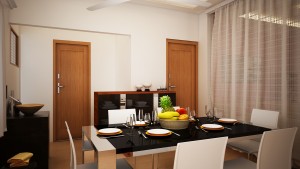 Add a fold-up table
Dining tables take up a lot of space in your living room or kitchen making less of floor available. Make room for a folding dining table into your kitchen. This would fold onto the wall while folding chairs are hung above and make the kitchen space look more open.
Store it under the stairs
Books, extra pieces of furniture, storage shelves, regular upholstery etc., are all the items that are needed in everyday lives and fill up the regular space available in the room. Adding a storage space under the stairs will get all these items occupied and add an ample space. Drawers, wooden shelves or even cabinets would just hit the right chord.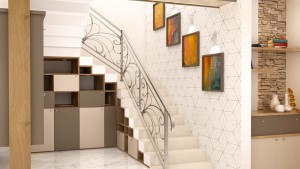 Get it with reflection
Sliding mirrored wardrobe doors and semi-glass paint finishes will reflect the available space into the room and help to toss light around making room feel more expansive. Adding textures of lighting or even a skylight can make the space look vast.
Add a raised hearth
Having plenty of seating for guests is a constant struggle in small homes. Installing a sturdy raised hearth will be one of the good options available for entertaining the guests. All you need to do is place a few cushions on the top and Voila! You're ready for a perfect get together.
Add to-scale furniture
Getting a right sized furniture is the most essential element in a home. Before bringing a furniture measure it to the right scale. Crowding a living room with oversized furniture would not be the best use of space.
Spacing up public rooms
Your living room and family room get the messiest because of the most traffic from friends dropping over, family watching television or kids sprawling over. Maximize space with multifunctional furniture such as ottomans that hold video game accessories and coffee tables that have drawers and open shelving below. You will love having hidden space when your busiest rooms are packed with people.
All of the above options can be used depending upon the size of the rooms and how much space needs to be utilized for the necessary accessories.
About the Author:
Sagar Datta heads and operates an interior design consultancy firm, Casa interio.  

comments