Tropical' is not a term which is only confined to weather conditions anymore. The tables have turned, the game changed and it's now being used as a condition beyond climate like in interiors for instance.
In order to get the tropical theme, here are some quick solutions!
Select colors: Re-form the palettes found in tropical foliage with neutral ivory, beige, khaki, mocha and brown, as well as shades of green. You might be drawn to muted tones of olive and sage, or select for greens that are saturated and vibrant.
Choose patterns and motifs: Beautify with lively patterns to reflect the lush vegetation and gorgeous flowers of a tropical setting. Schemes of animals, such as parrots and monkeys, add a dash of excitement and whimsy. Add attractiveness and color to tropical bedrooms with depictions of hibiscus, orchid and bird of paradise flowers. Look for decor with detailed designs of palm trees, fern fronds and banana leaves.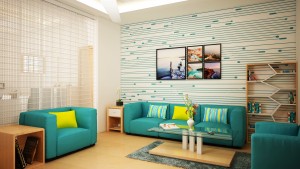 Choose your furniture: Rattan and bamboo have a laid-back appeal, making them popular materials for tropical bedroom furniture. You might also see fun tropical theme icons, such as pineapple and banana leaf motifs, incorporated into the designs. One of the joys of island decor is the chance to play with texture. Wicker and wrapped accents bring interest to drawers and tabletops.
Decorate with items: You may agree that large furniture pieces or an entire bed ensemble will not work with your budget; however, you can still complement tropical flair to your decor with carefully chosen home accents. Attractive throw pillows in eye-catching tropical designs instantly brighten the look of a bench or sofa. Unique tropical candleholders, along with a tropical wall mirror, create an inviting foyer. Patterned table linens, chair cushions, and valances bring a squish of color to your kitchen. The understated motifs of island decor allow for decorating versatility, should you decide to switch to a different style in the future.

If you enjoy decorating with bold statement pieces, consider a colorful wall sculpture, area rug or bed cover. Refreshing tropical wall art attracts attention. Tropical area rugs with large-scale flower blossom and leaf designs have a dramatic impact. A sparkling tropical bedding pattern sets the basis for your bedroom decor. If you like tropical decors but prefer an elegant minimalist look, seek out items with less colors and simpler designs.
About the Author:
Sagar Datta heads and operates an interior design consultancy firm, Casa interio.  

comments