Something which is easy to understand and explain,that is the nature of design we have created for this 2 BHK apartment at L&T South City.The client wanted professional interior designers, Ghar360 to create an interior space that is minimal and sophisticated.
This 2bhk apartment in Bangalore is a very contemporary, smart and aesthetically pleasing affair. The interior designers and decorators at Ghar360 have truly accomplished a fine job.
These are the homes we've loved designing and implementing. Like what you see? Then book a design consultation with us now: +91 9945535476
Living Room
A beautiful TV unit
Living room can serve many different functions, including a place to gather at the end of the day, a place to share stories, to watch TV, or to share a meal. It is often a place we display family photos, and it is a true reflection of those who inhabit the home.
The glossy black and beige TV unit makes a bold statement here, while a curvy and minimalist console unit displays showpieces. A sleek sideboard offers additional storage to the right of the TV unit, while paintings of figurines add artistic interest.
Foyer
The foyer is an artistic and sophisticated space, with a trio of paintings adorning the white wall. A couple of trendy chairs offer cosy seating, while a tall black vase holding bright yellow flowers add freshness here.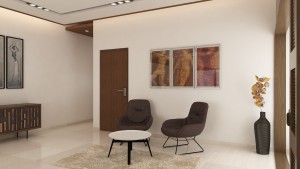 We have designed a spacious shoe rack to keep this high traffic area from getting cluttered with piles of shoe.
Like what you see? Then book a design consultation with us now: +91 9945535476
Seating 
There's no better way to make guests feel at home than to opt for large upholstered sink-in sofas.The coffee table and ceiling lamp are minimalist touches, while the soft curtains make for a dreamy and relaxing atmosphere.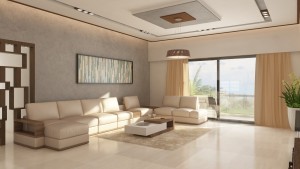 Our designers made sure to meet all expectations of our clients to fullest within the client's budget
Living and Dining Partition 
Dividers are used here to create an informal and formal demarcation between dining and living room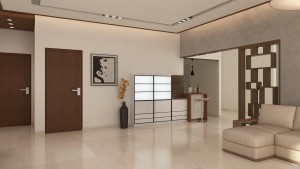 The wooden partition that separates the living and dining areas is a quirky and geometrical affair, with shelves which can hold artefacts or small potted plants. The kitchen on the other hand, is right opposite the living space but hidden behind a white and glass counter and a compact breakfast nook.
A small breakfast nook by adding a small counter and couple of stools
To know more about our quality services contact us at +91 9945535476  ( Bangalore )
comments