There's not a lot of room for experimentation when it comes to home renovation. Supplies and materials are expensive, and so is labor. Even if you do the work yourself, who wants to spend all their free time for weeks working on a project, only to end up not liking the results? You want to see what your remodeling job will look like before you complete it.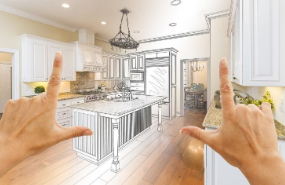 Whether you're just thinking about changing up your paint colors and buying some new furniture, or you're making more substantial changes like new windows, a deck or an addition, there are apps and web tools that can help you brainstorm design ideas. With the help of some of these digital tools, you can visualize how a new color of paint will look on your walls, see how much entertaining space that new deck will add to your backyard or evaluate different furniture arrangements without moving everything around multiple times.
Magicplan
Before you contact a Denver contractor for window replacement or other home remodeling needs, you need to collect information about the space being remodeled — for example, measurements. But these days, you don't need to bust out the tape measure. Magicplan allows you to create floor plans of a room with your phone in less than a minute. In addition to automatically capturing and displaying measurements, Magicplan also allows you to estimate materials needed and costs, add photos and markups, add notes and objects and edit plans to document the progress of your home renovation.
Buildshop
Buildshop offers both a free version for homeowners and a professional version for contractors. The free version allows you to organize your home renovation ideas, save and review quotes, track your budget, prepare to hire contractors, track to-do-list items and more. You can estimate costs, schedule jobs and activities and break down home remodeling projects into bite-sized tasks. Keep drawings, photos, contacts, messages, check lists, quotes, budget info and more all in one place.
Paint My Place
A fresh coat of paint can breathe new life into your home décor, but it's not always easy to pick the right shade. Paint My Place allows you to preview what different paint colors might look like on your walls, without dragging home a crate of samples. Snap some photos of your rooms and use the app to switch between your favorite paint colors from leading brands.
Deck Designer
A new deck can add value to your home and give you a space for outdoor entertaining or relaxing with your family. But how big is too big? What size and color? Where is the best place for stairs? How many railings and how high? Trex Deck Designer lets you visualize the size and shape of your new deck, choose materials and colors and print out deck design diagrams and a report that includes the materials you'll need and their cost. It can even help you hire a contractor to build your new deck.
Roomscan Pro
Roomscan Pro offers users three easy ways to create a floor plan using a phone or tablet. Roomscan does all the drawing for you, and there's no dragging and dropping — add doors and windows simply by touching the frame. Newer devices allow users to create floor plans using augmented reality scanning, while older devices require the user to move the device along the walls to create a plan. Export your plans as image files for free, or create CAD files, PDFs or other file types.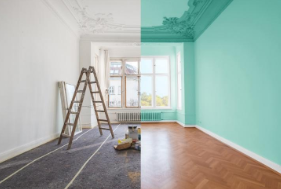 HomeDesign 3D
HomeDesign 3D lets you create floor plans, try out furniture placements and experiment with design elements like flooring materials, wall thickness and room dividers. You can decorate and design both indoor and outdoor spaces, track your progress in 3D and real time and see how your newly designed space will look at all times of the day and night. Import your home's blueprints for ultimate design accuracy and share your designs across devices easily.
Digital design tools and apps let you play around with home renovation and remodeling ideas without committing to purchasing materials and lining up labor. Whether you're planning a full home remodel, considering a new paint job, rearranging your furniture or simply entertaining yourself with new design ideas, these apps can make it easy to realize your goals — and have fun doing it.
comments