Usually when one thinks of painting a home, it seems like a very easy step-prep-go procedure right? Well, that isn't really the case. Even a task as simple as painting can actually be a strategic decision. So, let's give you some housing tips along with taking you to a journey of painting your home.
1. Choosing right paint:  The type of paint you'll use depends on how the room to be painted will be used and the type of finish you want. Interior house paints are either latex- or oil/alkyd-based. Today, most oil-based paints are made with synthetic resins (alkyds), which perform better than paints based on natural oils. Each has different characteristics and uses. Latex gets you long-lasting finish with the best gloss retention whilst oil gives you good adhesion, excellent durability and stain resistance.
2. Coordination: Ensure your selection of paint coordinates well with other home elements like upholstery color, space planning, floor color and décor elements.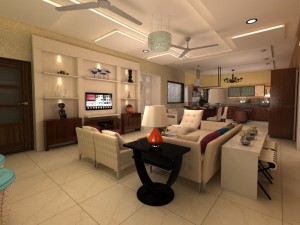 3. Select a wall finish: From flat to gloss, both latex and oil/alkyd paints offer a full range of finishes.
A) Flat – A non-reflective appearance that helps hide surface blemishes, making walls look smooth. This finish, which cleans easily with a damp sponge, is ideal for:
Adult bedrooms
Dining rooms
Formal living rooms
Ceilings
B) Satin – With its slight gloss, this finish offers the benefits of richer look. It works best for high-traffic areas such as:
Halls
Woodwork
Children's bedroom
Family rooms
C) Semi-Gloss – This lustrous, durable finish is perfect for areas that get cleaned frequently, such as:
Kitchens
Bathrooms
Utility area
Closet doors
Trim
D) Gloss – This lustrous, durable finish is great for windows, doors and trim or any area that you would like to highlight and is excellent for:
E) Pearl- A subtle shimmer midway between eg-shel and semi-gloss offering a lustrous finishing touch.
F ) Flat Enamel- Anonreflective appearance that helps conceal surface imperfections while providing some washability.
G ) Matte- This flat finish is great for hiding surface imperfections, while its angular shine helps make walls smooth and washable
H ) Eg-Shel- Great to use for walls, eg-shel finish has a slight hint of shine and holds up better to cleaning.
I ) Low-Lusture- A smooth, subtle sheen that's durable and easy to clean.
J ) Medium-Lustre- This higher-gloss finish is perfect for doors and trim.
4. Paint and prepare:
–  Remove draperies, pictures, mirrors, area rugs, hardware (if possible), and switch and receptacle cover plates.
–  Move all furniture to the center of the room or the room, if possible. Cover all furniture with drop cloths.
–  Tape off woodwork and tape down plastic drop cloths.
–  Wrap plastic around light fixtures, and use masking tape to cover any hardware you can't remove.
–  Open a window or door to ensure good ventilation.
–  Clean the surface as needed.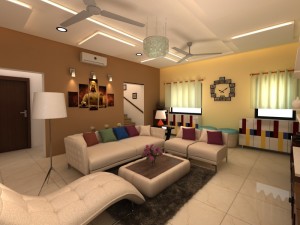 5. Buy a quart first instead of a large quantity in case you're not committed to the color as mindsets change. Try a secretive tip, paint a piece of foam board and move it around the room to see how the light affects the color at different times of the day.Know the square footage of the room you are painting before you head to the store.
6:  Don't apply latex on an oil finish and vice versa without first sanding the wallsand using a quality drywall sander, then wiping away the dust particles with a tack cloth. Apply a primer of the same composition (oil or latex) of the intended topcoat. To tell whether your current wall color is water- or oil-based, douse a white cloth with rubbing alcohol and rub it on the wall (in an out-of-the-way spot). If the paint softens and begins to transfer onto the cloth, it is water based. If the alcohol does not remove any color, it is oil-based.
7: Allow at least 24 hours to dry before bringing everything back into the room and setting things up.
About the Author:
Sagar Datta heads and operates an interior design consultancy firm, Casa interio.  

comments