1:How can we make our staircase useful for purposes like storage?
Well you see staircase hold the potential to not only be used for climbing and reaching floors, it can have unconventional storage spaces around it to declutter your home. Whether it's a traditional or modern house, there are plenty of elegant ways that can help you have storage with beauty quotient maintained. The space around the stairs can be turned into smart, built-in lockers for storing various objects. The stair steps can be used for drawers, without any guests noticing. Shelving units are perfect for decorating items you want on display. And my personal favorite idea- turning your staircase into an original bookcase. You can customize shapes as per your staircase structure and use it as per your purpose and choice.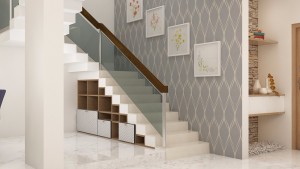 2: What is the latest, that's trending, in terms of design?
Well the use of stainless steel, wood and glass is the fashion that is making the entire buzz these days. The designs are dependent upon the type of home set-up like if it's ultra-modern, ethnic, contemporary, modern or old. However, we have seen replacement of marble staircases or all-wood staircases to now having wooden staircase with stainless steel railings, etched or broken glass effect topped with wooden staircase, iron railing paired with wood stairway, toughened glass staircase with stainless steel supporters etc. Either the design appeal with these combinations is simple or quite experimental.
3: What all can be done to the staircase wall to make it come alive?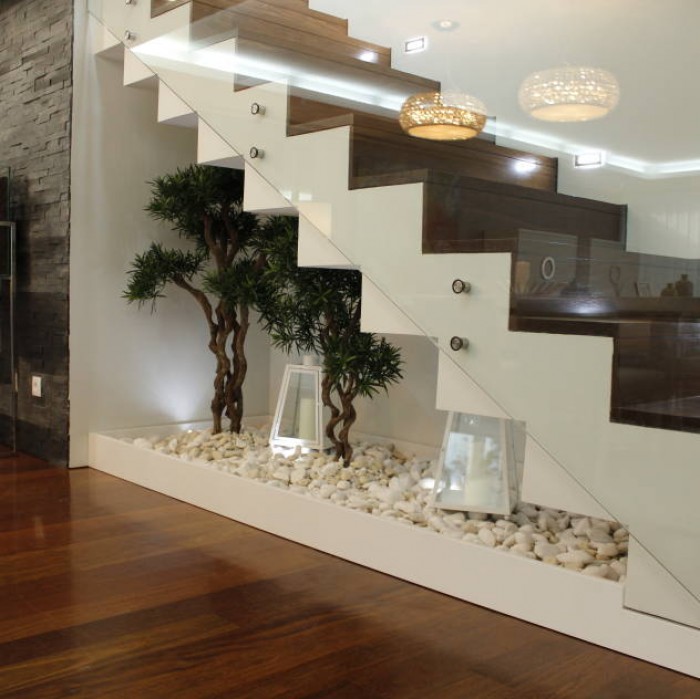 Well you can pretty much make a staircase come alive at a budgetary and non-budgetary scale and I believe as a designer it requires an appeal to get noticed being an integral part of home. You can use a contrast color paint or tile below the stairway to the color of wall above it to make it appealing, you can place plants and pebbles which is an affordable idea below the staircase to add some freshness, you can create shelves and place show-pieces below the stairway, you can only put floor-mounted lights that manage to add illumination as you the staircase or be creative enough to customize an aquarium as per staircase and position it. The ideas are plenty; the approach is what actually counts by the end of it.
About the Author:
Sagar Datta heads and operates an interior design consultancy firm, Casa interio.  

comments