Discussion about stairs has being done many times and most of the time we get stuck up with staircase styling, material, type of stair, etc. and we always forget about an important and essential part of the staircase that's lighting. The stairway lighting got lost along the way so we decided to focus on this lost and actually the most important element of the stair design. A staircase without appropriate lighting is like inviting accidents and hazards at your door steps. Staircase lighting is as important as staircase designing. So let's give a try to get the staircase design out of the dark corners of ignorance and dullness.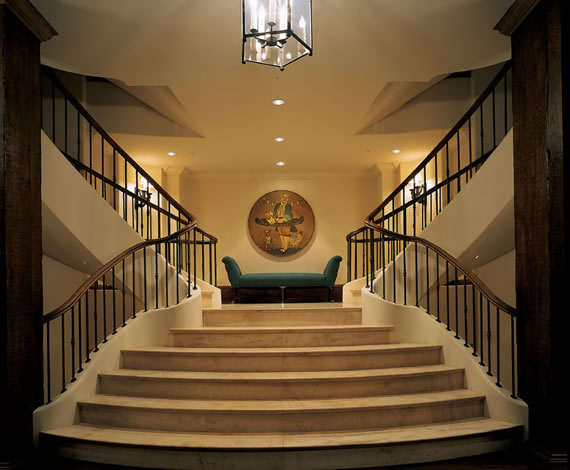 Staircase lighting can be dramatic, subtle and functional – or all of them depending upon the staircase size, staircase location, purpose and material used to make it.   Stairs are often a key focal point in a house and can lead your eye through from one space to another to create a silent impression without creating any disturbance in your designing and decors. Lighting up staircase very much depends upon the design, construction and desired look and feel. There is no right, wrong or specific way to light up your steps. You just need to light them up properly to get dull free, dramatic and aesthetic staircase. But on the other hand planning of the staircase lighting according to the design and desire in very important.Whether you're lighting from above, at tread level or in the wall or string, fabricating the staircase lighting into the plans is vital in order to achieve the desired staircase lighting and design.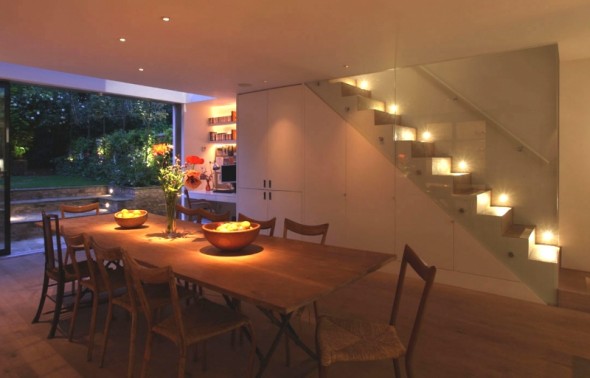 Before you put any staircase lighting idea in your designing and imaginationit is important to know about the types of staircase lighting:
Step to step lighting: Staircase is lit by little LED 'mushrooms' located on each tread of the stair design.  Light up each and every step with this small yet powerful and aesthetic step lighting to get that wow as well as dramatic look for your staircase.
Horizontal linear step lighting: Glow up each and every tread with these linear step lighting. Perfectly meant for narrow stairs to create ample of light effect and breathe taking dramatic looks. It provides excellent no glair lighting which gives a very clear and neat vision of every step.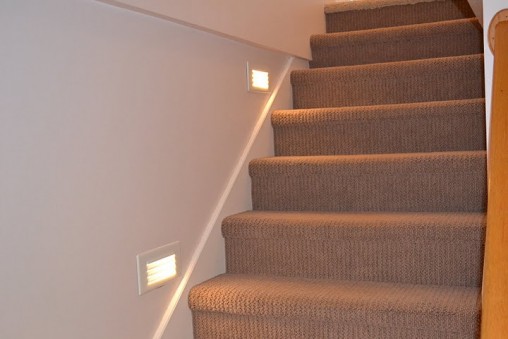 Wall adjacent lighting: Lights being fixed up after 4 to 5 steps adjacent to staircase to give a simple yet attractive look. They clearly light up the stairs and bring a hassle free look to it. They can't be used to create a dramatic effect but still they have their own decent quality to conquer over other staircase light types.
Hanging lights: One can even opt for hanging lights around the staircase to get a well illuminated and attractive staircase design. They work well in case of huge staircase or huge area. They have their own way to impress your staircase design area. Hanging lights with different kind of shades is an additional quality to it.
Wall mounted stair lights: Simple and regular wall mounted lights can also be installed to eliminate staircase dullness. They are of their own kind and give a sophisticated and unique appears if used with different kind of shades or different color or shades design variety.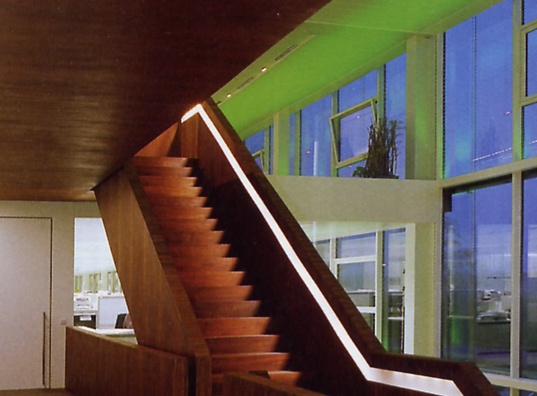 So, now you know the types of staircase lights. After having this knowledge don't delay to implement it to real staircase lighting design idea. You may go for step to step lighting for that rich royal and dramatic look. One may consider of using horizontal linear lights to give your narrow stairs a bigger look. To get the well illuminated large area of staircase space opts for hanging lights. Hanging lights light up your staircase area as well as they push in a real classy look to the specific area. For the simple and decent looks and fit to budget try out your ideas with wall adjacent lighting. And last but not the least simply to charm up and glam up your stairs wall mounted lights are ready to serve the purpose. Creating steps is easy but remember let all your step get well illuminated as well for a safe, hazard free and aesthetic staircase design.

comments