Having an open space inside or outside your house like veranda, porches, balcony, exteriors, outdoor garden space, etc. is always a good idea to have a small sweet part attached to your home for some wonderful evenings, morning tea and enjoying your time with family and close one. Reinvent your yard or inner space with a new deck, patio, cottage, dining room, or curl-up space for that real look and feel to enjoy your small world of happiness. Get more of the space to relax back and have a peaceful time with family under the roof of sky.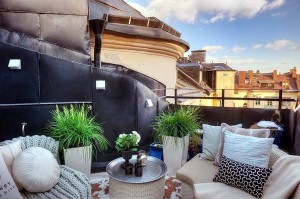 Veranda or outer courtyards have their unique and special when attached to your home sweet home. Turn your veranda design ideas into real with little effort and playful designing. Figure out with the material you want to pamper your veranda floor, create few of the steps or level for an interesting and dramatic way of styling. Enhance the beauty with classy garden umbrellas. Create some shady patio so full of greenery, trees, flowers etc. for a perfect summer evening. Lay down the classic herb garden design with small beds of brick pathways between them to catch the real beauty of nature for your outdoor beauty.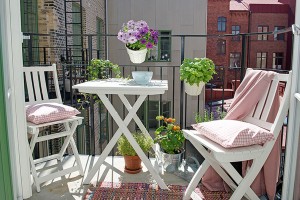 Enhance those relaxing moments with a patio-size water garden or open and glazed veranda designs. Colorful new annuals come onto the market every year for a fresh change. Browse the market for that new and fresh look for your outdoor impression. Get your outdoor space or veranda space party-perfect with some of patio deck designs, bamboo chairs, bamboo set of furniture, garden umbrellas etc. escorted with some pebbles, water blocks and perfect effective illumination to charm up your evening times. Wooden furniture, marble seats or stone seating pushes in the authentic natural of nature. It gives you feel to get close to nature sitting at your home.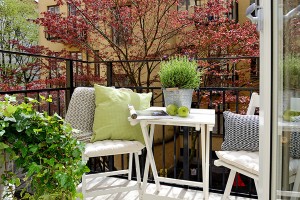 Small or big outdoor/veranda should not limit your desires and dreams. Even the tiniest patio area, veranda space or balcony will feel more interesting if you play with floor levels. Well planned and designed outer space can achieve a sense of the grand and dramatic by making it symmetrical. Effect can be created with two loungers, matching pots of plants and miniature trees, with a decking path running down the center. Formal, trimmed trees like a bay tree will help add to the formal effect in a small garden patio. Let pebbles join hands to beautify the space in more of the rough and natural look.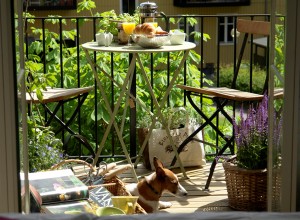 Create a greenly roof with simply installing wooden beams and few outdoor plants to it. Let the sunshine get filtered through green horizontal roof garden. At times it can be tried in place of garden umbrella. It makes your evenings more perfect, more peaceful and much interesting with a book, side table, relaxing chair and tea by your side. Go for a painted picket fence as a patio feature to create a cute cottage look. Easy to install more over it gives a complete and meaningful look to your little small patio / outdoor garden area.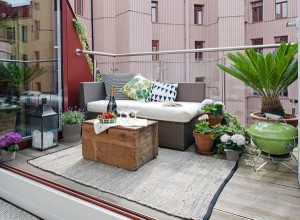 Cushion your veranda seats for a comfortable and long evening. Hanging flower pots with colorful different flowers will enhance the beauty of your veranda or balcony styling. Make it a picture perfect place with wooden flooring if possible. Add on beauty with some wrought iron furniture or tables. To create that typical look of Indian tradition spice your balcony designing by just placing two or three murah's (Indian bamboo low height stool). These low height Indian seating (murah's) are easy to manage, to relocate and always suitable with the overall decors of every space.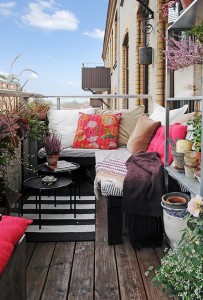 If you're outer yard is situated near your home swimming pool then, nothing better than glass furniture (especially glass table) will be appropriate. Not just the mornings also let the evening glow up with effective landscape illumination effects. It's time to warm up and charm in the beauty of your exteriors with sweet seductive veranda design ideas.
Image Credits: http://www.housebeautiful.com/
comments