Before starting any construction project, you should first confirm that you have the right tools. This will spare you from the trouble of getting stranded when you are in the middle of task. The other problem is that you might end up doing a shoddy job simply because you are not well equipped. And although there are many tools that can be used at a construction site, it's only a few that are essential. If you can't afford to buy them, you should consider hiring them from the nearest convenience store. For the sake of enlightening those who have never handled a construction project before, here is a list of the most crucial tools.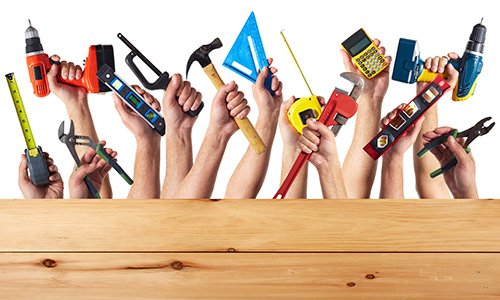 Woodworking is both a trade and a hobby that many people around the world enjoy. However, if you don't have the right tools, you might find that getting the end result you're seeking is challenging. You can visit woodworkology.com  for more information about tools
1. Hammer and Nails
There are actually several types of hammers but the claw hammer is the most common. In fact, the choice of a hammer is determined by the job at hand. A claw hammer is used for driving nails on wood. It's also needed when pulling the same nails out. If you want to demolish a structure, a sledge hammer is all you need. On the other hand, a rubber mallet is ideal for situations where you don't want to leave marks on the surface that you are working on. If money is not a problem, you should consider buying an electric nail gun because it's more efficient than a manual gun. But before you make your purchase, you should first visit Tool Tally just to see how the hammer is rated by other people.
2. Power Drill
Drilling a hole through a wooden or concrete wall can be a cumbersome task when you are not equipped with a power drill. You will actually take ages to make just one hole. With a power drill, making holes is like a walk in the park. You simply place the bit on the surface and pull the trigger. There are two types of drills; those that are powered by electricity and those that run on rechargeable lithium batteries. If you opt for a corded drill, you will be limited by the length of the power cable. With a battery powered drill, you can go as far as you wish. The only shortcoming is that you will have to stop when the batteries run out of power and recharge them.
3. Screwdriver
A screwdriver is a small tool that's used for driving screws into a wooden surface. There are two types of screwdrivers. The most common type has a flat shaped tip. This type of slot is recommended for tightening and opening screws that have a single slot. The other type of screwdriver is known as Philips head and is used on screws that have two slots that make a "plus" sign. Advanced screwdrivers feature a double edged tip that's also detachable, meaning you can use a Philips head tip and a flat tip simultaneously.
4. Saw
A traditional manual saw comes in handy when you want to cut wood into desired length. However, most people don't like it because it's tedious when compared with other types of saws. Besides that, you can't use it for making customized cuts such as contours. That's most builders and DIY maniacs prefer to use jig saws and table saws. Since these saws use electricity, they are able to cut through thick planks of wood at the blink of an eye. The only problem is that they are bulky, which means they require a lot of space and can't be moved around like a manual saw.
5. Tape Measure and Level
A tape measure is used for confirming that the structure you are making will fit into the space that's available. Without a tape measure, you would end up cutting materials that are either too long or short to fit into the space that you are working on. A tape measure is used alongside a level. The level lets you know if the surface you are working on is flat or uneven. A level contains a bubble of water or spirit that indicates on the evenness of a surface. If the bubble settles between two vertical or horizontal markings, the surface has a uniform level.
comments