Every one of us imagines spending the rest of their life in some spacious cozy flat that will hopefully come somewhere down the line. The thing is, for most of us, that dream home with big, functional living room graced with all the amenities we can imagine simply never happens. What should we do then, give up trying and come to grips with our homes as they currently are?
Of course not. We all deserve to have our cozy living rooms and we can put them into existence even when the conditions are not the best. Let us take a look at some of the tips that can help us along the way.
Work on the layout
The thing that prevents most living rooms from being truly comfortable is the lack of space. There is no way you will ever get some sense of enjoyment if you are constantly tripping over stuff. Why shouldn't you, then, tear down a couple of walls? If we take a look at Australia, we can see that people in Melbourne, Sydney and other metropolitan areas are usually solving this problem by embracing the open floor concept and turning their living rooms and kitchens into one functional and interrupted space.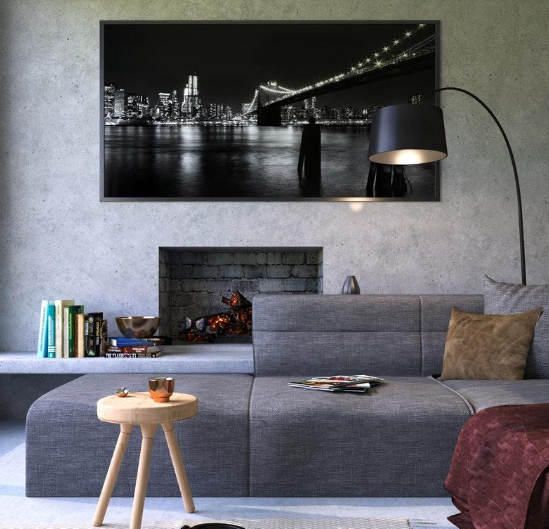 Let the sunshine in
Natural light lifts our mood, helps people be more productive and generally speaking, creates a more comfortable space. But how are you going to expand the window space without taking the toll on your electric bill? Well, if we stay in the Land Down Under, or to be more precise, in its unofficial capital a bit longer, we can see that installing double glazed windows in Sydney are gaining quite a following. And for a good reason too. They look good and do wonders for sound and heat isolation. Put them on the list.
Move in the seating pieces
Different people have different views of what coziness stands for. However, it is hard to argue that comfortable seating makes the lowest common denominator in all these stories. So, move in one big cozy sofa where you'll spend your lazy afternoons. And make sure you have a couple of equally as handsome loungers spread around it. Spending too much time on one piece leads to boredom and nothing speaks variety like a lounger in the vein of Friends' Rosita.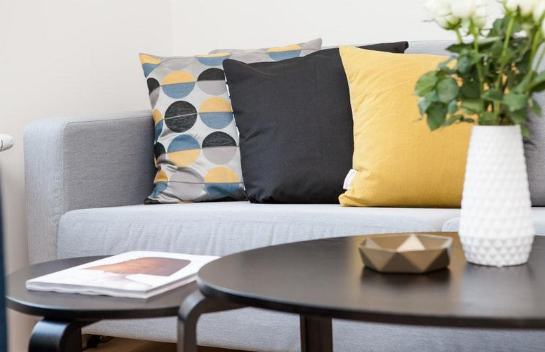 Populate the room with the things you like
Not everyone has enough room to make a personalized man cave (or woman cave for that matter). If that's your case, why wouldn't you bring that sense of personalized joy directly into your living room? The goal here is to allow yourself to enjoy as many things you like with as little movement as possible. Whether that means bringing in your vinyl collection, turning your living room into a small art gallery, installing the latest gaming system or something completely different is entirely up to you. 
Use rich color tones
Although we usually associate coziness with different physical properties, the visual aspects of some space can do a lot to make that space appear warmer. So, if you feel your living room is lacking that special "something," try painting the walls in some rich, extra-saturated color. We recommend going with cranberry red that makes a quite pleasant visual impression. And if you want to truly hit the home run with this idea, populate the room with colorful pillows, blankets and decorative rugs.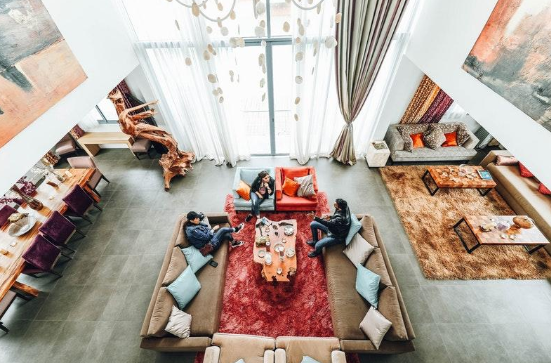 Don't smother the room
While you are doing all the things we've covered above, don't forget that your room needs to breathe. Drowning it in unnecessary details, massive furniture pieces and excessive clutter will make it far less functional and visually confusing. Therefore, make sure that you always have enough walking space and use accessories sparingly. Cabinets and drawers need at least 80 to 100 centimeters in front of them to be usable. When we are talking about the space between different pieces, it should always be kept above 40 centimeters.
We hope these six tips will allow you to get the cozy living room you've always wanted even if all the building blocks are not quite in place. The thing you should keep in mind is that coziness has nothing to do with the available space and that the enjoyment you can get from a room is limited only by your imagination. Now get to work and make your dream home a reality.
comments