A bedroom doesn't have to be big for it to look exceptional. The main purpose of having one is for you to sleep in it and to store all your belongings. Sleeping in a small bedroom gives you a better night's sleep, but decorating a small room can be challenging. If you think your room needs a makeover, you can do it creatively.
Here are some ideas that can help you achieve your dream room even with limited space:
1. Embracing Minimalism
Properly layering your bedding can make decorating much easier because you'd be clearing up bed space. Due to limited space, adding pieces of furniture to your room can be difficult so you have to make do with accessories and items. You can just include all the essentials to save up storage in your bedroom. Keeping them down to a minimum quantity will give you more space to move around in.
2. Placing a Bed in the Corner
Pushing your bed against the corner can save a lot of space in the room. At first, it can be difficult because you need to properly fix your beddings because the other bedside is placed against the wall. Your bedroom will look bigger and even feel cozier.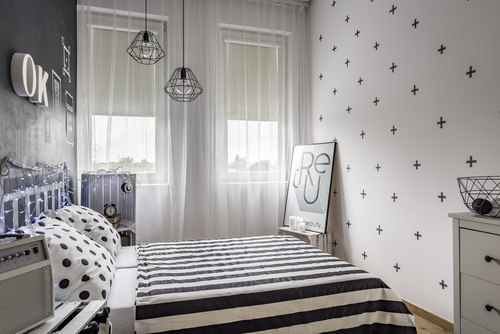 3. Keeping the Color Palette Neutral
Having light and neutral colors in your room can brighten up space and give it a bigger look. The most practical colors that you can use are white, beige, cream, ivory. You can even complement these colors with light colors of your choosing. You can always add a piece of accent furniture to transform your neutral-colored room into a stylish one.
4. Installing Floating Shelves
Floating shelves are very versatile additions to a small bedroom because you can use it for a lot of things. Here are some of the ways you can use these shelves:
Bookcase
Place to hold your favorite photographs
Nightstand
Study table
Laptop desk
These built-in floating bookshelves are very useful for storing some of your essentials. They can also be considered as decorative pieces that will make your room stylish and neat at the same time.
5. Having a Statement Wall
Adding a pop of color or design on the wall can add life to your room. Once you have painted your entire bedroom in whites and neutrals, you can now add an accent wall. You can choose a bright color to give an illusion that you have a big space. A wallpaper installed on the wall behind your bed can also be a great idea to make your room alive and bigger.
6. Storing Stuff Under the Bed
A smaller room means you have a little space to stash your clothing. Considering to get a bed with underneath storage is always a good idea. Lacking space to keep your belongings will not be a problem anymore because of this amazing invention. Head out to the nearest furniture store near you and see what this bed has in store for you.
7. Adding Mirrors
Mirrors are the best accessories that you can use to make your bedroom look spacious because they will give a small space an illusion that it is big. They can do wonders especially when you place it against your window for even more natural lighting. Adding mirrors will surely make your room look good and bigger at the same time.
8. Mounting the Lights
Wall-mounted lights are the best option if you want to add lighting to your room because they take up less space than table lamps and nightstands. Always choose light emitting diode or LED lights because they are long lasting and energy saving. You can save space and be practical at the same time with these wall-mounted LED lights.
9. Hanging or Removing the Headboard
Headboards can take up space in your room. You might want to consider hanging them above your bed to save up some precious inches in your bedroom. If you already have an accent wall placed behind your bed, removing the headboard can also be possible to show off its design. You can actually sleep without them. Save up some space and skip the addition of a headboard.
Final Thoughts
You can still have that cozy and modern bedroom feels you want even if your room has a small space. Having a limited space will not restrict the countless designs that you can do to your room. Keeping it clean and organized will also help to make it feel bigger and brighter. It may be difficult at first, but you will eventually enjoy decorating your room until you achieve the perfect design of your dream room.
comments