The garden and backyard are the main essences of your home- as they give the exterior a more complete, lush and aesthetic look. A lively, green garden makes your house a 'home'. There's no doubt about the fact that every house needs a backyard for many utility and domestic purposes. However, we must maintain the conditions of our garden and backyard so that they continue to be a great, serene area of the house for us.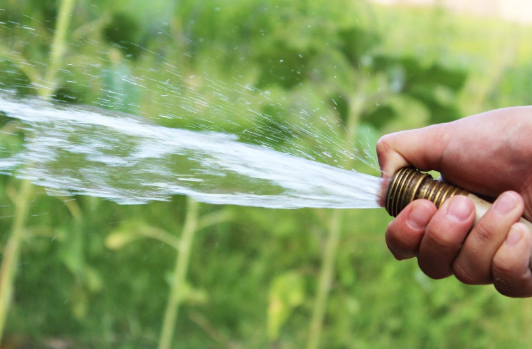 In order to facilitate you in the tedious maintenance chores, cozy down home is a site that brings to you some of the most essential hardware for your garden and backyard.
Sprinkler Controller
The key to maintaining the lush green look of your lawn is a daily dose of watering. Sprinklers are the gift of technology that makes this tedious task easier for you A sprinkler will conveniently spray water over all the lawn area as it has a wide range and will make sure that all parts of the garden have received an abundant water supply. 
Any sprinkler is good enough to serve the main purpose of watering but now some advanced sprinklers have various, impressive features. A sprinkler controller is very flexible to use as it allows us to set times when and how long we want our lawn to be watered. Some sprinklers are computerized, can connect to Wi-Fi and even have a specifically designed app. You can easily customize its working according to your desired needs and requirements. 
Electric Lawnmowers
A garden should be visually appealing and for that matter, uniformity and thickness of grass matter a lot as it dominates the entire garden's look. Mowing the lawn was one tiring and extensive task to do regularly, but since the electric lawnmowers have been introduced in the market, this is no longer a difficult job. This is one popular garden machinery because it's very convenient to use, saves a lot of time and is less invasive. Another plus point of using electric lawnmowers is that they are completely silent and noiseless, hence you don't need to worry about disturbing your neighbors. They have two basic types; cordless, battery ones and cord ones, you can choose the one suitable for your needs.
Electric Chainsaw
An electric chainsaw is the one must-have tool for your backyard, not only because it's extremely useful but also because it's very versatile. Requiring no manual labor and being surprisingly lightweight, this compact tool is easy to carry around. The electric chainsaws are quite quieter as compared to gas chainsaws. They are capable of sprucing up trees, trimming small trees, limbs or branches, cutting small logs, and other cutting tasks around your yard.
Lawn Edger's
The lawn edger is meant to give your lawn's grass a refined trim finish. It uses a turning metal cutting edge like those found on most trimmers. Nonetheless, the objective of this specific machinery is to give clean lines between the grass and different territories, like pathways, garden beds, or walkways. A grass edger is a more specific tool that can assist you in making the delightful, serene yard you always wanted.
comments