Heating, ventilation, and air-conditioning (HVAC) systems are designed to provide proper air circulation in your home. They help maintain a consistent, comfortable temperature all year round. 
However, temperature variations, such as hot and cold spots, may still exist. Can you imagine waking up nice and toasty in your bedroom, only to be greeted with a chilling temperature in your living room? 
Constant temperature fluctuations in your home can be frustrating. If you live in the United States, you don't need to put up with it. Consider consulting a reputable HVAC specialist like LCS, a reliable heating and air conditioning Indianapolis company. 
In this article, you'll learn about four causes of uneven cooling and heating temperatures in your home and how to resolve them immediately. 
Airflow Issues
Blocked airflow is one of the most common reasons you have uneven temperatures in your home. These factors typically cause airflow problems:
Blocked Air Vents: Most heating and cooling systems use ducts to deliver warm or cool air into your home via a network of vents. If these vents are blocked, treated air may insufficiently regulate indoor temperatures. It's a typical cause if one room is having temperature issues. 
As such, checking your system and vents is essential to ensure nothing is blocking the airflow. However, if you think there's an obstruction in the ducts, you can seek help from reliable HVAC experts. In most cases, dust and dirt accumulation can block the vents and ducts. 
It's essential to have your HVAC system regularly maintained and cleaned by the pros, ensuring that the unit and ducts are free of obstructions. If you want to learn more, this YouTube video shares the importance of regular HVAC maintenance:  
Dirty Filter: Airflow issues are primarily caused by a neglected air filter. A dirty air filter can affect proper airflow. With less airflow, it can take longer to regulate the temperature in your home. Aside from reducing the airflow, it also forces your HVAC system to work harder and reduce efficiency.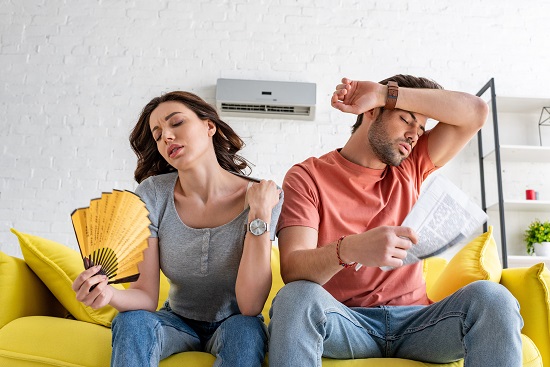 The extra strain on your HVAC system can influence its lifespan. Hence, cleaning or changing filters should be a part of your regular HVAC maintenance to-do list. Generally, experts recommend cleaning a reusable filter or changing a disposable one every one to three months. That said, you should check your filters every month, cleaning or changing them if they're filthy. 
Solar Heat Gain
Does your living room or kitchen have window walls? If so, these areas can get direct sunlight.  Consequently, regulating the temperatures is more challenging than in rooms with minimal windows or direct sun exposure. 
The only fix here is to block or reflect the sunlight. You can do this by following these tips:
Install an awning outside.
Put up blinds or shades.
Tint or replace your windows.
Grow a hedge or a tree to provide shade.
If cooling is an issue during summer, you can run a ceiling fan to distribute cool air into the room. Otherwise, you may consider adding more cooling devices to the room. 
Poor Insulation
Air leaks can lead to poor insulation. Thus, they can reduce your system's ability to regulate temperatures. As such, upgrading your home's insulation can help prevent treated air from escaping your home. 
In particular, the attic and basement should be insulated to prevent air leaks, especially during winter. Also, you can check for cracks and gaps around doors and windows. You can add caulk to seal them if needed. 
Wrong Thermostat Location
The thermostat controls your heating and cooling system. It also plays a crucial role in keeping the indoor temperature consistent. Ideally, placing your thermostat away from direct sunlight or heat sources is best.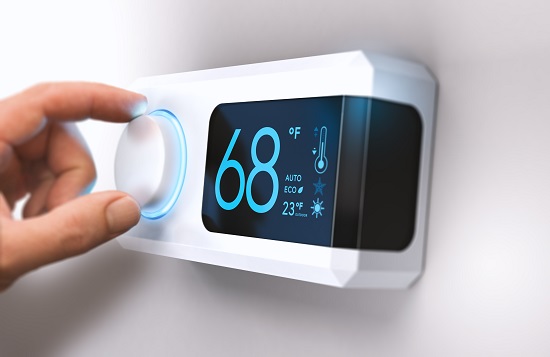 Most modern thermostats have sensors to get accurate readings of overall ambient temperatures. They adjust your HVAC system on how much warm or cool air is needed to regulate the temperature. However, direct exposure to extreme heat or cold means inaccurate readings. 
An excellent solution is to remove the heat source. For instance, you may cover the window to prevent direct sunlight or move the aquarium. If you place the thermostat in a compromised or wrong location, you may need to rewire and move it with the help of an HVAC contractor. 
Takeaway
It's not pleasant if you have areas with fluctuating temperatures. And with this article, you now have a better idea of what could be causing the inconsistent temperature in your home. Hence, you and your family can enjoy a more comfortable living environment. 
comments