With the world feeling the effects of global warming, the move towards green energy has accelerated more than ever. Today, more than 30% of global energy is derived from renewable sources. This is a significant improvement from previous years when burning fossils were the primary energy-generation mechanism. In fact, 66 countries (31%) already use renewables as their primary energy sources.
Solar power constitutes about 3% of global energy production. With more businesses and households investing in this energy source, that percentage is expected to grow even bigger. However, many people are still skeptical of this move, and rightly so. If not installed well, solar panels usually struggle to provide optimum power output. As such, you'll almost always need a backup source.
But that shouldn't be a deal-breaker because you can always maximize the output of your solar system. Following the right installation procedure ensures that you get the same service you always enjoy from the national grid. As part of the installation process, purchasing the most efficient solar panels and inverters is always advisable. Not sure which solar system to buy? Check over here to compare the most popular types and choose one that fits your needs.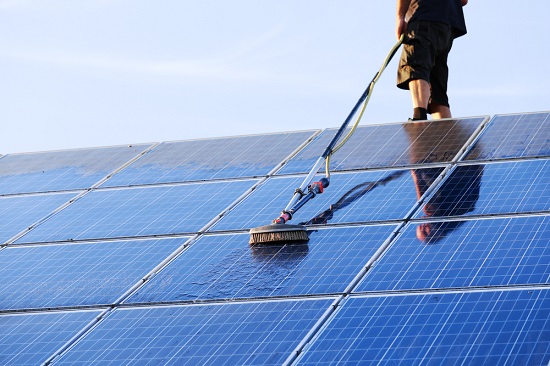 That said, this article will dive deeper into the most important tips of maximizing your solar system's output. Keep reading to learn more. 
Invest In Efficient Solar Panels
The amount of power you'll get from this system starts from your selection of solar panels. These panels are composed of photovoltaic cells which convert sunlight into electricity. Therefore, they play the most important role in any solar system. 
However, not all panels you get in the market are the same. The main factor that distinguishes them is their efficiency. This is the amount of solar energy that the system converts to usable electricity. Of course, it's impossible to have 100% conversion rate, but there are solar panels that can give almost a quarter of that number. 
The most efficient solar panels today have a conversion rate of about 22%, an increase from the 15% recorded a few years ago. It's advisable to invest in such panels if you're planning to adopt solar as your primary source of energy. Keep in mind, though, that the initial costs will be very high but the service you'll enjoy is worth the investment.
Consider Your Choice Of Solar Inverters
While solar panels determine the amount of energy tapped from the sun, solar inverters are as important. They are components designed to convert direct current (DC) electricity from the panels into alternating current (AC) electricity. The latter is what you use to operate your electric appliances like TV, fridge, and electric cookers. 
Inverters are often referred as the brains of the solar system, and rightly so. The amount of energy you get from your socket outlets depends on the inverter's ability. These components come in different sizes and ratings, and these factors determine their output. As such, it's always important to check these features and compare them with your needs before purchasing a solar inverter. If you're not sure how to go about this, you might need to find the best electrician and let them guide you. 
Avoid Shaded Areas
As mentioned earlier, the higher the solar panel's efficiency, the better. But this isn't only about the manufacturer's ratings but also how and where you install the solar panels. These components are designed to provide their maximum output in direct sunlight. The generated electricity could reduce dramatically if the sunrays are blocked even slightly.
Therefore, it's important to avoid areas with shades around them. Trim or cut down any trees that may block direct access to sunlight. But if it's not possible to avoid these shaded areas entirely, you can use a power optimizer inverter or microinverter. This device maximizes the electricity generated by the unshaded portions of your solar array.
Clean Your Panels Regularly
This is another important practice that can have a huge impact on your solar panel's output. Unfortunately, many people ignore this part probably because they rarely access their roof. When dust piles up on the solar panels, it blocks part of the sunrays, hence significantly reducing the efficiency. You can contact a cleaning service if you're not comfortable climbing your roof.
Conclusion
Solar energy is gradually becoming a big part of the global energy generation industry. To get value for your money, it's essential to purchase efficient solar panels and inverters. Installing the panels in places with direct sunlight is also crucial to their performance. When sunlight is blocked even by accumulated dust, the power generated by your solar system could drop significantly. Therefore, make sure you consider all the tips discussed in this article to enjoy maximum electricity output. 
comments