The way to a man's or woman's heart is through his or her stomach. Honestly, food really works for people of any gender or age. So, our kitchen is the heart of our home. We can attest to that. The person who loves cooking or the one who loves eating, they spend a lot of time in the kitchen or the dining area. 
Not Just A Place To Cook
Often times, we tend to forget that just like our hall or master bedroom, even the bathroom, our kitchen needs improvement. Just like we buy art pieces, curtains, furniture to decorate the rooms, the same things can be done to the kitchen as well. It is not just a place to quickly warm your food, then eat and leave. Your kitchen is more than that. 
Bring The Change
With a slight effort, you can bring a massive change to the way your kitchen looks. The kitchen is the most important place in your whole house that needs to be kept neatest and the cleanest. What you eat, on what you eat, where you eat, all are about your health directly.
Rule
The rule is very simple but tough to follow. Never overcrowd your kitchen with too many things. To maintain a healthy atmosphere, the least amount of stuff in the kitchen is the best way possible. Yes, we know it is hard to stop yourself from buying the never-ending lists of cool home appliances. But keep that in control, and you are fine.
Bare Minimum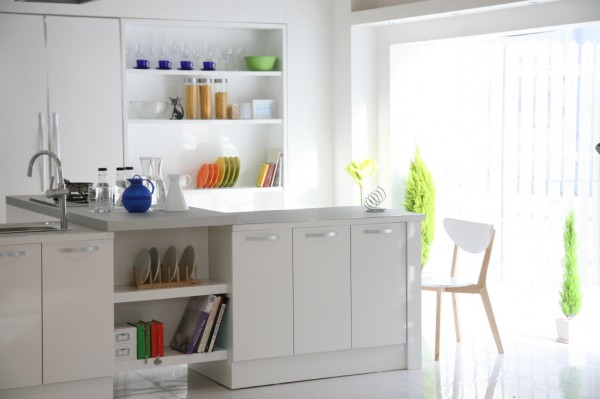 So instead of buying a fridge as well as a freezer, invest in a giant refrigerator that has both. These cost the same, perhaps lesser. You can invest in a cooker with eye level grill, instead of having a kitchen stove, oven, grill machine, and suchlike home appliances. If you have space or have solid reasons to buy so much, then it is still okay. Otherwise, versatile home appliances bring drastic improvement to the kitchen. 
Cooker With A Grill
Let's take the cooker with the grill as an example. These are all stylish to look at. These work equally well. Then the grill portion works like the counter for the cooker. So, a portion of your countertop is not going to be occupied with a kitchen stove. Instead, you can together cook and grill and keep an eye on both while cooking in both.
Cabinets And Drawers
Just the home appliances are not enough for improvement. Even the plates you use and the way you keep them organized can bring a difference. Then what about the sharp knives! It is mandatory to keep them at a safe place where kids can't reach. For that, you need a lot of cabinets, drawers. Keeping them inside the cabinets and drawers keeps the kitchen tidy. 
Paint The Wall
Paint the kitchen wall at least every two years. Kitchen walls tend to get dirty sooner due to the use of oil and gas. And when you are painting the walls, make sure to use light colors. Pastels are the best choice, in our opinion. 
Backsplashes
If painting is costly for you, then you can try the backsplashes. They are sleek and beautiful to look at and bring a sophisticated look to your kitchen. It will not cost much to do the whole kitchen as they are within budget. Like that, the paint in your kitchen wall will remain intact as backsplashes work as a solid cover on the walls.
There are several ways to improve the look of your kitchen. If you want a simple kitchen without any fancy stuff, do your best to keep it tidy. The tidiest kitchen is the best kitchen. No one is going to look at the fading color of your walls or the absence of costly home appliances if your kitchen shines. Do the most you can, but always try bringing a change to your kitchen as well as your home. 
comments