Back in 2014, the Academy of Nutrition and Dietetics encouraged families to eat more meals together as it promoted healthier eating. According to 
Academy spokesperson and nutritionist
 Angela Ginn, "Preparing meals together entails more than putting food on the table. It creates room for family members to talk, listen, and tighten their bond." Building a beautiful and functional modern kitchen is key to making your space versatile for spending quality time with your family. For this reason, many kitchen projects today entail much more than installing appliances and cabinetry.
When designing a kitchen, families should make it a point to make their culinary space functional, entertaining, and kid-friendly. That way, parents can help their kids with their homework and chat while prepping meals. If you're looking for 
ways to create a beautiful culinary space
 for your home, below are design ideas for the ultimate family oriented kitchen.
Reconsider the Kitchen Layout
The idea of a family kitchen is to create a social hub for your loved ones to enjoy quality time. To achieve this goal, consider designing an open-plan kitchen layout. Modern open-plan kitchens eliminate formal sitting and dining rooms in favor of large, multifunctional spaces with cooking at its center.
In an open-plan kitchen, parents can help the kids with homework, interact with them, and monitor TV or internet usages while prepping meals. Likewise, you can keep guests entertained while you cook without the need to move from one room to another. To make your open-plan kitchen functional, place the dining table near the culinary space, and ensure that the fridge and stove are easy to access. Also, create a direct path from the dining area to the sink so you and the kids can clean up with ease after meals.
Incorporate Kid-Friendly Designs to Get the Children Involved
Teaching your kids how to cook
 helps them enhance their creativity, develop healthy eating habits, and improve their math skills while measuring ingredients. However, to get your kids involved in cooking, you need to incorporate kid-friendly kitchen designs. Consider having child-height countertops, a menu board, colorful chairs and tables, and easy-to-clean worktops.
If building low countertops isn't possible, buy a step-stool so your children can reach the countertop. You'll also want to buy 
child-friendly equipment that makes cooking fun
 and safe. Oven mitts, aprons, non-slip bowls, kid-friendly knives, rolling pins, and measuring cups are essential kitchen items that help nurture your kids' love for cooking while keeping them safe.
Build a Kitchen Island with Seating
Installing a kitchen island is an excellent way to add value to your culinary space and make it more family-friendly. An island has multiple uses, especially if it has extra space for the sink and a wide surface for prepping meals. You and your loved ones can also use a kitchen island as a spot for family meetings, eating snacks, and doing homework. However, for your island to be functional, you'll need to choose an appropriate size. Make sure it's not too big, as the space in the middle will remain unused. Also, make sure to place comfortable and child-friendly seats around the kitchen island.
In today's busy world, families want spacious kitchens where they can spend quality time together cooking, eating, and enjoy unlimited entertainment after work and school. To ensure your kitchen is family-friendly, you need to do much more than pick cabinets and appliances. You'll want to design an open-plan kitchen layout, build an island with seats, and install kid-friendly countertops, and buy safe and fun cooking equipment for the kids.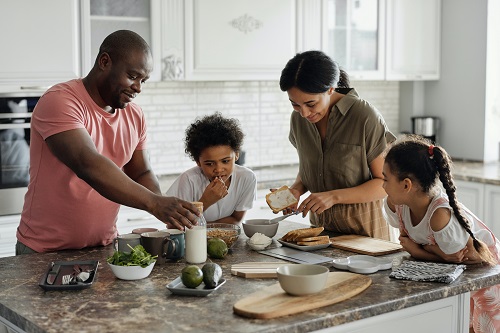 comments