People in Charlotte, North Carolina, are often unaware of how much unnecessary stuff they have until they deal with it. That most often happens when moving or renovating a house. Then they reorganize their household items and are often amazed at how much garbage and useless things there really are. 
There are several ways to get rid of unnecessary things. You can give them to someone or sell them at a yard sale, provided they are in good condition. If these items don't serve you, maybe they will work for someone else. But if things are broken, damaged, or you can't find them a new purpose, the most reasonable solution is to throw them away. If you have higher amounts of garbage, you can call a junk removal service to deal with it.
When hiring a junk removal service in Charlotte, you have several options. Many companies will offer free estimates and competitive rates, but that shouldn't be the only parameter for your decision on whom to call. A reputable Paramount junk removal and clean outs company encourages customers to ask questions to ensure they hire the right one. 
Are They License Holders?
The junk removal business is not complex to start. People need just a few thousand dollars to get a used van and invest in marketing. That's the reason why there are so many service providers in Charlotte. But remember that not all of them are licensed for their work. 
Removing garbage is not just about taking it from clients and throwing it down the street. It's about responsible garbage disposal. That's why you should hire only licensed junk removal businesses. Licensed companies in North Carolina will dispose of all kinds of garbage, from furniture to electronics, in an ethical and eco-friendly manner.
Are They Insured?
Let's be honest – haulers are not always careful with your stuff. They can break something, damage walls or floors, or hurt someone. Reliable companies will guarantee their coverage for all these situations. That includes liability for anything that happens on your property while they work. 
By carrying insurance, junk removal companies in Charlotte protect themselves and you. So always ask if the haulers have proper insurance before hiring. They should show you their certificate of insurance, as all licensed companies in Charlotte must have it.
Type of Junk They Remove
Before choosing a particular junk removal company, find out whether they can take your stuff. Feel free to ask what type of junk they accept. Some companies specialize in only small, lightweight items. Others only handle bulky furniture and appliances. Some refuse hazardous waste such as paint or electronics, requiring a special certification. 
You should also find out what kind of service you'll need. Most junk removal companies don't haul everything, so make sure you're clear about what to expect before hiring them. Some companies won't accept picking up heavy items from your house or garage. They will ask you to bring those stuff to some location, where they can easily approach. Or, if they accept disposing of bulky furniture or appliances, they will charge you extra, so keep that in mind before hiring.
Some companies also offer trash clean-up services. These can be a great choice if you're throwing away a large amount of junk. But these are not mandatory and are usually charged extra. So have all that stated in a written and certified cost estimate before hiring haulers.
If you don't have a lot of clutter, you can always try a DIY approach, as explained below:
https://www.oneandco.com/lifestyle/8-helpful-diy-junk-removal-tips-you-need-to-know/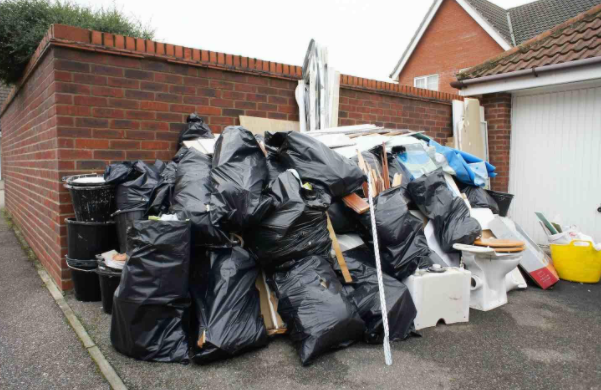 Discuss Price
When choosing a junk removal service in Charlotte, be sure to ask about the service price and terms and conditions. You'll often be able to get a free quote over the phone. But these are not the most accurate estimates, as describing your junk over the phone or sending photos can lead to misunderstandings.
So make sure you have junk removal experts on the spot to give you the most accurate quote. They usually offer free estimates and don't oblige you to hire them. 
Garbage removal and cleanout service prices should be competitive. If they seem cheaper than usual, you could suspect scammers, especially if they ask you to pay upfront. Never pay for anything before removal experts come to your property and get the job done. There are many scammers out there, so don't risk wasting your money on some fly-by-night haulers.
When hiring a junk removal service in Charlotte, make sure they are transparent with you. A good company should be honest about the charges. If you have many items that need to be disposed of, make sure you get a quote for all. You're free to get several estimates from different companies. 
How They Dispose of Junk
After haulers leave their properties, many homeowners don't think about what will happen to garbage. Unethical companies can throw it along the way or dispose of it in places where it can pollute or destroy the environment. If you are eco-conscious, you won't let yourself be blamed for illegal dumping.
Find out how junk removal companies in Charlotte dispose of the junk. Check their environmental policies. You'll want to ensure that the haulers you hire are ethical. Don't hire a company that doesn't respect the environment. Find someone who uses the proper methods to prevent landfilling your items. 
Given that there are different types of waste (more on this link), there should be different ways of dumping. This process should be such that it pollutes the environment as little as possible. That is why many haulers recycle the taken waste, donate it, or find it a new purpose. You know what they say – one man's trash is another man's treasure.
All junk removal companies claim they're responsible, eco-friendly, and affordable. You have every right to make sure of that by asking them the right questions. Check several dumping companies to find experienced haulers and get the best deal.
comments