In the metal fabrication and machining industry, it's critical to use the proper tools in your press brake machines. Without the proper back gauge systems in place, your press brake may perform inaccurate or poor-quality bends. You may also need to constantly manually reset your machine while completing complex and difficult bending projects.
But today, there's a better option if you're looking to invest in a high-quality, easy-to-use, and reliable back gauge – Hurco back gauge systems. With advanced Hurco back gauge systems, it's easier than ever to accurately position metal components and bend them perfectly.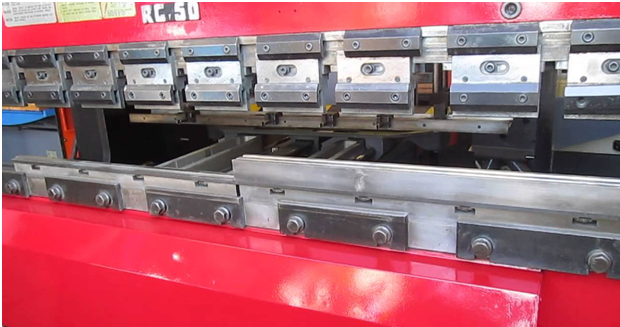 And with the added benefit of computer-controlled bending systems, Hurco back gauge products can move between bends repeatedly to aid in the manufacturing of complex machined parts.
Interested in learning more about the benefits of Hurco back gauge tools? Keep reading – and see more of the benefits you'll enjoy when using advanced, computer controlled back gauges in your press brake machines.
Reduced Setup And Lead Times
 One of the primary benefits of Hurco back gauge systems is the incredible reduction in setup and lead times for metal machining projects. Using the Autobend 6 or Autobend 7 controller, machinists can quickly and easily pre-program bends for a variety of projects – and save thousands of these bends for use in future projects.
The Autobend line of press gauge controls also allows for both 2-axis and 3-axis press brake control. Using the 3-axis control system of the Autobend 7 controller, machine operators can reduce setup times by up to 40% – leading to faster project turnarounds, satisfied customers, and higher-quality machined parts.
By reducing your setup and project lead times, a Hurco back gauge controller can help you increase profitability, and increase your overall production capacity.
Real-Time Sensor Data And Computer Controls For More Precise Bends
The embedded optical sensors used in Autobend 6/7 controllers and back gauges allow operators to make precise, minuscule adjustments during the bending process.
Real-time data is sent to the controller about bending angles and parameters, allowing for granular, precise control of each and every bend. Even the most complex and difficult bending projects can be done in a flash with Hurco systems.
It's Easy To Learn How To Use Hurco Autobend Back Gauge Systems
Even the most high-tech and powerful machine tools are useless if machine operators are unable to learn how to operate them effectively. Hurco back Gauge systems have been built to be intuitive and easy-to-operate, allowing machinists and equipment operators to quickly understand their advanced functionality.
In addition, comprehensive product manuals and documentation outline best practices for using Hurco products, and ensure that new operators have all of the resources they need to learn.
Can Be Retrofitted To Almost Any Press Brake
Press brakes can easily cost upwards of $100,000 – and large, industrial press brakes can cost much more than that. Replacing a press brake simply to use a new back gauge system is not an option for most smaller machine shops, and is an expensive prospect even for larger businesses.
While Hurco systems are available for new press brakes, the vast majority of customers choose to retrofit their existing press brake systems with a Hurco back gauge. This allows them to benefit from faster machining times and a more advanced back gauge system, and is much cheaper than a full press brake replacement. With a Hurco retrofit, you benefit from faster project turnarounds – without having to invest in an all-new system!
Comprehensive Online Training And Support Services
Hurco provides customers with an extensive online knowledge base that provides access to free training materials, online tutorials, product manuals, and more.
You can also find information about Hurco suppliers near you, request quotes for product replacements, and find local services centers to help you maintain your new Hurco equipment.
Retrofit Your Press Brake Machine With Hurco Back Gauges – See The Hurco Difference!
 If you have an old back gauge system that needs to be modernized, Hurco is the only choice. With strong and reliable back gauge products like the Autobend S7, R-Axis and Autobend LP11, and advanced computer systems like the Autobend 6 and 7 controller, you'll be able to bend metal more quickly and efficiently than ever before.
comments