Water damage is a common issue in homes or any place of business, and an inch of water flooding can cost thousands of dollars in repairs each year. It is one of the most damaging disasters on your property for various reasons. That much water can already damage your floor and any furniture or appliances that have been soaked in it if water damage restoration is not done quickly.
All of that moisture can also lead to mold growth inside your home. The dampness also makes the area appealing to ants, termites, rats, cockroaches, and other moisture-loving critters. However, with some basic knowledge and tips, the most common causes of water and flood damage can be mitigated or avoided entirely.
In contrast, if you need the help of a professional to get rid of water damage, contact Bedrock Restoration today, and they'll take care of your problem! Now, we'll go over to the causes of this water damage in homes and other properties and how to avoid them.
Causes of Water Damage
Nothing can put a damper on your business like water damage. You will lose days or weeks of productivity, but you may also have to repair or replace valuable equipment such as tools, electronics, and inventory.
Water damage prevention will save you money that you would have spent if the damage had progressed. You will also evade the hassles that come with water damage. This article concerns the most common causes of water damage and how to avoid them. That way, you can act quickly to identify the source of any water damage and prevent it from worsening.
1. Plumbing System Leaks are a common occurrence.
Mostly the cause of water damage is a leak in the plumbing system. Leaks are common when pipes rust, resulting in corrosion. Water leaks can also be caused by high water pressures, extreme temperatures, brittle pipe joints, and broken water connectors. Natural disasters could have affected your system.
However, finding a water leak can be difficult because some occur in hidden places, such as under the sink. It is crucial to look out for any leaks in the plumbing system to avoid water damage and repair them soon.
2.  Drains are blocked.
Hair, dirt, grease, and other substances can quickly clog bathroom and sink drains. Pipes can fail, and structural damage is not uncommon. If drain clogs are not cleared, sickness, diseases, and aggravated health conditions may occur. Clogged drains can cause damage to other parts of the house if left untreated.
A clogged toilet, for example, can cause water to back up into your sink. The floorboards and wall support may even warp as a result. Small screens can assist in preventing unwanted materials from clogging drains. Once a month, pouring boiling water down your drain can help dissolve grease, soap scum, and other debris before it clogs your pipes.
3.  Weather can also cause water damage.
Even if your plumbing system is in excellent condition, you are vulnerable to water damage. Weather constantly causes damage to homes—rain, hail, and flooding damage your home resulting in some of the most expensive claims. To avoid significant flooding, you'll need to plan ahead of time.
Water damage can also affect your roof on the other side of the house. Spots on your ceiling, cracked shingles, and shingles filling the gutters are all common indicators. Many homeowners overlook their roof and believe it is indestructible. While your roof is constructed to withstand the elements, they can damage it.
4. Natural disaster
Snowstorms, hurricanes, and dam failures can bring excessive water into your home, causing flooding. Water in large quantities cannot be absorbed by the land and may overflow into your home. A flood alarm and warning system can assist you in protecting your home from natural disasters.
If you live near the water, you should get additional flood insurance. Some people in flood-prone areas build their homes on stilts to prepare for floods. Others install sump pumps or foundation vents. Grading your lawn away from the house is another option.
5. Condensation from an air conditioning unit
When your ac is working properly, condensation drips from the evaporator coil into a condensate pan and exits the unit via a condensate drain line or tube. However, if the drain pan is already damaged or the condensate drain line is clogged, all of the moisture from your air conditioning unit will leak directly into your property's walls and floors, causing damage. Regular air conditioner maintenance will keep the condensate drain lines clean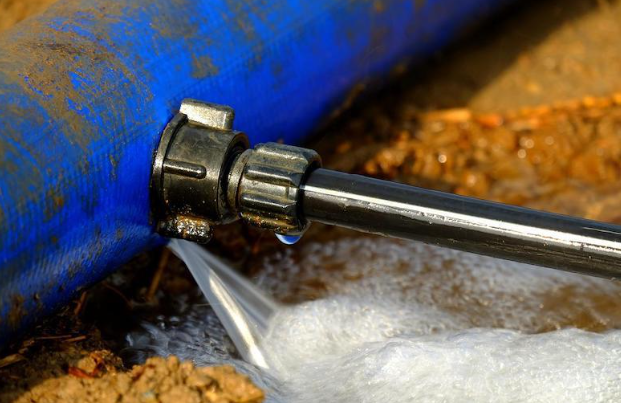 6. Leaks and broken pipes
Water is constantly being brought into your home via your pipes. Unfortunately, pipe damage causes water to leak into vulnerable areas of our home. Slow leaks are among the most dangerous. Water can accumulate over months and cause significant damage, mainly if it is located within your foundation. These are known as slab leaks.
It is critical to detect a slab leak before it causes extensive damage. Turn off all water fixtures in your home and go to your water meter to see if you have a small leak. It's probably right in front of your house. Take a look inside by opening it up, and if the display is digital, you will see numbers flashing every few seconds. This number should be zero because no water is flowing into your home. If the display shows any other number, water is entering your home through a leak.
Conclusion
Hopefully, you're now aware of the most common causes of water damage in the home. It is now up to you to watch for any water damage. Remember, it's always good to act quickly and call a plumber to repair any water damage before it worsens. When you think about it, all of the causes of water damage are avoidable, as mentioned earlier. Your gutters, for example, will not overflow if you clean them regularly.
Flooding resulting from severe weather may be challenging to avoid, mainly if your house is in a flood-prone area. Still, maybe a little effort on your aspect could prevent you from dealing with water damage caused by chores around the house or place of business.
There is no way to stop the risk of water damage to your facility, but knowing common culprits, practicing good maintenance, and taking preventative measures will reduce your risks and help you respond more effectively if something occurs. In addition, contact professionals like water damage restoration Denver  to get rid of this problem.
comments