Welding is an essential life skill that you should learn, especially now that you have a home of your own where you can do it in your garage or workshop. From choosing the right metal inert gas or MIG welder for beginners to layering and grinding your welds, welding is something that you can learn to enjoy once you've mastered how to do it without burning your skin or setting your house on fire.
But if you need further convincing, here are a few top reasons why every homeowner like you should know how to weld:
You can save money if you weld on your own rather than hiring a welder.
The average rate of hiring a welder is currently at more than $300. If you only have to hire a welder once, spending the said amount shouldn't be too much of a concern for you. But, if you feel the need to have a more ornately-designed steel gate or a fire escape for your home, hiring a welder to do it for you can cost you a lot, especially as structures like those can take several days to complete.
So, if you don't have enough budget or you want to save money, you're better off learning how to weld on your own until you've gained sufficient skills to make window grills with curved designs, a double deck bed frame, or even an entire staircase.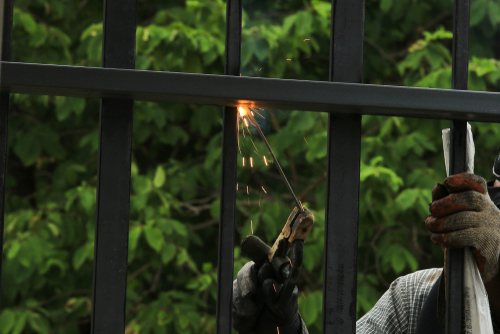 You can weld however you like if you learn how to do it all by yourself.
Another drawback that you might experience when you hire a welder is that they might make a metal structure that isn't to your liking at all, especially if they're inexperienced. You'll might want to save yourself from the trouble by learning how to weld instead. That way, you can hold only yourself liable if the metal structure you're trying to assemble doesn't turn out the way you might have wanted it.
Knowing how to weld on your own can also greatly benefit you if you came up with a very intricate design for your gate or fence that no welder in your area might want to do given its complexity.
You can do quick fixes to any metal structure in your house when you know how to weld.
A bar of your gate might have split into two. The steel hand railing of your staircase might have a large hole across it. But hiring a welder to take care of minor problems can cause too much of an inconvenience to them, especially if you live somewhere far from the city.
Instead of calling a welder to drive to your house, why not learn how to weld on your own and do quick fixes to whatever metal structures in your home need a repair? The welder who you may have initially wanted to hire can thank you later for not forcing them to head over to your remotely-located house.
You can turn your welding skills into a profitable home-based business opportunity.
Once you get to enjoy welding, you can turn it into a hobby that you can pursue on weekends. Why stop there though? If you can transform your newly acquired passion for welding into a business venture that can help pay your bills and supplement your current income, then go for it.
From more practical items like barbecue grills, chairs, and bookshelves to accessories like pencil holders and hanging mobiles, you can showcase your welding skills and earn a profit at the same time in the comfort of your home. You can even have anyone commission you to make life-size metal sculptures once you've become good enough in welding that you can pursue such projects with relative ease.
Conclusion
There's no shortage of welding project ideas that you can do in your free time. After all, what good are your hands for if you don't use them to do an essential skill like welding?
The above-listed top reasons must've encouraged you by now to buy all the essential welding tools needed and start practicing. Just make sure to wear ear protection and soundproof your garage or workshop, as welding can often turn into a noisy endeavor and you wouldn't want to lose your hearing because of it.
comments