It has probably been your lifelong dream to own a pool, hasn't it? And now that you have finally built it or bought it for your home, you need to start thinking about something else. In simple words, you need to start thinking about all the products that you should and that you must get for it ensure that you will have the perfect experience using them. There are pumps, cleaners, heaters and much more important, but also fun, things you should buy for your pool, and it is time for you to find out which ones of those are necessary.
The Necessary Chemicals
First and foremost, you should think about getting all the necessary chemicals to keep your swimming experience perfect and safe. You have not even thought about this previously, but the truth is that you now need to. I am quite sure that you do want the water to remain safe and enjoyable in your pool.
Well, this is something that everybody should do, meaning that it should not be a choice, but a requirement. Staying safe while swimming in a pool is incredibly important and since it is your private one, you are the one responsible for ensuring this safety. So, make sure to learn about chlorine and all the other chemicals that you might need here and get them from that perfect online shop that you have found.
Automatic Cleaners
Pools need to be cleaned as well, and that can be quite a tiresome task. You need to do this regularly to, once again, keep the water safe and enjoyable. I understand, though, that you might be tired of having to clean this regularly since it can be tedious and exhausting, especially since you do have other things going on in your life. Well, I have a solution for you. You should get an automatic cleaner and let a machine handle this on your behalf since that will be much easier and not at all tiresome and exhausting.
If you want to do it manually, here are some tips: https://blog.intheswim.com/how-to-clean-a-swimming-pool-like-a-pro/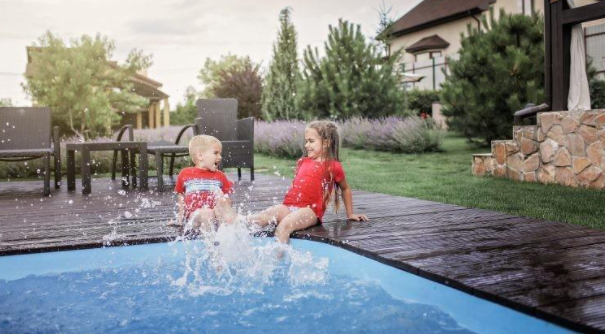 Heaters
As much as you enjoy your swimming pool, you hate the idea that it is, well, a seasonal product. You cannot use it in the winter when it is freezing cold, especially if we are talking about an outdoor one. Yet, there is something you can do to extend the swimming season for at least a while, and people are really happy about it.
In short, you can get a heater for your pool. This will not only help you extend the swimming season, but it will also make sure that the water temperature is always at its best. I suppose you like the idea of that, which is why you should put these heaters on your shopping list.
Toys & Games
The above products I have mentioned were all connected to the safety, maintenance, and the general practical side of caring for your pool. How about we now start talking about something a bit more fun? After all, fun is what it is all about and if you can increase it, then you definitely should.
You most likely know that there are a lot of amazing pool games for kids, but there are also a lot of amazing games adults can play in a pool as well. So, no matter what it is that you are looking for, you will be able to find it, as long as you have a look at the right shops. Stock up with toys and various games that the entire family can enjoy.
Where To Get Those
I have mentioned a few times that you will have to find the right shop and I stand by that. Watson's, together with some other amazing stores, can help you get all the pool products that you need and want to get, and your job is to choose one of those to shop from. Of course, making that choice will not be possible without you are doing some prior research on the shops, while checking their reputation, the products they are selling and the prices they are offering. Once you do that, you will be ready to choose.
comments