Being Black Friday we thought we'd give you a hand with choosing the best pieces for your home to make it look elegant. During this season we trend to see great offers for Interior Upgrades. What we are talking about here are those small that make a crib feel cozy and welcoming during this cold season.
At the outset we have shortlisted 20 top quality Black Friday home sales to make your holiday decor take a breeze. The links below would take you further to those original shops with lovely home products for sale this week's Thanksgiving & Black Friday to next week's Cyber Monday. Enjoy!!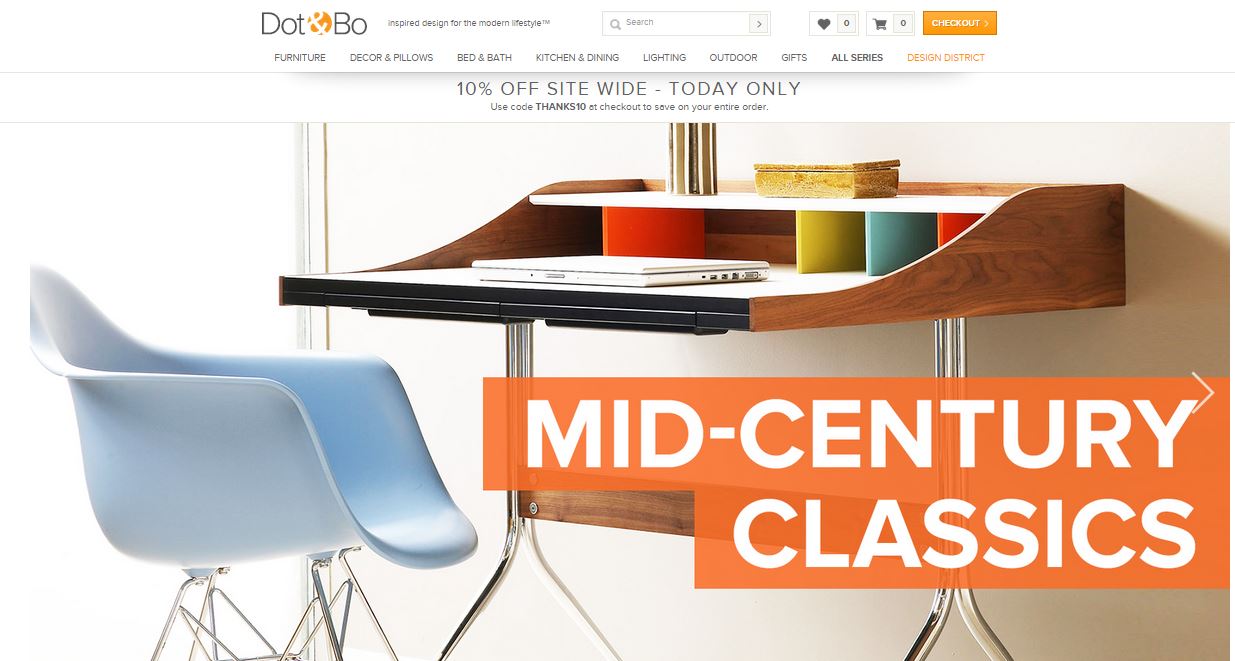 Also Read: 10 INSPIRING SOFA'S FOR ANELEGANT LIVING ROOM
The San Francisco based online shop Dot & Bo is offering a handful of awesome sales Wednesday November 26 through Monday December 1. You can check out the site for daily discounts on pillows, rugs, throws, furniture, cooking products and many more.
Use code THANKS10 at checkout to save 10 % on your entire order.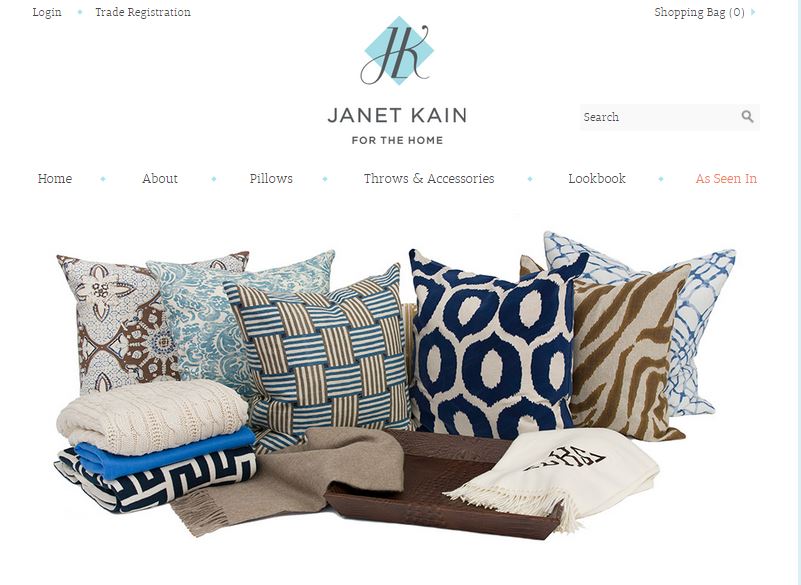 Also Read: HOW TO FIND THE PERFECT SOFA FOR  YOUR HOME
Decorative pillows, throws and accessories are offered online at Janet Kai. Use the codes BFCMP30 and BFCMA20 to avail 30 % off on pillows and 20% on accessories.
#3 Dwell Studio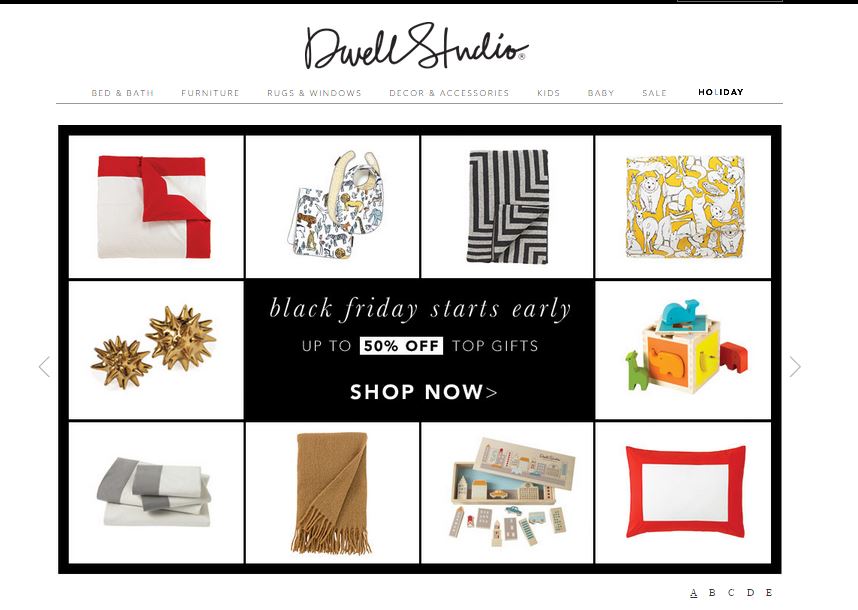 Also Read: HIGH-TECH HOME DESIGNS
The most coveted gifts at Dwell Studio are up to 50% off. Enjoy their array of furniture designs, rugs, windows, children's accessories and holiday decorations! Use code BLACKFRIDAY to avail 20% OFF and Free Shipping site wide( Applies only to select full priced items)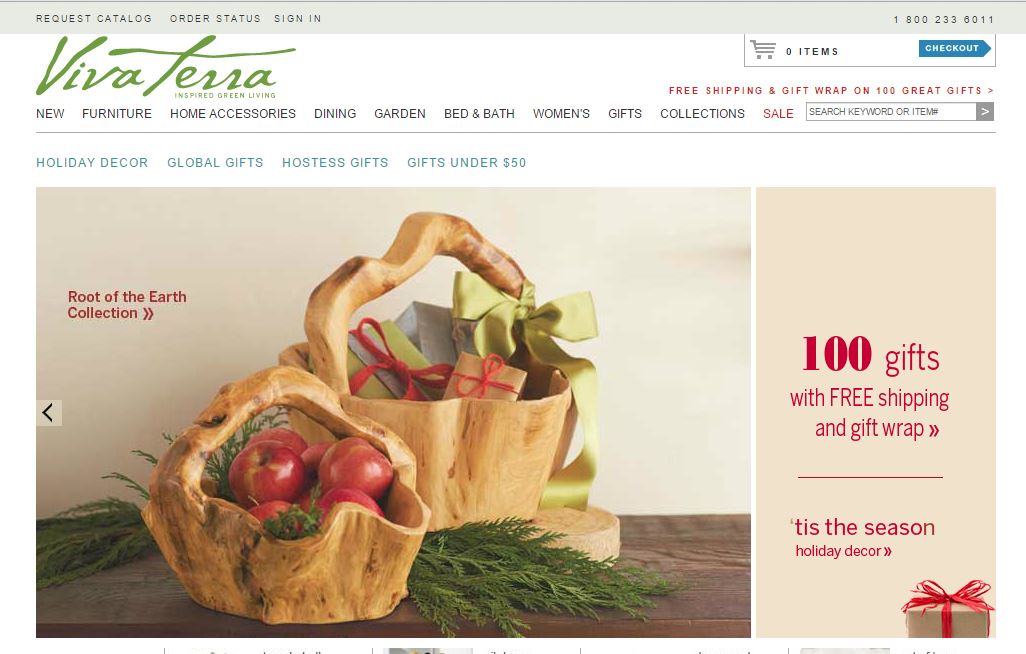 Also Read: ECLECTIC INTERIOR DESIGNING IDEAS
VivaTerra offers a variety of seasonal home accessories. If you spend $250, you can earn a $100 gift card; spend $150 and earn a $50 gift card. Check out their website form ore information!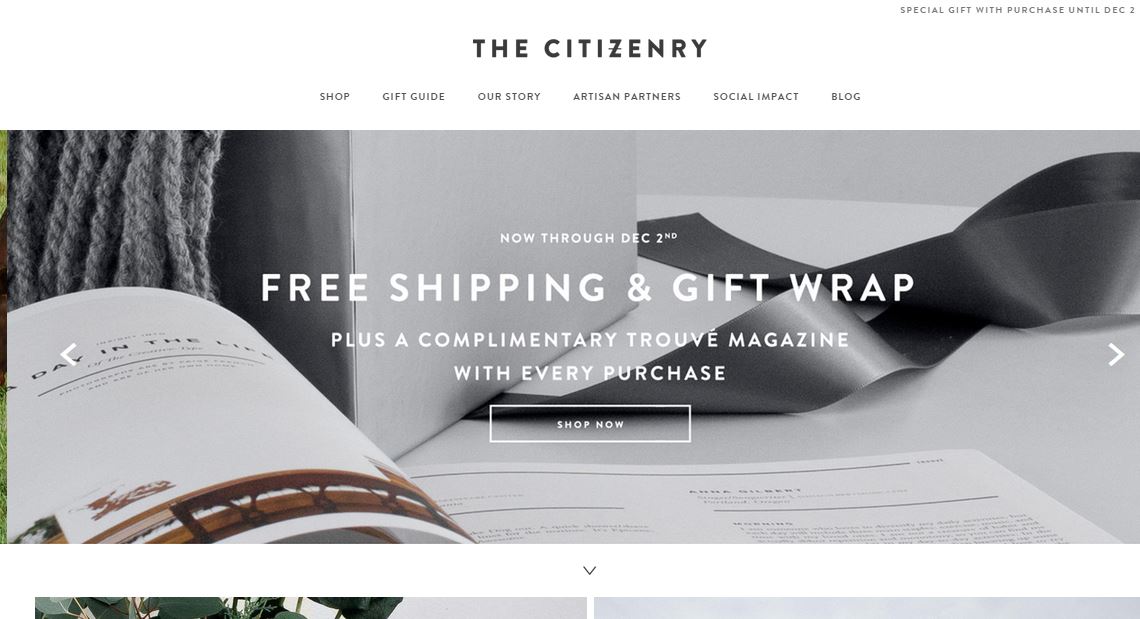 Also Read: COLOR RECIPE FOR YOUR KITCHEN
The Citizenry is where you will find elegant design products achieved in collaboration with artisan partners. Inspired by the culture in Peru, Argentina and Uganda, the items make for powerful home decor enhancements. The curated site is offering free gift wrapping plus a free issue of Trouve magazine with purchases over $75 from November 28 until December 1.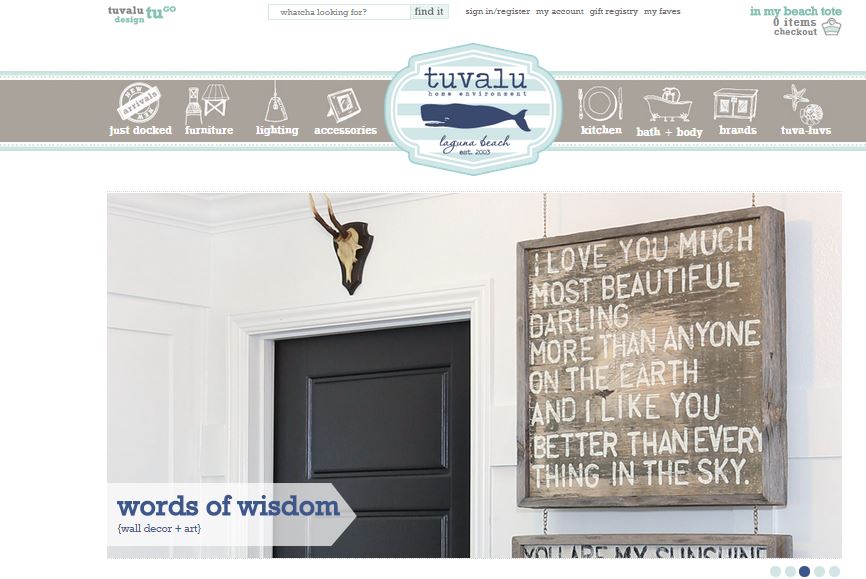 Also Read: TIPS FOR A BEAUTIFUL BALCONY
Are you a fan of coastal design? Then Tuvalu Home is the place to shop this holiday season. The code "gottagetthosegifts" will save you 20 percent on seriously chic Tuvalu decor finds.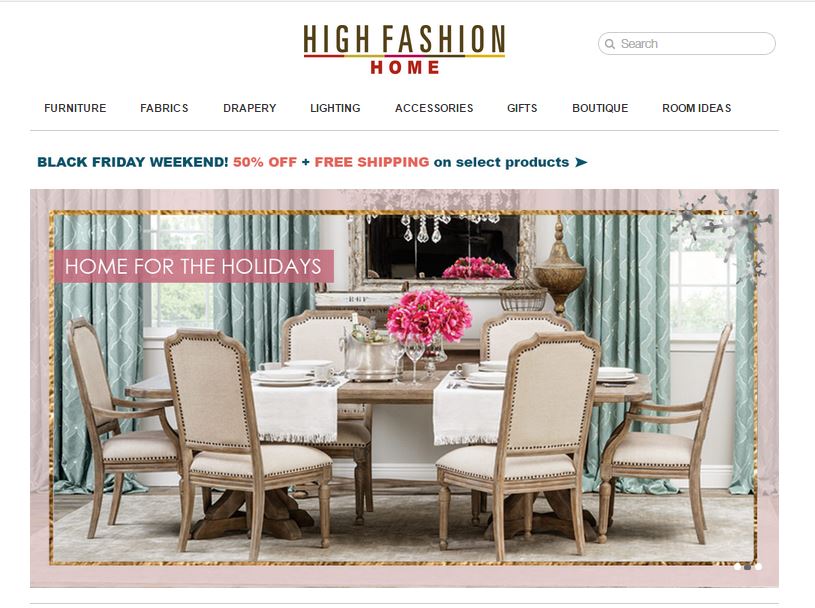 With a selection of product prices slashed in half and free shipping for the entire Black Friday weekend, High Fashion Home is a good place to hunt for home goods this winter. An array of furniture units, fabrics and lighting designs is your for discovering.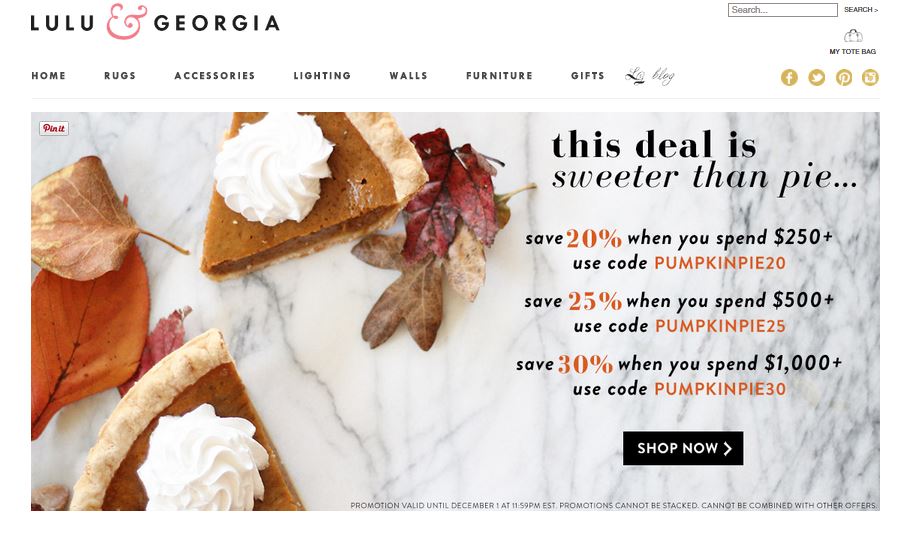 You can check out the many discounts on Lulu & Georgia's eclectic decor finds during Black Friday weekend. From November 28 through December 1, use PUMPKINPIE20 to get 20 percent off of $250 purchases, and PUMPKINPIE25 for 25 percent off of $500 purchases.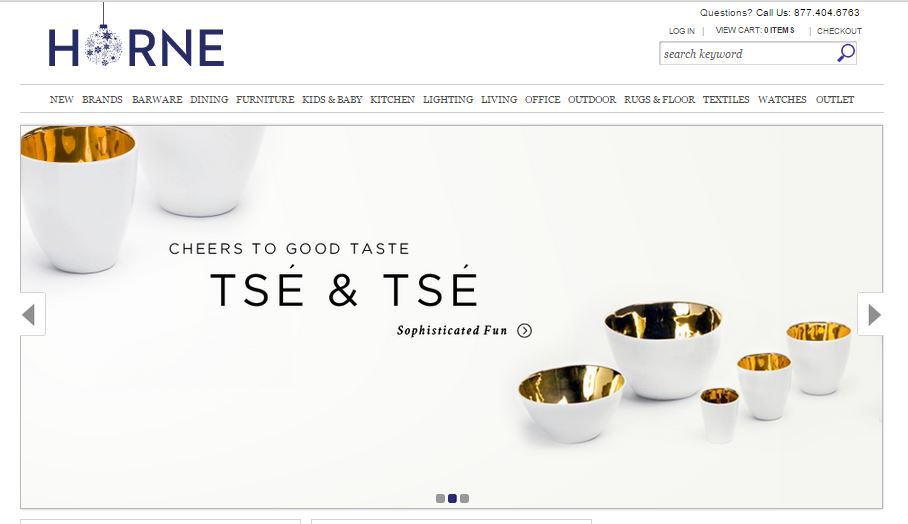 Horne is filled up with modern decorating ideas for the home. The site is offering 15 percent off of the entire site on Cyber Monday. Be sure to use the Code MONDAY when you shop.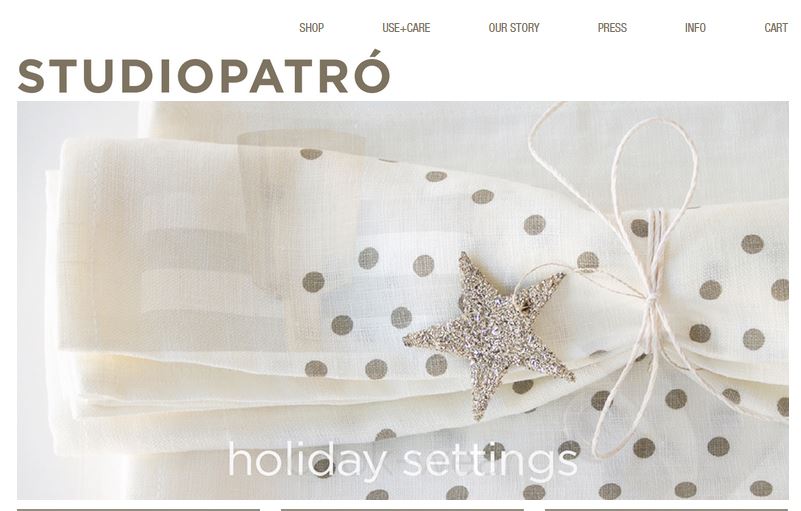 "Festivity begins in the kitchen". In celebration of Small Business Saturday, Studiopatro will offer 20 percent off using the code SHOPSMALL from the 28th of November until the 1st of December. From linen tea towels and cotton flour sacks to bandana napkins and aprons, the shop is a must-visit for kitchen enthusiasts.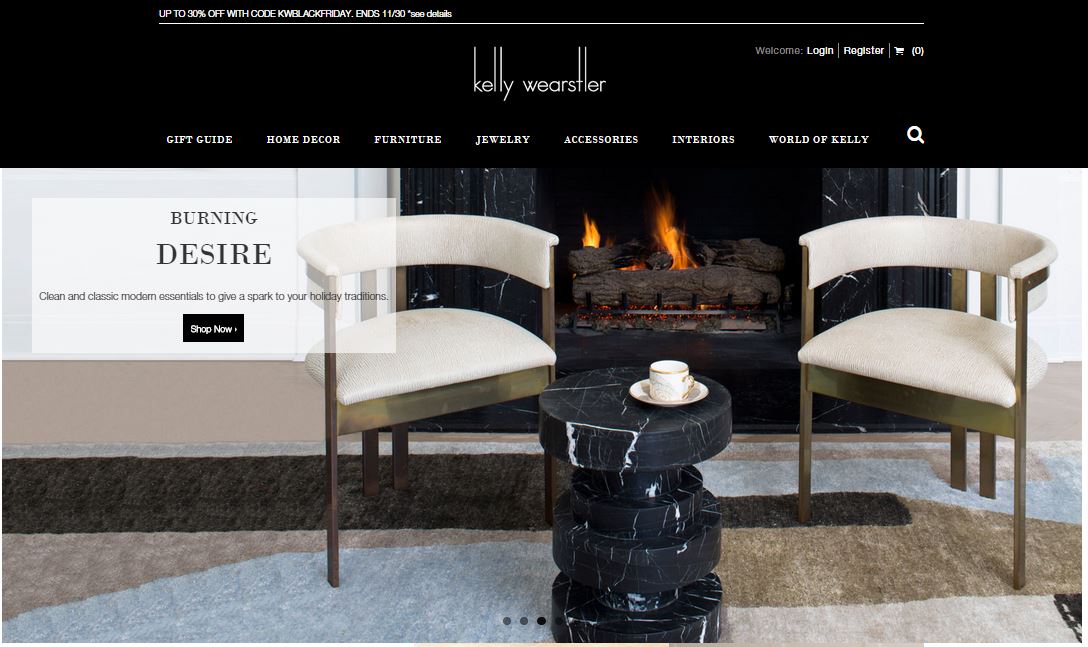 Kelly Wearstler's online shop features some of the most visually enticing home products we've seen gathered in a single place (the photo below will give you an idea of the designer's extravagant style). You will find a variety of interesting items on the website, from unconventional furniture units to holiday decors. Save between 20 and 30 percent off your purchase with the code KWBLACKFRIDAY.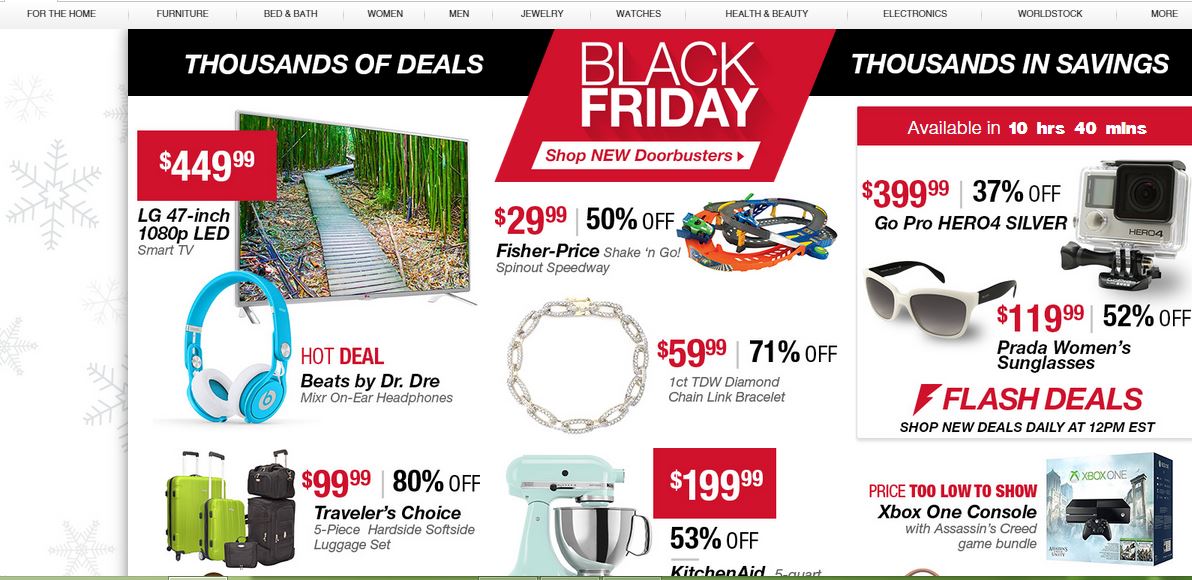 With up to 65 percent off of home goods and up to 55 percent off of furniture, you'll find something at Overstock.com no matter what your shopping needs are. Thousands of deals are announced on their website, so stay tuned and tick some of those items on your holiday list.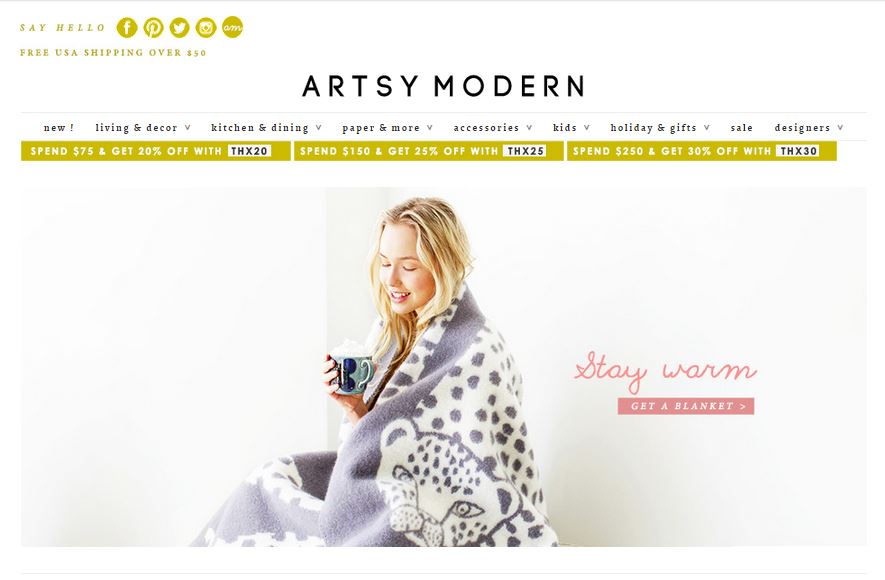 From plates and bowls to cushion covers with a twist, accessories are known for making a difference in home decor. On Artsy Modern, you can get up to 30 percent off the site plus free shipping during the Black Friday weekend, from November 26 until November 30.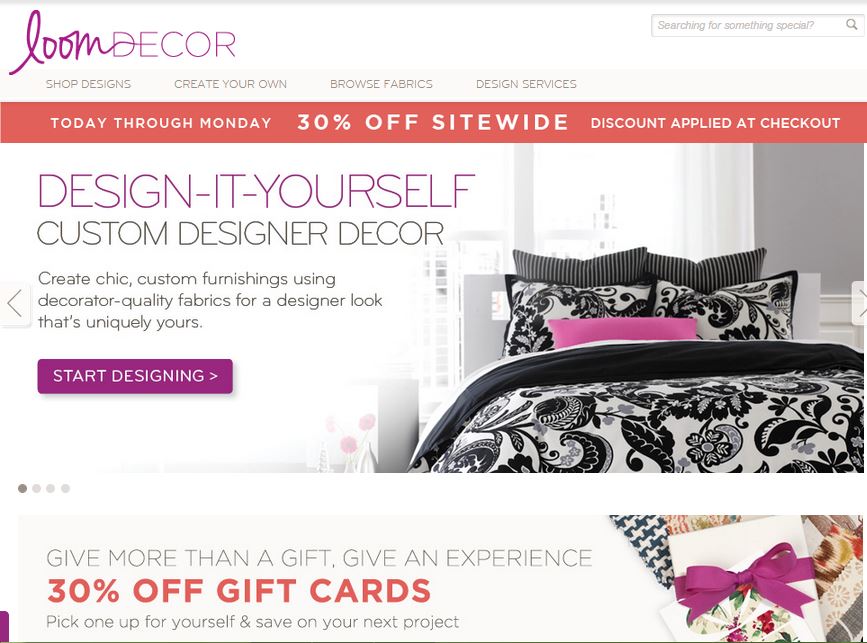 Shop Thanksgiving through Cyber Monday and you'll get 30 percent off of your entire purchase at Loom Decor. "Design online from the comfort of your home" is the company's motto . At Loom Decor you can practice your DIY skills by choosing a product, trying on fabrics and ordering the finished product online.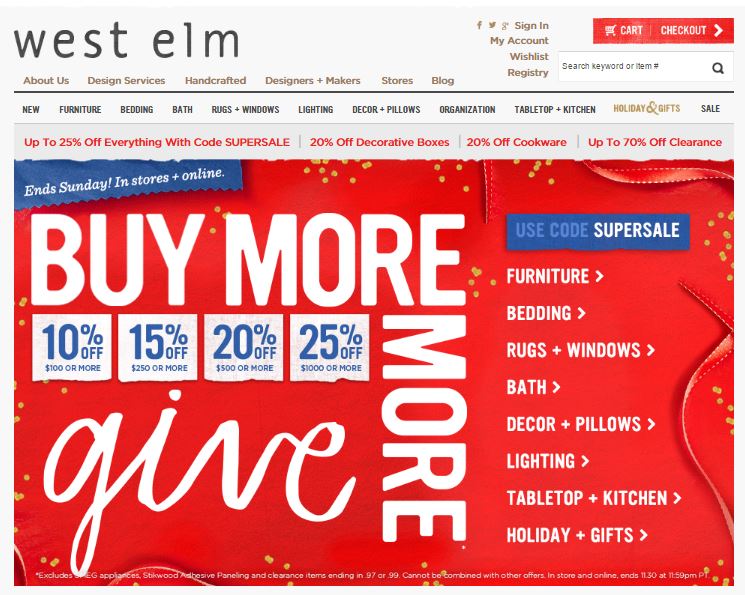 West Elm is offering free shipping on Cyber Monday, plus a handful of exciting deals running through the day. You can have an interior make-over by purchasing discount furniture, lighting units, rugs and various decorating products.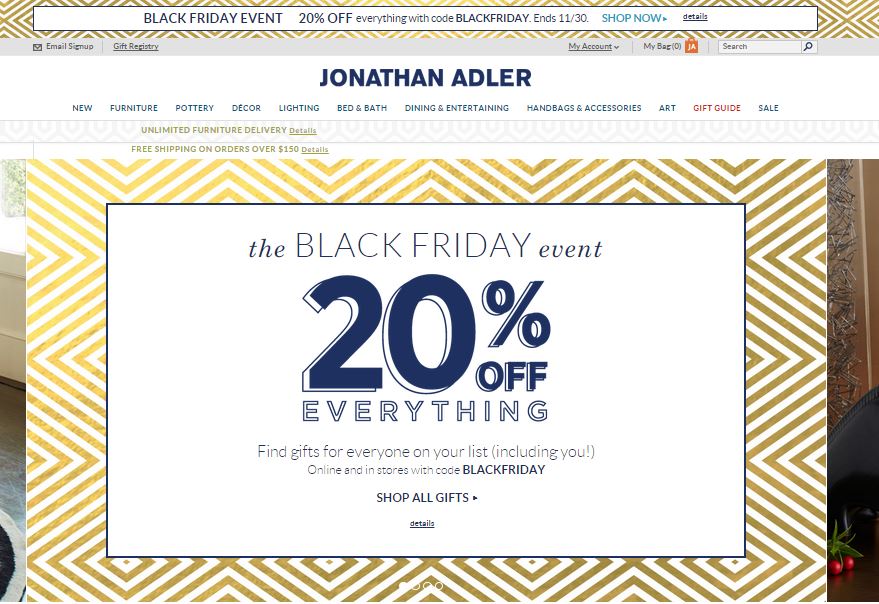 Art and color are majestically combined in Jonathan Adler's  home products. Everything is 20 percent off in stores and online from the Tuesday before Thanksgiving through Cyber Monday 2014. Free shipping is also offered on Cyber Monday. The photo below is a preview of the designer's work and style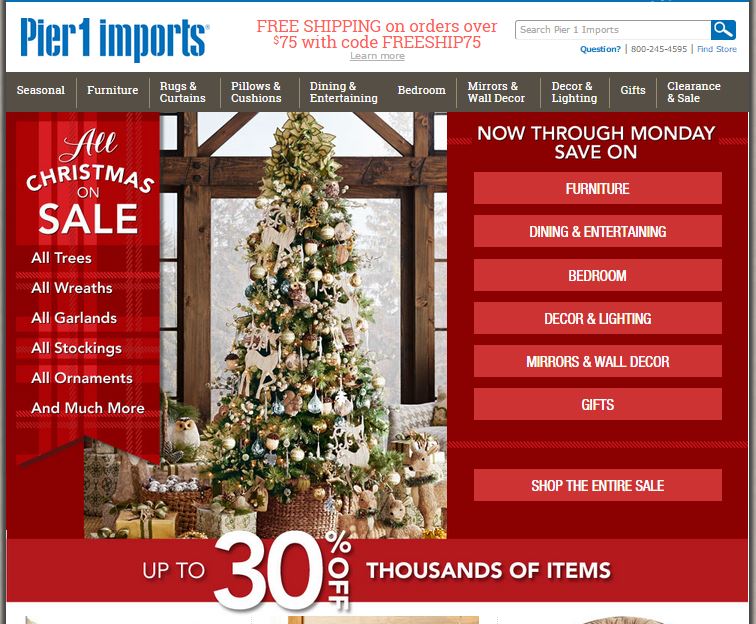 Pier 1 Imports is celebrating Black Friday with up to 30 percent off everything in the store. This is the place where you can find holiday decoratiions that you can either keep for yourself or share with loved ones.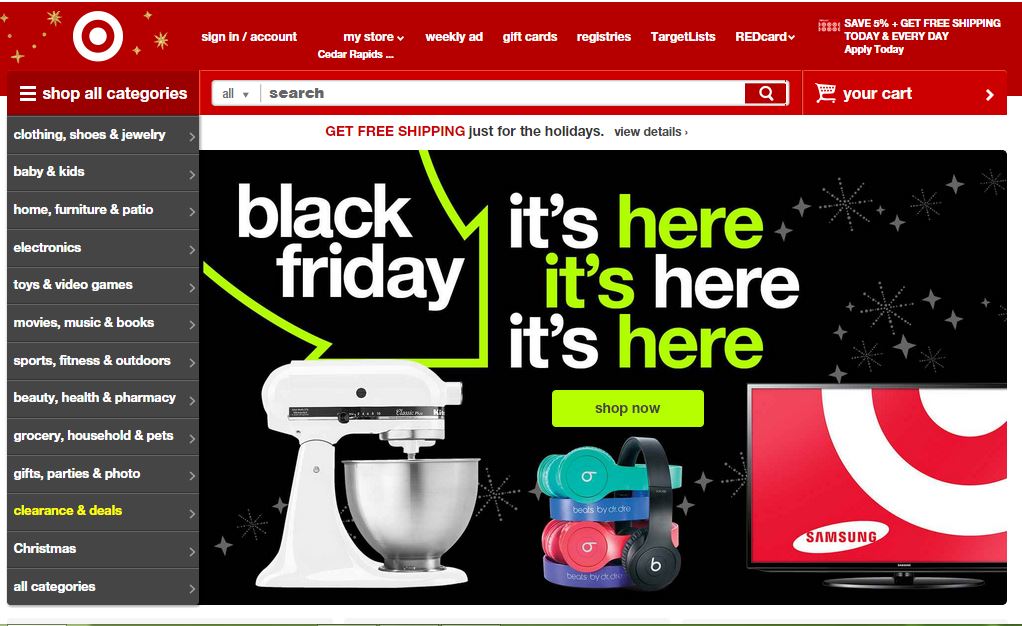 In the home department, you can score up to 30 percent off of your favorite goodies. It is here that you can shop good quality vacuum cleaners at half their normal price or enjoy the impressive array of discounts for home decorating products.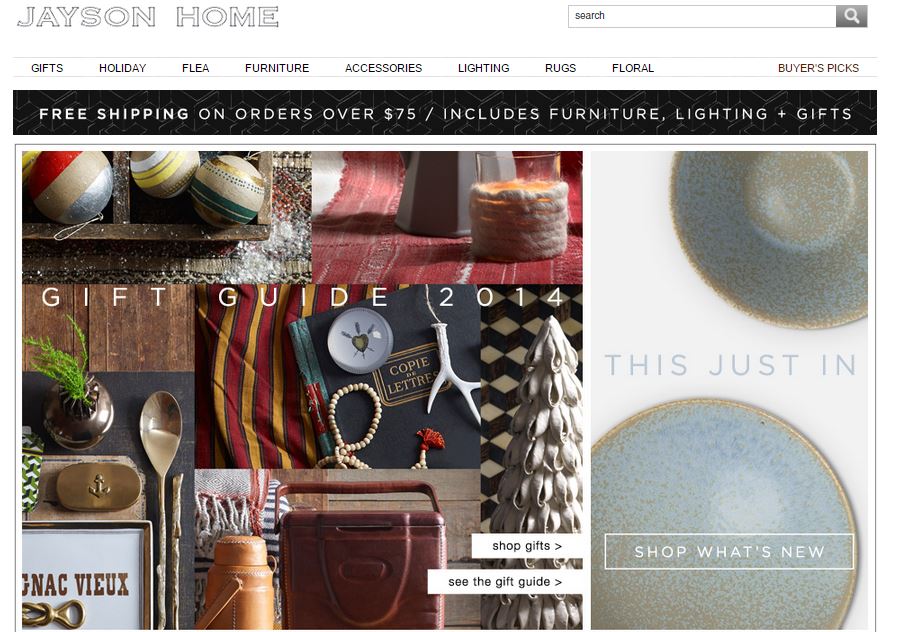 Free shipping, a free gift with every purchase, and free gift wrapping is to be expected from Jayson Home's website on Cyber Monday. From lovely holiday ornaments to chandeliers and original table tops, this is the place where you can easily find home enhancements.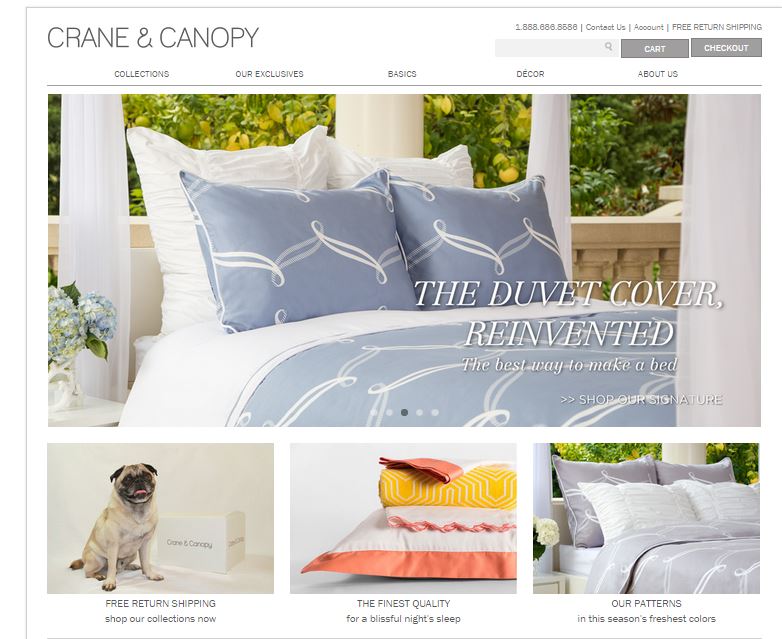 We hope this list will bring you closer to making your holiday wishes come true. The websites above offer great inspiration for holiday gifts, so be sure to check them out with the loved ones in mind as well. We would appreciate if you gave us your feedback after making an online purchase this Black Friday through the comments section below. Sharing your experience with our readers everywhere will help others get inspired and enjoy this season even more!
HAPPY SHOPPING

comments