Every dwelling has a dream of getting one of the most elegant, aesthetic and impressive designer looks to greet its family members, friends and guests.  To achieve this small but sweet dream of the home it's important to maintain the balance between the designing tools, visual harmony and materialistic implications. When it comes to materialistic impression we need to gather up good and great looking furniture escorted with matching wall paint, enhanced with good floor treatment (rugs and carpet) and amazing illumination effects. To match up all the above requirements glass furniture, glass tables, glass racks, shelves etc. will be a good and definite choice to go with.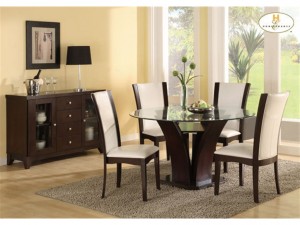 Enhance the beauty of your living room, family room, dining area or bedroom by placing an elegant piece of glass table. Add the punch of class to your simple and sober interior design of the spaces. Living room is one of the most important and connected room for every dwelling  or habitat's and placement of perfect glass table furniture with the blend of perfect designing and decors is really important to impress your living room design ideas. Ornate your living area with best of glass center table design, glass side table design, furniture styling (which is useful as well as has the aesthetic appeal) , to blend up perfectly with the sofa set and other seating arrangements.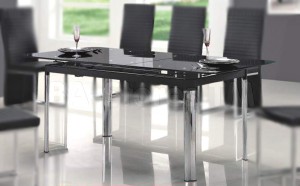 Glass dining table plays equally an important role to glam up your dining area settings, plan and designing as well. Charm up your dining area with glass table for that royal and elegant look. It conveys the language of style and gives an authentic classy look to your dinner area. Glass dining table when incorporated with steel work or steel studs it presents the most impressive dinner area. You might choose up from clear glass top table to semi transparent, colored glass, frosted glass or itched top table to accommodate at your dinner area accordingly to match up well with over all decors and other furniture of the room.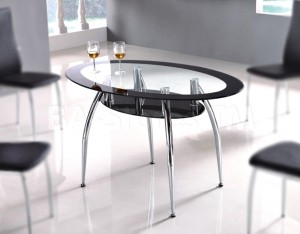 The benefits of using glass table furniture include versatility, ease of maintenance and replacement. They can be used in traditional, rustic, contemporary and modern designs. Their versatility is unmatched in that they work as easily in a small apartment as in a large home or office setting. Because any color palette they can be used, the neutrality of glass allows for complete control over a home's interior design and over all decors. Glass table furniture benefits over wooden furniture are more appreciable, commendable and acceptable.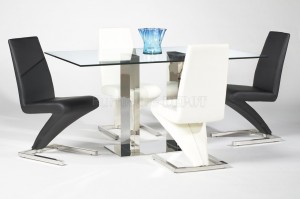 Another benefit of glass table furniture over wooden furniture is its ability to clean easily and have a low rate or efforts of maintenance. Just a simple wiping up spills is quick. Just use clean water or window cleaner and the table is ready for use. Glass does not scratch or burn like wood, and because it isn't affected by heat from mugs or cookware, there is no need to use coasters or trivets if placed at the diner area or living room space. Glass is low maintenance as compared to the cleaning demands of solid wood furniture or other material furniture.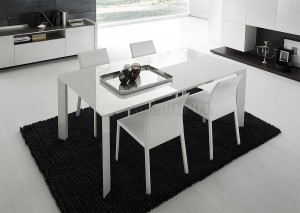 Glass table furniture is comfortable and well blended in any kind of space weather it is formal room of an office or informal space of living area, family room etc. Glass table furniture is a complete package of class, style, comfort (low maintenance), and blends up well with over all décor of any space and trends. Remodel your interior spaces with the classy and elegant combo of glass table furniture to get the most comfortable and amazing designing inside your office and homes.
Image Credits: www.carsmach.com

comments