A child's room is his or her sanctuary. It's a special place that belongs just to them. But it also needs to serve many other purposes: a place to rest their heads, a study, a playroom, and a place to store all their toys, books, clothes, and other belongings. This can make planning a child's bedroom quite the task—one that you don't necessarily want to start from scratch in a couple of years when they've outgrown the bubblegum pink or powder blue paint.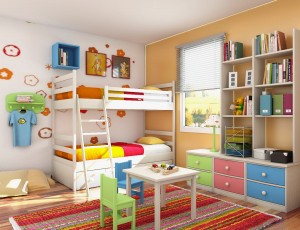 1.  Plan for the Space to Work Now and In the Future
When you are deciding which furniture to purchase and where to place it, examine how the space will best be used now and as your kid grows. A three-year-old may want a play kitchen or mini-trampoline, but that same space may be occupied by reading nook in five years. Think about the size of the footprint and how the space may evolve. For example, a desk is about the same size as a kitchen play set or a toy chest.
Once your kid has outgrown his or her crib, decide if a twin, full, or queen is best suited for them as they grow. Most teenagers can sleep comfortably in twin or full. And if your room is doing double duty with more than one little one, twin-sized beds can save floor space where they can both happily play.
2.  Choose Furniture that Won't Go Out of Style
Consider the large pieces that won't change and purchase timeless pieces. Choose classic styles and lines that will age well as your kids grow. Straight lines without excessive embellishment always stand the test of time. Modern platform beds also age well while providing storage underneath.
Choose natural wood that is easy to match as you add and take away furniture pieces. You can always add color with bedding, curtains, and rugs.
3.  Let Your Kids Choose the Accessories
Whereas furniture can be quite the investment, accessories can be a fun, less expensive way to include your child's current taste into their bedroom décor. And accessories tend to have shorter lifespans which means they'd probably need to be replaced anyway.
Lamps are a great way to add lighting and personality. They're also one of the simplest ways to update a space. You can even alter the decor by changing up the lampshade. Your little one may love Thomas the Train now, but maybe they'll want a hockey-themed lamp when they're twelve.
Throw pillows are another great way to let your kid have control over their environment. Pick out a few pillow options that you think will work with their room's theme or design and let them choose which they like best.
4.  Choose Stylish Art That They'll Love Now and In the Future
Art is a great way to add personality to a kid's bedroom. By choosing a mix of art you like and your son or daughter likes, you'll create a space that is both peaceful and inspiring. Choose standard sized photo frames to switch out photos and artwork.
Choose neutral frames that match the overall décor. If you select standard sizes, you can always update and replace the artwork. Find classic pieces or let your kids learn about famous artists and replicate their style to create their own artwork.
Photographs are always a timeless way to add artwork and a personal touch to a kid's bedroom. Display your child's favorite memories by having their photos printed and displayed in their room. Black and white photos can be both timeless and chic as your child grows, and colorful photos can bring energy and excitement to a room.
5.  Avoid Those Traditional Baby Color-Palettes
Take time when choosing your child's bedroom color. A kid's bedroom color can have a profound effect on their mental state.  Our kids can quickly outgrow the soft pastels many parents gravitate towards when decorating a baby's bedroom.
Even though wall color is one of the easiest things to change in a room, you may not want to let your child choose their wall color. Many parents make the mistake of letting their child choose their room paint, but this often results in dark or almost neon walls. If you want to let your child be more involved, pick out three to five colors that they can choose from.
Try out more sophisticated colors like coral or navy blue. Don't be afraid of neutrals like grays or creams. Gray with pink accents can make for a perfect nursery, while gray with white and teal would make any pre-teen smile.
Kids bedrooms can be the most enjoyable rooms to decorate and design. With all the options available, don't get overwhelmed. Take your time and always keep longevity of style in mind. And when you're ready to redecorate your kids' bathroom check out our "Kids Bathroom Ideas."
comments