We have evolved as human being right from our days of being apes to man and woman or from days of old mediums of communication to new era of technology. You know after all, change is the only constant. However, some things are meant to mend, not change. Termites are one of them!
Termites (also known as "Deemak" in India) are the silent destroyer because they live and breed secretly in your home without showing any early signs of damage. Especially, where there are so many wooden fixtures and furniture like wooden doors, shelves, racks, windows, dining tables and wooden floorings. Besides, termites can also cause damage to the clothes. The termites look out for warm weather constantly.
Houses with high moisture content in them have a higher risk of termites.  Sometimes, the geographical location of your house may also affect the presence of these creepy creatures. Now we have treated wood, anti-termite items etc. but somehow, the problem still exists and not anything comes to you with 100% assurance, does it? Firstly, you should know that there are two general types of termites that might infest your home: subterranean and dry wood termites. The former are found in both the soil around your home and the wood of your home, while the latter thrive solely in wood (not soil).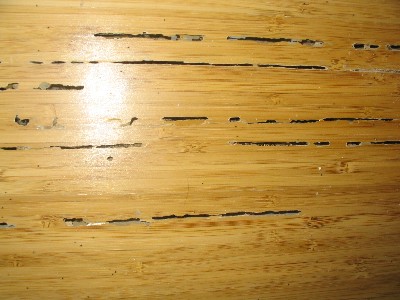 So, let's share some remedies that can help you get rid of termites:
Use orange oil: Orange oil is an extract of orange peels that is insoluble in water. It is a very prevalent home remedy that destroys many insects including termites; hence, it is also known as orange oil termite. Simply, drill small holes at the places infested by the termites and inject the orange oil into the hole. This will help you get rid of termites in 3 days to a maximum of 3 weeks, depending on the severity.
Be hot or be cold: Termites cannot survive in extreme hot and cold temperature. Temperatures more than 120 degrees or below -20 degrees Fahrenheit can help kill the termites. Place the wooden object/piece or any other infested item under the sun and see the results.
Aloe vera gel: Aloe kills the termites when they get in contact with each other. Crush the entire plant of aloe and store it in a container filled with water over it. Whenever required, take one part of crushed aloe and 5 parts of water. Mix properly and spritz it on the infested areas using a mist sprayer.
Petroluem jelly: Rub petroleum jelly on the dried wooden furniture. Leave it for a day or two and afterwards use a soft cloth to polish your fixtures.
Make a trap: Take a couple flat strips of cardboard, wet them, and stack them on one another in an area where termites are likely to be. Because termites feed on cellulose (cardboard), this makes for an excellent spot trap. When the cardboard is infested with termites, take it out in a safe area and burn it. Repeat multiple times, if necessary. This will reduce your termite issue for the least.
Get it treated: If you decide that your infestation is simply too big, or the house is simply too important not to get it right the first time, you should probably call a professional. You can take termite contracts and have professionals make frequent home visits and help you. They will usually drill holes, spray medicines and leave some in plastic containers around your home.
About the Author:
Sagar Datta heads and operates an interior design consultancy firm, Casa interio.  

comments