We have recently designed a 4bhk Individual house in Rajeshwari Nagar bangalore. Since we have already done many projects in this township, it was pretty much a easy for us to get the work. But then, no project gets completed without any difficulty.
Client Name: Pandit Ganti
Client was looking for simple and modern design for his house.  Check out the below designs we delivered to him. You will also get to admire unique surprises like filigree accents, striking mirrors and jazzy lighting once we begin the tour.
Living Room
We have given him few color options. Please see the designs below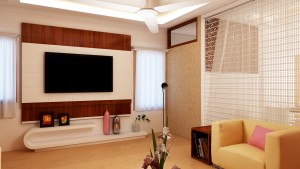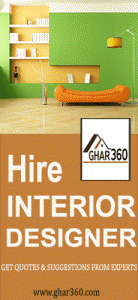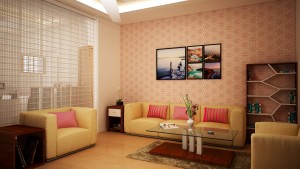 The living room holds a clean and elegant design.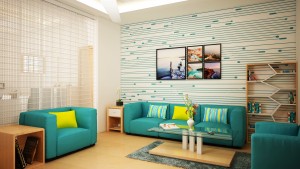 Vibrant touches of teal and lemony yellow make this stylish living space look bright and snazzy. The simple but elegant couches are cosy, and the coffee table is a unique wood and glass affair which stands on a grey rug to hold the decor together. The quirky open shelf on the right side holds books in its angular niches, while the trendy wallpaper is peppered with teal for a smart appearance. Framed photos depicting breathtaking landscapes add pizzazz to the living space too.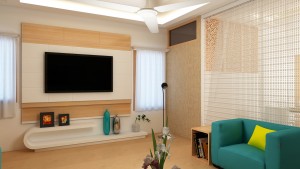 Master Bedroom
There is also a full height wardrobe with hinged doors and inbuilt lofts within it.  Dressing Table with Mirror is also placed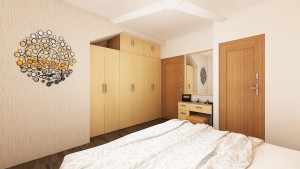 The stunning wall decor facing the bed is essentially an arty cluster of numerous small, round mirrors held together by a delicate metal frame. It takes care of the bedroom's aesthetic quotient, while a sleek bank of closets cater to storage needs. The dressing nook pleases the eye with its large mirror, sleek drawers and a petite stool.
No matter to which room you enter, every room is unique, but still space holds undisturbed consistency in its décor. The credit for all this goes to the best interior designers in Bangalore – Ghar360.
Dining Room
The Dining space looks classy and eye-catching design.  It's a mix of traditional and modern design. Below are the various design options given to client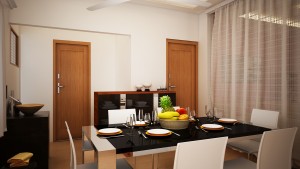 On the other side of the metal partition and flowing drapes is the modish dining area. Here, the table is a gleaming and sleek black and chrome affair, with stylish white chairs surrounding it for chic contrast. But what took our breath away is the gorgeous filigree work on the wooden portion of the prayer room wall just beyond the table. The door of the prayer room is a latticed structure, and it goes beautifully with the filigree for an artistic effect.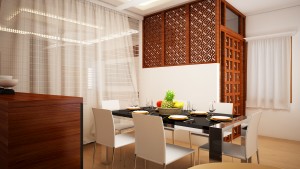 If you have been struggling with beautifying your home, Ghar360 would be the one to make your dream home come true.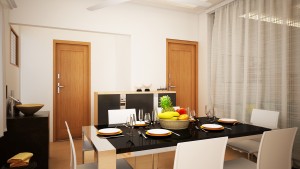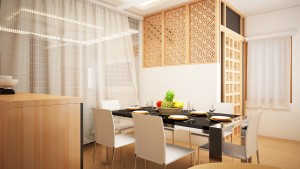 Pooja Room
Client was looking for a traditional Pooja room design. We have used glass in both sides of doors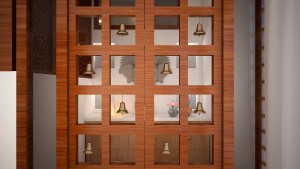 Home Theater 
Apart from Living Room TV unit, He wants a separate room for watching Tv in big screen. We have designed a simple and elegant false ceiling with koove lights and Tv Unit based on his requirement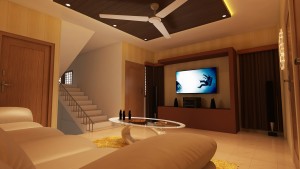 The media room floored us with the jazzy panels featuring intertwining threads of light on the walls. The wooden and beige ambiance reaches a new height of style with these panels, and the quirky coffee table with its elliptical contours. The plush leather sofa and the yellow rug promise oodles of comfort while you unwind and watch TV.
The home theatre has been neatly accommodated by a sleek and simple wooden unit facing the sofa. The unit resembles an inverted C.
To know more about our quality services contact us at +91 9945535476  ( Bangalore )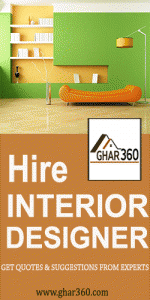 comments