Ghar360 is one of the best interior design firms in Bangalore. We design quality false ceilings, glamorous kitchens, stunning wardrobes
Client Name: Mukesh Taneja
Location: Varthur, Whitefield
Client was looking for simple and modern design for his house.  Check out the beautiful designs we delivered.Every room is functional, tasteful and cosy, with artworks and paintings appearing now and then for visual interest.
A Detailed View of the Striking Interiors of  Muesh House . There are few interiors where you can get to see a perfect balance between modern elegance and usage of natural elements.
Living Room
Entertainment Unit with stone cladding
The TV in the media room has been mounted against a wall lined with grey stones for a stylish and rustic touch. The white and slim console unit and the floating shelves contrast the grey wall nicely.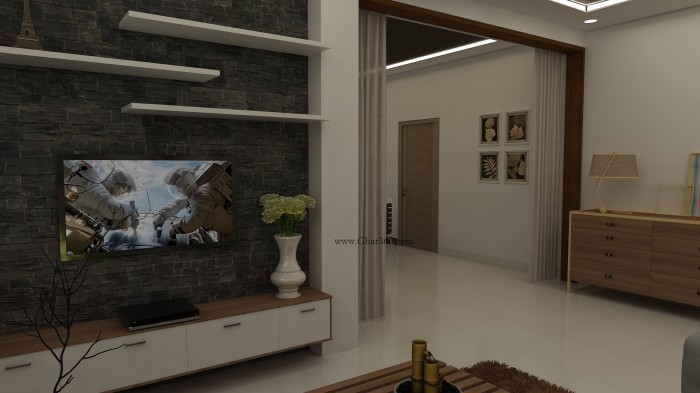 Living Room/ Hall View
The formal living area is separated from the media room with the help of intricately patterned filigree panels on the right, and from the informal living space with the help of modern glass panels on the left.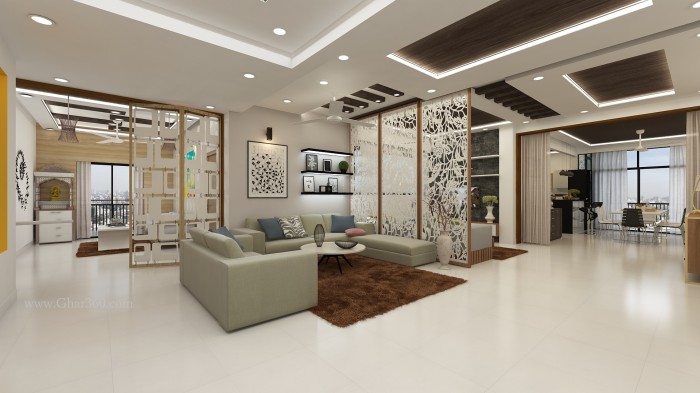 Seating Area with Small Puja Unit / Mandir
A three-dimensional butterfly wall art and some vibrant painted panels add artistic touches to the informal living area. A plush white sofa and a trendy coffee table ensure relaxation, while tall glass windows bring in lots of sunlight. The pretty white temple in the corner invites you to meditate.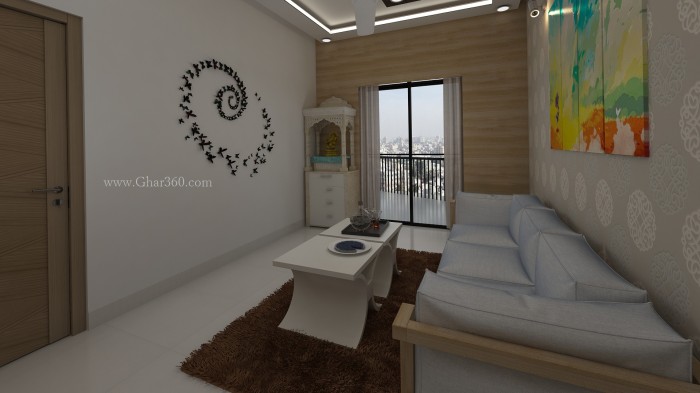 And surely it has to be so unique and stupendous as the décor is done by the most reputed interior designers in Bangalore – Ghar360.com
Entrance
A large round mirror above the sideboard and beautifully lighted yellow niches in the wall add life to the space.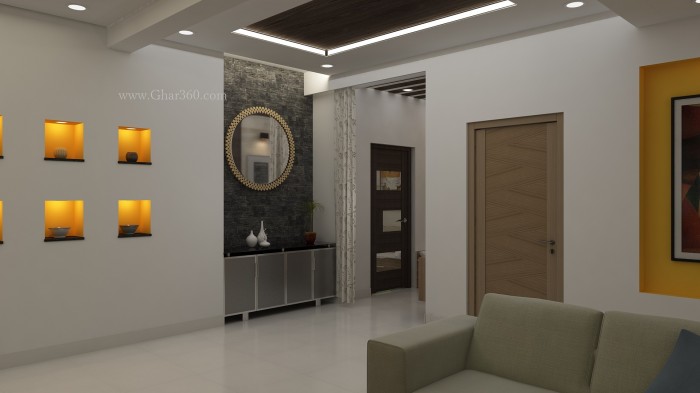 Interiors reflect the true character of the people living within. We at Ghar360 truly believe in this maxim. That why our home interior design tries to balance color, harmony, utility, safety and hands on practicality. Our portfolio of Interior design Bangalore is filled with homes with brilliantly clever interiors and captivating spaces that not only makes us feel at home but also inspires us to match the character of the home.
Foyer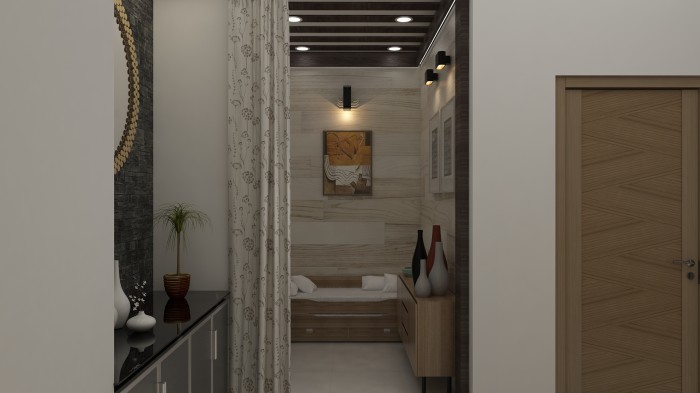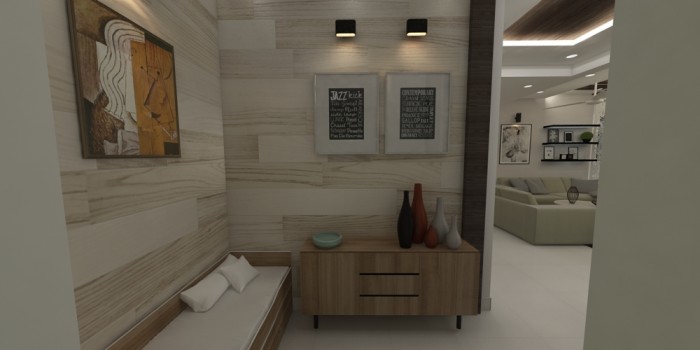 Gha360 is one of the best names when it comes to creative interior designing in Bangalore.
Kitchen 
Simple Wooden Finish Kitchens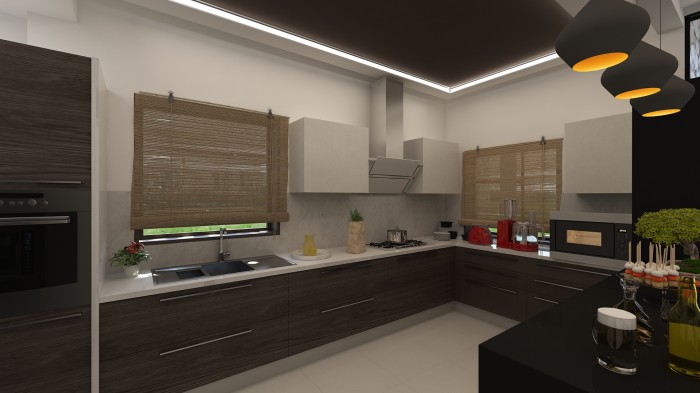 Sober and elegant colours, sleek and smooth cabinets, a convenient U-shaped layout and trendy lighting make the kitchen very welcoming and cosy.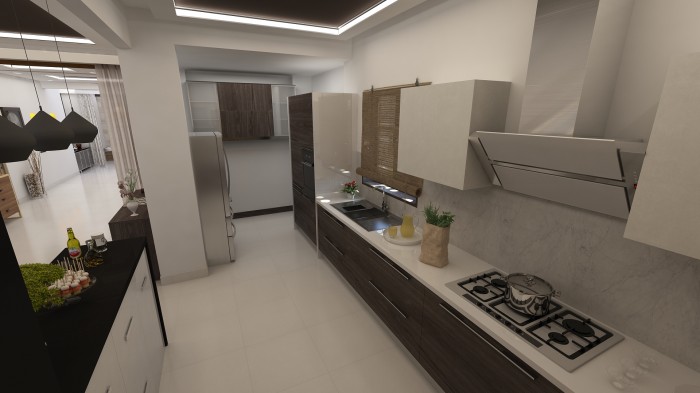 To know more about our quality services contact us at +91 9945535476  ( Bangalore )
Dining Room
Breakfast counter and Dining Table
Sleek and ultramodern furniture in brown and white make the dining space delicious and smart. Large glass windows help sunlight to flood the area, besides offering a stunning view of the city. An indoor palm adds freshness here, while the open kitchen beckons for a closer look.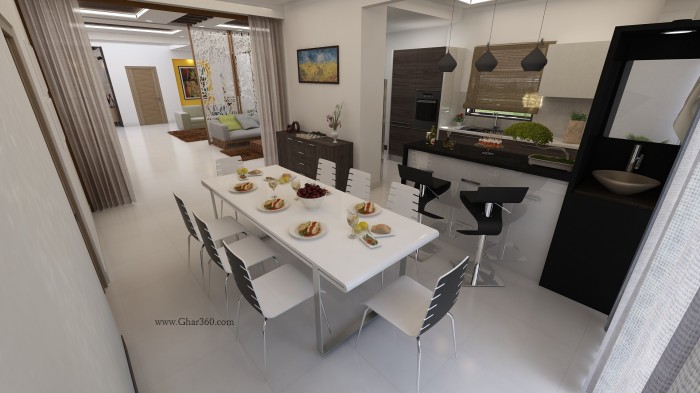 Bedroom 1- Master Bedroom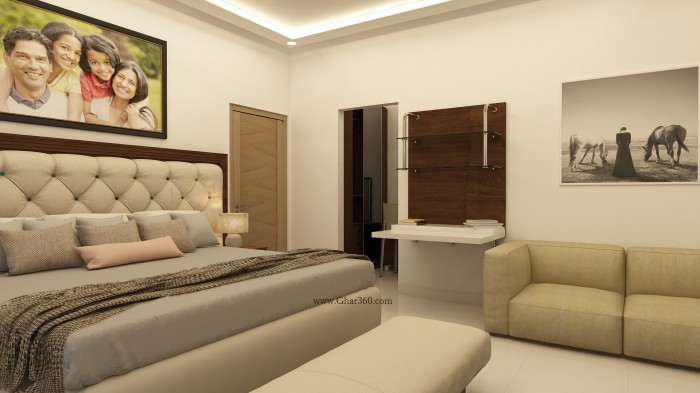 Creamy white and pale grey shades come together to fill the master bedroom with calm and comfort. The tufted headboard, the foldable white study shelf, and the black and white artwork are aesthetic touches of note here.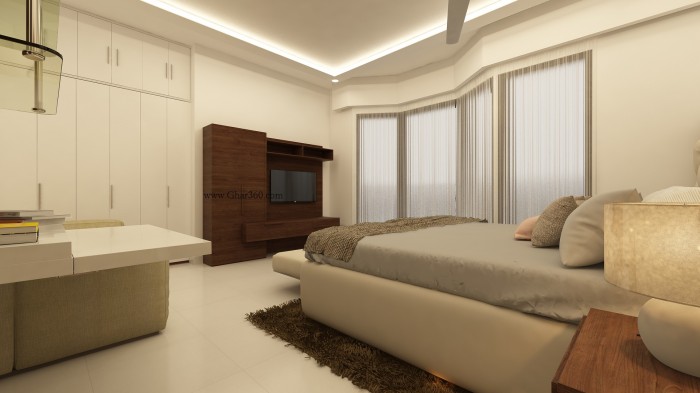 An array of large glass windows with sheer drapes keep the bedroom amply illuminated during the day. Floor to ceiling in-built closets on the left offer tons of storage space, while the wooden entertainment unit lends a warm touch.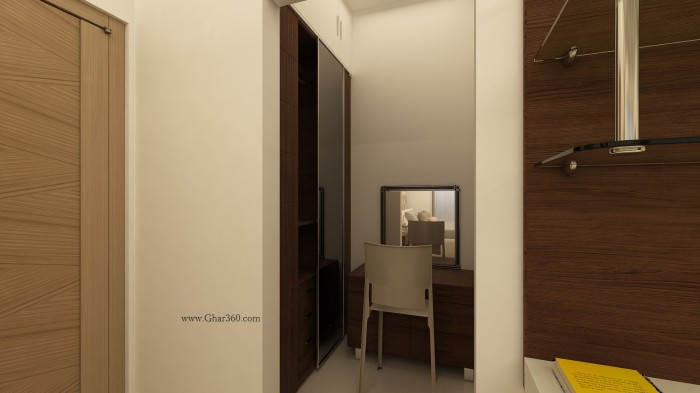 Bedroom 2- Parents Bedroom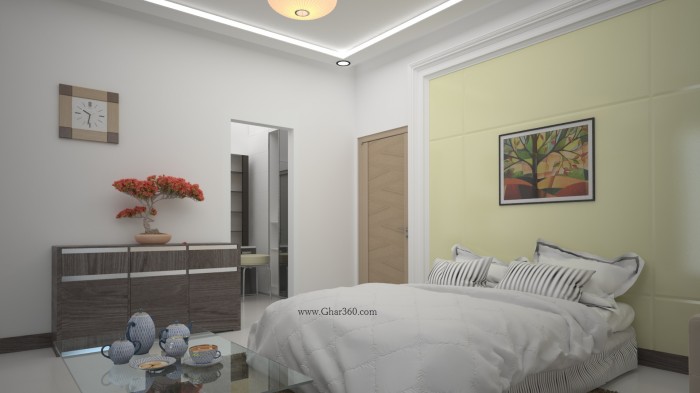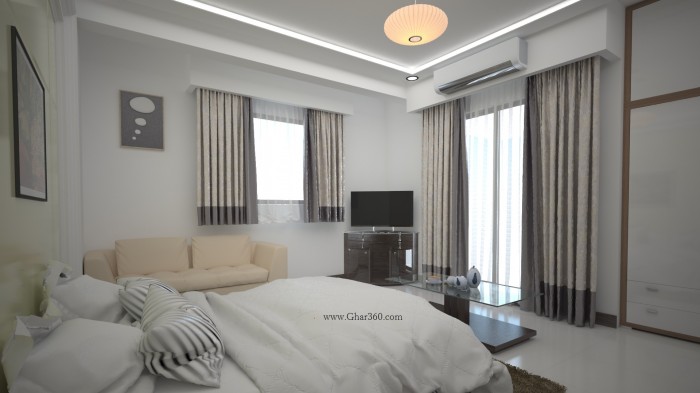 To know more about our quality services contact us at +91 9945535476  ( Bangalore )
As a leading professional interior designers in Bangalore; even this time we, Ghar360 have proved intelligence and creativity by creating outstanding interiors for a 4BHK flat at Varthur
Bedroom 3- Kids Bedroom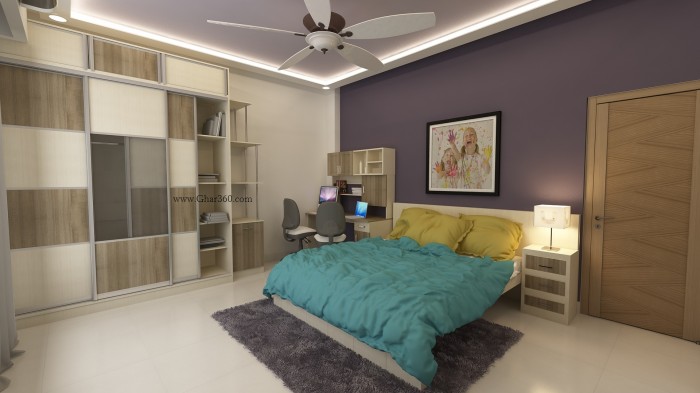 Dashes of purple, blue and yellow make the kid's bedroom a lively and cheery place. Soft textures offer comfort, while the large white and brown storage unit keeps clutter away. The wooden study station is a practical touch with its many cabinets and shelves.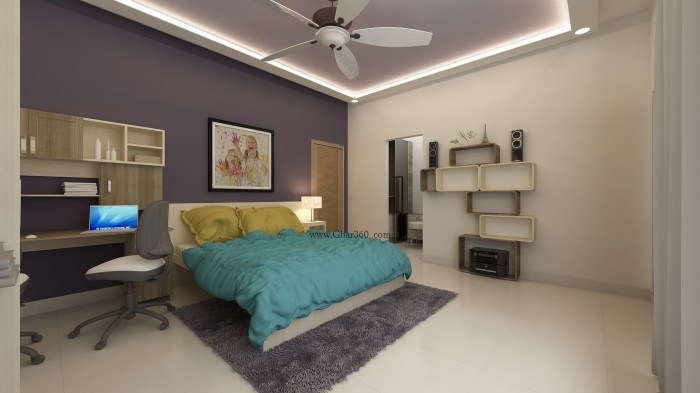 To know more about our quality services contact us at +91 9945535476  ( Bangalore )
Bedroom 4-  Guest Bedroom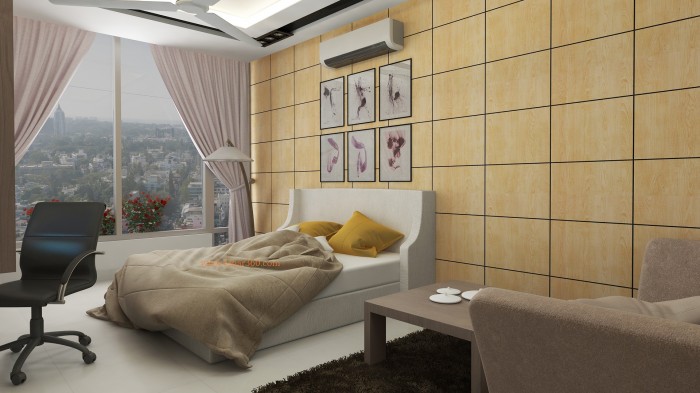 Check pattern on the cream-coloured wall behind the bed and the collage of artworks make the guest bedroom a fashionable space. The bed flaunts a unique headboard, while large windows allow delightful cityscape views.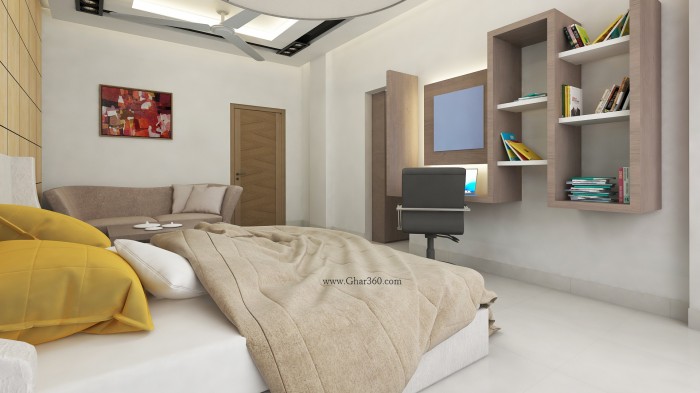 The trendy bookshelf in the guest bedroom doubles up as a study station as well as a dresser, since it comes with a mirror. A vibrant painting above the couch lends colour to this space too.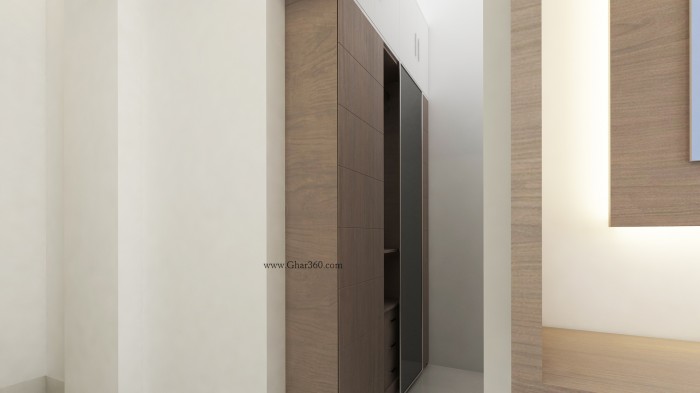 Balcony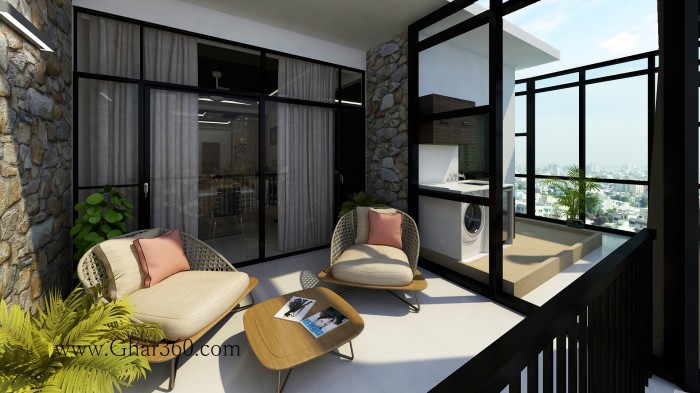 To know more about our quality services contact us at +91 9945535476  ( Bangalore )
At the end of this project, we not only once again proved our expertise and efficiency and offered our client an amazing  interior space that is exceptionally outstanding
Watch Video here
comments