You have made up your mind to have your bathroom remodeled. Your bathroom no longer looks good to you and you want to turn things around. You know the changes you need to make, you have an idea of how you want your bathroom to look and you are also drafting a budget of what it would cost. Then comes the next important question; should you do the remodeling design yourself or should you hire a designer?
These days, thanks to the internet that has unlimited resources for consultation, many people opt for DIY in many cases, preferring to do the jobs themselves with lessons from the internet rather than hiring professionals to handle it for them. But remodeling a bathroom is not the same as setting up a shelf or fixing a leaking pipe. This is something that involves a lot of intensive work, drawing up plans and addressing both structural and design concerns. While it may be easy to draw inspiration from things you see on the internet and try to apply it to yours, you have to be aware that there may be some factors that differ, such as the size of the bathroom, the budget, and more. Relying chiefly on the internet may leave you frustrated at the end of the day when you are unable to replicate what you have seen on your screen.
Hiring a designer is something you should consider doing for the following reasons
1.   A Designer Has The Experience
Chances are you have never designed a bathroom before and that is because it is not your job. Designing is an art and looking at images of bathrooms on the internet would not make it easy for you. There are a lot of things to take into consideration that you would not factor which would affect the result of the remodeling. But a designer has the knowledge coupled with years of experience that allows them to know what needs to be done about your bathroom design. At the end of the day, if you are asked to compare, you will see that your design comes nowhere close to what a designer has done.
2.   A Designer Would Help You Manage Your Space
Space is a very big issue when it comes to bathroom remodeling. The bathroom is always the smallest space in the house but it is how you manage that space that matters most. A designer can see space even when it would not be obvious to you. They would help you maximize your space in such a way that everything would fit in and would also make use of fittings that would not look too big or out of place in the bathroom.
3.   A Designer Would Help You Stay Within Your Budget
Having a budget before you embark on your remodeling plan is very important, otherwise, you may end up spending so much money since you have nothing guiding you. Even when you have a budget, if you are not careful you are likely to spend above your budget. This can be prevented by hiring a designer. A designer would help you stay within your budget by eliminating unnecessary spending and helping you source for cheaper products so you can achieve everything you want.
4.   A Designer Would Make The Remodeling Process Easier For You
Most designers work with remodeling companies like New Look NewMarket Kitchen & Bathroom Renovations, meaning they would be able to work with the contractors and guide them through the plan and design of the bathroom. This would save you a lot of time, as the designers would ensure that everything carries on as planned and also relate the progress being made with you, so you can always be aware of what Is happening.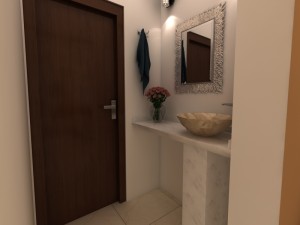 5.   A Designer Would Help Translate Your Ideas To Reality
No matter how complex your design may seem, a designer would help you achieve it. This is particularly helpful when you cannot find an idea of what you want on the internet or you want something unique. A designer knows how to put things together, based on what your ideas are, to come up with something that captures all you want.
6.   A Designer Helps You With A Plan
Before you begin with the remodeling, you need to have a plan that would guide the whole process. This plan would dictate the pace of work as well as all that needs to be done so that you do not skip over anything. Coming up with a plan yourself might be difficult but this is something a designer can work with you to achieve.
comments