Yoga is a way to reach the inner peace, touch your soul and get connected to the god through the medium of meditation and achieve all the qualities of healthy life and creating a professional yoga studio or yoga space might sounds to be difficult or challenging task, but trust me it is one of the most interesting, effortless yet satisfying work a designer can ever achieve. Yoga studio should combine all together all the essential elements of yoga; peace, positive atmosphere, relaxation, inner calm and comfort in its space design and layout. So, let try to put in all the disciplines together under one roof to achieve best of yoga studio designs and spaces.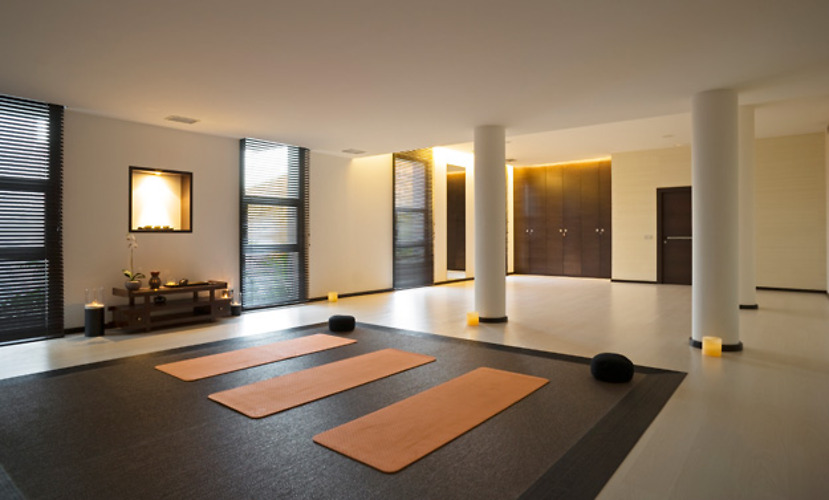 To create healthy and happy yoga studios do focus on its layout, space management, floor treatment, illumination (both artificial and natural), ceiling height and ceiling design, motivational factor or emphasis point and over all designing. We need to keep all these things well connected to each other to create a sophisticated and comfortable yoga studio design. Let's discuss the above factors in bit details to get the real factor behind them.
Layout of the yoga studio/ yoga room: Choose the area with ample of space which can accommodate many students under one roof giving them all the stretching and exercise floor area and comfort. No need to place any unwanted furniture around the yoga session area. Avoid benches, stools, seats etc. Comfort them with fully open area to do their yoga sessions.
Space management: Accommodate each student with good amount of space for their yoga sessions. Keep the reception area or any noisy area out of yoga session room's reach. Keep them calm, noise free and hassle free. Manage the room space with just yoga students, their sessions, peace and comfort.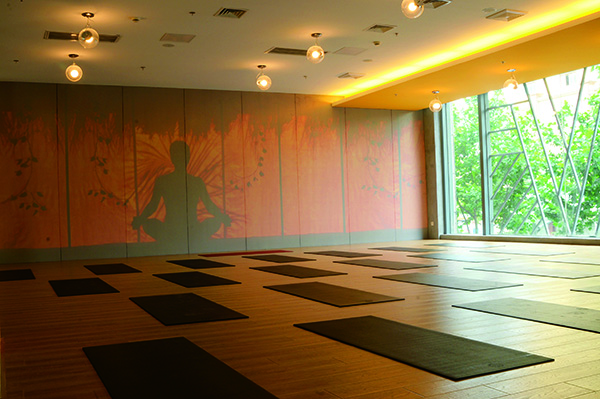 Yoga room lighting: Natural light is one of the best medium to light up the yoga session rooms or yoga studious. So cheer up with lots of glass work, glass walls around to get directly connected with sun light, greenery and nature. Apart from this, do illuminate the room with sober ambient light for evening sessions. Avoid any kind of sharp or florescent lights. You may even use candles to bring the lost coziness and warmth in the room.
Floor treatment: One of the major essential parts of yoga studio or yoga session rooms. They play the most vital role providing the comfort while people are busy with yoga sessions. Comfort the floor with hardwood. No need to use marble, tiles, vinyl, linoleum, etc. Avoid any kind of floor carpeting. Better pamper the floor with yoga mats, blankets, bolster, etc. to enjoy the real comfort of yoga session.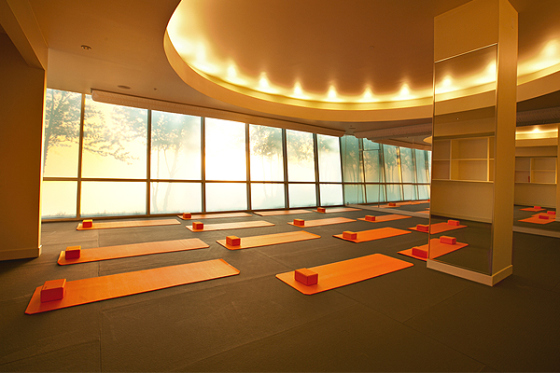 Ceiling treatment of yoga rooms:  Aesthetically, I don't think 8 feet high ceilings create an optimal yoga environment in any yoga studio or room.  I personally prefer higher ceilings (10 feet or higher – loft ceilings are fabulous).  The reason for higher ceilings is it creates a sense of airiness and freshness.
Colors for yoga studio/ session rooms:  When we are talking about relaxation, peace, calm and healthy environment than what could be actually more preferable than pure white, light yellow, light green, light blue or cream colors. These colors have inherent quality of peace, calm, positive vibes and good health. They are perfect for any yoga room or yoga studio. Keep the walls off from any kind of texture or 3D work. No need to install any paintings or artwork. Such things may distract to achieve the required yoga sessions results.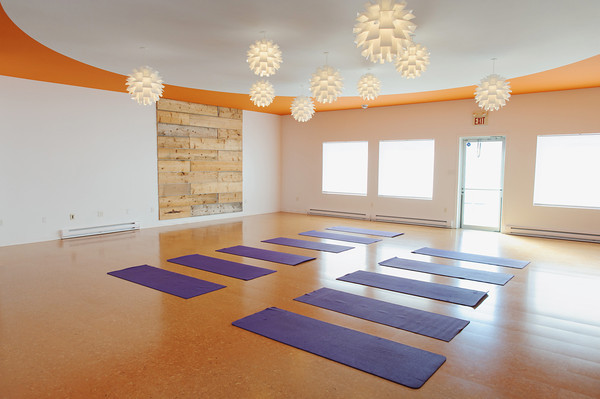 Point of motivation/ emphasis: To get well connected to yoga sessions it is actually important to create a focal point or a point of motivation, in short something which is inspirational, peaceful and relaxing. You may install an idol of any God, may paint a wall with Om word on it. Create something which directly or indirectly represents God's existence in the room.
Overall designing: Keep is as simple as you can. Remember people are here to relax their mind and heart, their negative thoughts, so give them a world of peace with simple yet sophisticated designing.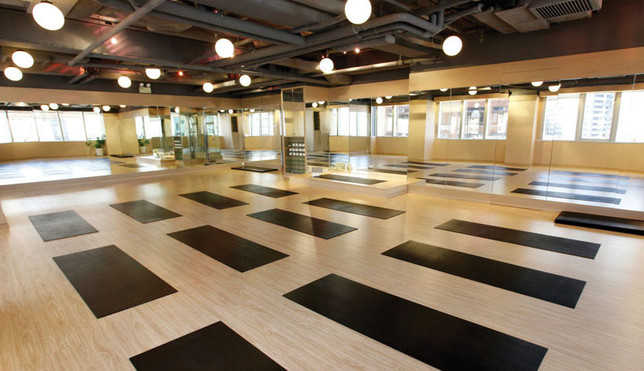 comments