Doors are the direct access or entry way to any building, room, office, home, etc. Warm and sweet welcome directly comes from a well-designed and elegant door of every residence. Home door design should speak the language of strength, softness, welcoming gesture and style. Door design, material, placement and accessories put on it matters the most for a real strength full and dignified appearance.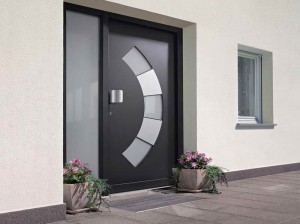 Every residence has to deal with different kind of doors and door styling according to room size, shape, purpose and design. You just can't employ same kind of door to every room. Here we have an opportunity to explore types of doors, their materials, designs, decors etc. according to the room requirements and door purpose.
Check 1000+ Mind Blowing Design Ideas Click here
Before we figure out types of doors for different rooms of a residence always remember Interior doors are light weighted and have two hinges; whereas exterior doors are heavy and often use three hinges.

          Also Read : EXOTIC GLASS DOORS AND WINDOWS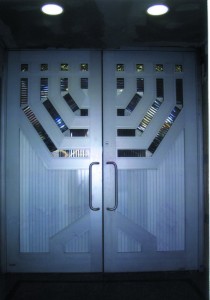 Types of doors for home door ideas:
A panel door is a classic style. It usually has three or four horizontal rails and three vertical stiles. Most commonly found in every home and specially employed at the spaces where style and design is not a primary requirement.
A flush door is a simple flat slab. It is usually the least expensive choice. Interior flush doors are often comprised with hollow core, while exterior flush doors have a solid core. They can be of wood, veneer, metal or fiber face depending upon the exterior or interiors requirement.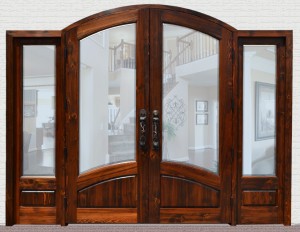 A pair of French doors adds a charming touch as well as an extra-wide doorway opening for your interiors or entrance of the house. Mostly these doors are of traditional designs maintaining a unique class and royalty in its appearance and usage. They are mostly found being used as exterior patio doors, but interior French doors can make a stunning passageway between rooms for a change.
Interior pocket doors which slides into the wall when fully opened. They save lots of floor space and allow you to open door ways without any obstruction.
A pair of bi-fold doors is the most popular choice at homes when it comes to cover a wide area of 6'0" or more than that. Bi-folds can be flush, paneled, or louvered. Perfect choice for entrance door, hall doors or walking closet doors.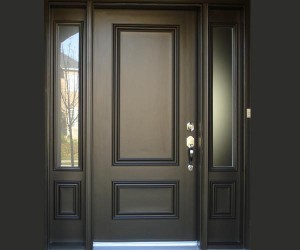 Glass doors one of the classy and royal choices for any home or room. Not suitable for the rooms or spaces where privacy is the primary need. Good choice for living area, dinning space, inner courtyard, etc.
Sliding doors are one of the most popular choices these days as they employ least floor area. They have their classy looks to dominate over. They are amazingly fit as wardrobe doors, attached bath doors (with bedroom), kids room door, home office or library area etc. They can be of wood, fiber, glass or any other material as desired by the client and his budget.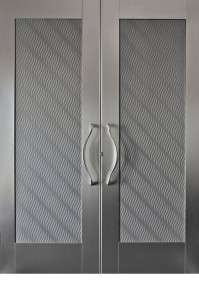 Now talking  exclusively about exterior doors then we have bit limited yet attractive choices to think about. Entry doors can be made of wood, metal, or fiberglass accordingly. They range from straightforward panel doors to windowed doors with attractive muntins or removable grills. Let the wood work or glass work escort the beauty of entry door. Employ carved wood work, boarders, laminates etc. to your exterior door for an aesthetic and appreciable look.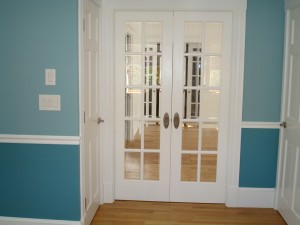 Apart from these door types, Patio sliding doors are typically made of large panes of glass encased in wood, vinyl, or metal frames to enhance the beauty of your courtyards and getting a connective access to them. They are the ideal choice when you want to maximize your view of the yard. One of the tool to enhance the beauty of outer view and landscape.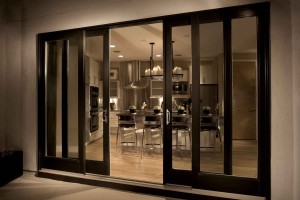 There may be many door types for the exteriors and interiors of your home with different kind of materials, unlimited designs etc. but choice of appropriate door for the particular area makes it more worth it and special. So, be specific about the door design, door material to be chosen up according to the respective room and room purpose.
Photo Credits: http://www.custommade.com/

comments