Getting a bit of extra from the exteriors of your building is always nice…. Right..!! Canopy and awnings give us this pleasure to get a bit more of it. An awning or overhang is a secondary covering attached to the exterior wall of a building. It is typically composed of canvas woven of acrylic, cotton or polyester yarn, or vinyl laminated to polyester fabric that is stretched tightly over a light structure of aluminum, iron or steel, possibly wood or transparent material (used to cover solar thermal panels in the summer, but that must allow as much light as possible in the winter). With the addition of columns an awning becomes a canopy and thus it helps in enhancing the beauty and providing extra comfortable use of garden area, open terrace, outer courtyard, etc. according to our requirements and seasons.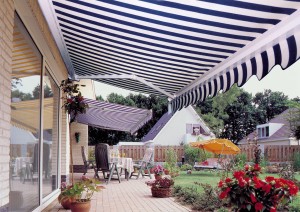 Most common types/shapes of awnings and canopies to enhance the beauty of your home, office, shops, hotels, etc. are:
Standard Awnings.
Concave Awnings.
Casement Awnings.
Complex Awnings
Dome Awnings.
Dome awnings with valance.
Elongated Dome Awnings.
Elongated Awnings with valance
Sign box Awnings
Back lit with pop-up.
Back lit with dormer.
Traditional Awning with hip end.
All these types of awnings are successful to give an extra of exterior space to you when used at a window, door, garden area, door outer yard area etc. All the types carry their respective place according to their function and your requirement.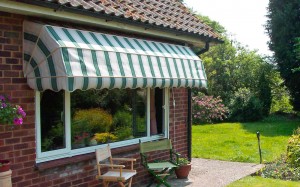 After the awnings it's time to know about the types of canopies which are helpful and successful in creating outer world of your home, shop, hotel, restaurant, terrace etc. into a much better and brighter place.
Canopy with hip ends.
Gabled entrance canopy.
Rounded entrance canopy with bull nose.
Rounded Canopy.
Patio canopy
Pyramid cabana canopy.
All the canopies play an essential role to give a outdoor shade and a good seating arrangement for the exteriors of your spaces. It can be said, they are the one who has actually replaced garden umbrellas after the successful emerge in the world of designing and style.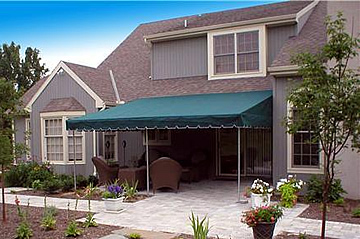 Get different designed awnings and canopies to shade your windows and doors. They enhance the beauty of any space as well as protect you from strong sunlight and other weather conditions. Different colors, textures, materials, strips, etc. are available in the market to put in the classy touch of décor to your windows, door and other exterior areas. Single colored gives a royal traditional touch whereas, strips and textured gives a modern cover. To compliment your exteriors and to give a classy and standard look you may go for glass awnings with steel studs as they are simply one of the superb choices to go with and beautify your exteriors with a class, style and attitude.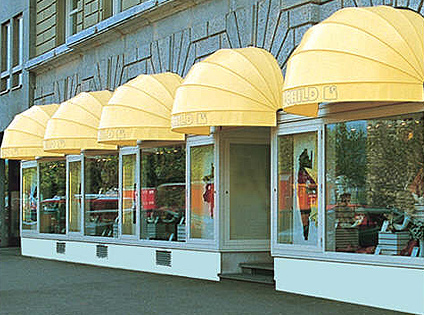 With awnings and canopies get the pleasure of outdoor garden area at your exterior spaces, cover your terrace with a shared view of stars and moon in the sky, comfort your evenings time peacefully in your balcony, give a romantic look outside your bedroom with a little cute shade of it etc.  So choose among any of these awnings- Aluminumsteel Awnings, Retractable awnings, Lateral Arm Awnings and Side or Drop Arm Awnings and make your exterior world go wow and amazing. Just a simple fit in of columns to these awnings will turn them into amazing canopies and they are all set to entertain your garden time. Do not just adore and love your interiors, pay some attention, efforts, time and love to your exterior spaces as well, after all they are part of the same building.

comments