Garden pathways are considered to the open and most attractive invitation to step inside the garden. So, ornate the special and seductive pathways with all your imaginative design ideas and décor implications. A rosy, soft, delicate, cute and full of awesome flowers path to walk by is an amazing feeling to be with.. Isn't it..!  Then why just to feel and dream about it, in fact it's time to create a path of heavenly flowers, touching fragrances and steps to cherish all life. Make your steps count with wonderful collection of roses, spring blossoms, lily's etc.  at your garden side and garden pathways. Make gentle efforts to bring back the lost natural beauty of the pathways and be sure the pathway is clean and clear enough to walk by. Change your rusty and old pathway to modern design and well equipped with exterior lighting's, wonderful flowers, few stones and pebbles to merge with and lovely atmosphere.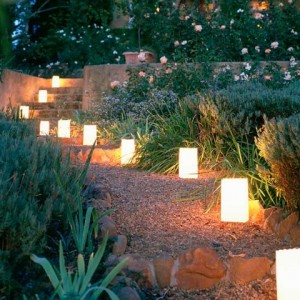 Pebble the floor or tile the floor with different kind of rough textured stones, slate, tiles etc. to achieve a clear and non-slippery pathway. Try to bring in more natural look to the path ways with such rusty, rough and textured exterior tiles, stone or pebbles to get connected with nature and surroundings. It gives more of the original and elegant look to your efforts. They keep it so natural and authentic when it comes to garden pathways.
Illuminate the pathways with exterior effects of aesthetic modular lighting fixtures. Keep it green, brighter at nights or evening and clean. Match up well with versatile collection of exterior garden lights available in the market. You need to play intelligently and cleverly for those natural looks created by the exterior lights. Patches of grass with little block carrying stone stitched with flower decoration brings a very natural and bright way to walk by when escorted brightly with exterior illumination effects.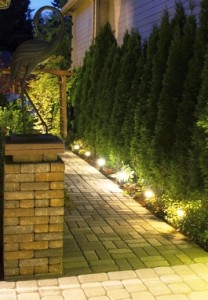 A sideline pond with few fishes in it and a bench to relax by merged well with showers of air and cloud incorporation with cool and peaceful tree shade is just a wonderful and spectacular place to walk by or sit by few moments. Try to make time stop by you with this wonderful arrangement of nature under the sky and stars.  Let the silence make some noise, let the butterflies whisper in your ears and get close to nature and let the nature hug you back taking you in its arms.  Bend your design ideas with natural and greenery programs which are beneficial for both you and nature.
Let the pathways of your garden speak the language of design with wonderful implication of designed or patterned tiles for exteriors. They are dam successful to provide a "wow" look to you garden pathways. Ornate your pathway settings with such exterior collection of tiles and pebbles for the most happening and inviting pathways.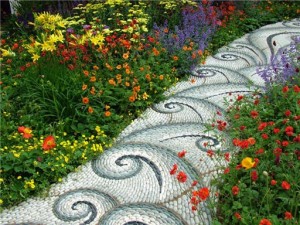 Keep them less noisy and more of the silent side. Count your steps in with modern ideas, tree cutouts and shapes, seasonal flowers, superb landscape plans and few marble or stone seats or benches to add on the classy comfortable beauty to your garden pathways.
Cultivate your garden pathways and garden with some more of the natural seating arrangement and garden umbrella's or canopies.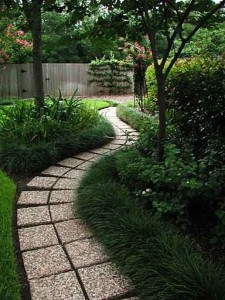 Plan the pathways in such a manner that it entertains all the age groups and let it give a fresh and warm welcome to everyone. Put in a dramatic flavor by adding few steps at some points some rough texture to blend with smoothness of air and soil. This kind of planning and arrangement directly gets connected to nature and successfully creates a beautiful styles and ideas for any kind of garden pathways or courtyards. Let the first step of pathway become so special and adorable that it creates a sense of new life, new hopes and smiles in anyone's mind and heart. Do not just create a pathway in fact create  a path which can make people find few new ways.
Image Credits: www.indulgy.com

comments