Interior design is already an interesting task to deal with and make spaces feel better and lovable and if you get a chance to design up a room of melodies then it becomes more special and heartwarming to put your design ideas for such a great, artistic and happening place. Yes I am talking about Music room studios which have already quality of dominating and attracting everyone to themselves. So, putting up more interesting and appealing interior design to the room of art is bit challenging yet it's an opportunity to show up and glow up your designing skills without any limitations and formal work. So, let's go for it and catch up the music room studio design. On top of it all, quality and On top of it all, quality and good sounding studio headphones and speakers should equal the modern design and feel of the studio. There's a list of top-quality studio headphones in the market, but only the best ones get into Music Critic's top list.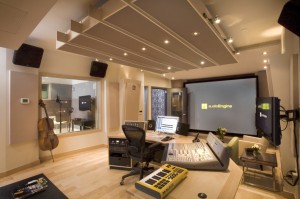 Designing a music room seems to be simple and easy but one need to be very patience and be careful about putting each and everything in the room because each and everything directly or indirectly affects the quality of music being prepared in there. It has its so much of physiological impact on the person who is involved into the great work of melodies.
From the color of the walls, to the glass work, furniture placed, ceiling work, floor designs, lighting and acoustic needs each and everything has a great impact on the people working inside. So thrill up the music room with soft melodies of sober and light colors for a positive and creative environment. Dark colors may behave badly with the people around by creating a mess and distraction in their mind. People working there need to be relaxed, cool and calm so give them the calmness of light colors to go along with.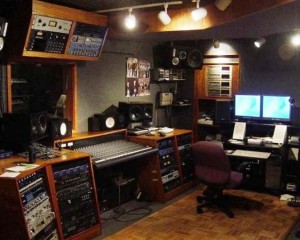 With powerful and attractive designing acoustic insulation is a major part to be taken care off. Do not let the sound travel out and don't let the outside world disturb them. Install wall partitions, sound prove glass, zoom in the room for the perfect concentration on music and melodies. After acoustic insulation aesthetic and adequate illumination do plays an important role for the successful work in the music room studio. Adequate light, some spot lights, table lights, task lights, target lights etc. are important to get a feel, adding drama, touch of music and personal vibrations to create music from soul.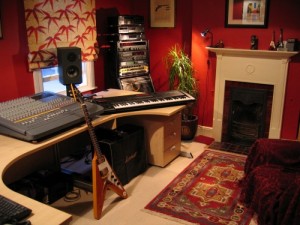 Bind up the room well with some good furniture for working, with some open racks, closed cabinets, music table, comfortable chairs and some musical accessories. Keeping of light weight furniture is more important rather than putting up heavy and over designed furniture. Accommodation of few open racks, wall niches etc. are necessary to keep musical instruments and it is like adding up more glory and feels to the room.  Create functional built-ins that incorporate your favorite instruments and working needs together for a flexible and more comfortable area to work in. Placement of Guitars, Casio, music stands, woofers, etc. makes it a perfect dilute of melodies and designing. The musical instruments add warmth to the room.When choosing a guitar for your music room, consider colors that blend with the room and a way for controlling the humidity in your guitar music room.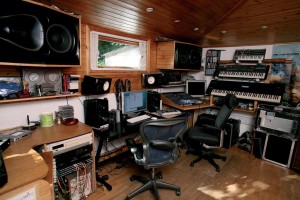 Rug or carpet the floor for the silent and comfortable floors of the music room studio. To give in more of the professional look and touch you may create a stage incorporated with your music room studio to get the feel of serious professionalism. Apart from that place a sofa or a relaxing corner for some of the time to take a break. Giving in a comfortable and relaxing nook is as important as placing melodious designing in the music room.
Music rooms of home, music room studio whatever it may be it always gives a new life, new hope, fresh creativity and relaxation to all the age groups and people. Music is the one universally accepted language by millions. So, let your design speak the melody of music and comfort the hearts of many with freshness, calmness, creativity and relaxations.

comments