Clicking out pictures, buying new paintings, stunning art work and then simply arranging them on the walls is the plan of every home maker or occupants of every family isn't' it..!  It's an easy job to think but actually it's not at all a simple task to go with. Arranging the pictures on the walls is an art and it needs unique talent, appropriate knowledge and knowing the system of arranging the pictures. Most of the people hang artwork, pictures, family photos etc. too high or either too far apart, or as a result it looks lonely on the walls. This is a common dilemma for homeowners or private office owners, so here I am trying to put together a few guidelines for hanging art pictures, family photos, paintings etc. in  your home, offices or interiors wherever you wish for.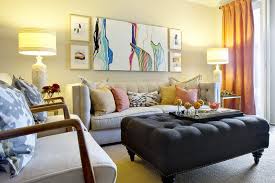 Placing pictures at some of the particular and important spaces like :
ü  Above the sofa: Hang six to nine inches above the top of the sofa. The grouping or size of the artwork/picture or photo  should be about two-thirds the overall width of the sofa.
ü  Above a mantel or console: Hang four to 12 inches above, depending on the height of the mantel or console. If the mantel is four feet or taller, then hang four to six inches above. If the artwork (or mirror) is taller than three feet, lean it on the mantel or console for a casual effect.
ü  In a hallway, on a landing or on a blank wall: The middle of the artwork/photo  should be 66 inches from the floor. On a double-height wall, such as in a foyer or loft move the artwork/photos  up three to four inches in order to take advantage of the extra height and proportions of the space.
ü  Up a stairwell wall: Follow the same rule as for hanging art on a blank wall, except measure 66 inches up from every third step, forming a diagonal line that the middle of the artwork/photo will follow.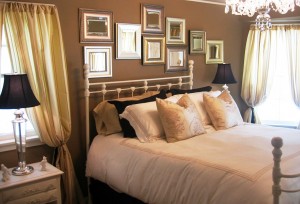 Apart from arranging the picture, artwork or photo's on the wall  few factors are important to be considered before putting up your efforts ; like length and height  of the wall, color of wall, is it a formal or informal space, surroundings of the wall, furniture design, décor and present accessories placed in the room or space. Look at the total shape of the wall first. Big walls need big interest, either with one large piece, or a grouping, to create big impact. Adjust to the shape of the wall. Tall walls, add height, long walls, add width. Arrange the "like"  art symmetrically. Frames, matting, subject matter look similar. This approach fills ANY shape of wall with formal, equal, balance and impact.
Arrange "unlike" art/photo asymmetrically. Collections of different shapes and sizes can be arranged with great visual interest. The secret is to cozy them up to each other. Keep spacing close or overlap them for an informal casual feel. Let art inspire room colors and designing. Pull some of those great colors that you love in your art to inspire the rooms palette. Mix and match elements well and in a smooth blend. Mirrors and art together fill a big wall beautifully. A great trick if you don't have enough art to fill the scale of the wall. Leave some breathing space between arrangements. Wall space with nothing on it is just a waste and dull wall which cries out with negative vibes.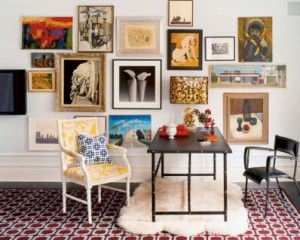 Pictures arranging styles  are commonly known as grandeur, perfect fit, chain reaction, centered, niche, on the shelf, close knit, simply stated and just because. Browse each styling with its name to catch the perfect arrangement of pictures and artwork for your spaces to acquire the perfect and required knowledge about picture or photo arrangements in your interiors. To ornate the framed walls, curtains and draperies can be fetched in to charm up the single big pictures. So, picture/artwork framing and arranging family photo is an interesting art isn't it. Taste the unique flavor of arranging pictures and get the well-designed, pampered and aesthetic walls for your interior spaces.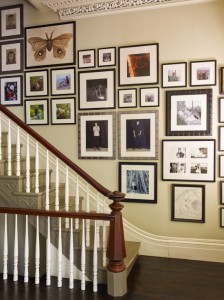 Image Credits: http://www.homegoods.com/

comments