Choosing the best kitchen windows for your home kitchen can make a huge difference in appeal, convenience design and space of the respective area. It's like changing the front frame of your kitchen and getting more of the space to store, more design to showoff and more versatile counter to work on. But choosing the most appropriate window among all the kitchen window types is more important than merely placing the one. While some windows like casement, double hung and sliders provide ease of use, others such as garden, bay and bow windows give you a place to store things without taking up already limited counter space which can make the time you spend cooking a cleaning much more pleasant.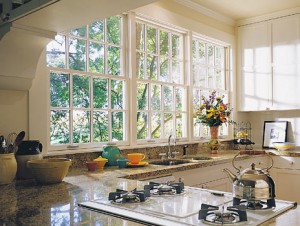 Kitchen window types/styles.
Double Hung / Slider Windows – Traditional styles that provides easy cleaning and great looks as well. Placed well at a long wall or a long window space. Gives kitchen more of the spacious look and provides good amount to natural light during day time and nice view during evening hours.
Casement / Awning Windows – Work great in limited space kitchens and provide superior air flow with good amount of aesthetic appeal. Always works good with cramped spaces or in front of kitchen sink.
Bow and Bay Windows – Great for breakfast nooks and offer maximum light and extra space to serve your food fast and better. They are like adding extra space with awesome looks and classy touch to your kitchen area. A perfect place to be accommodated as the snacks center or snacks corner of the kitchen.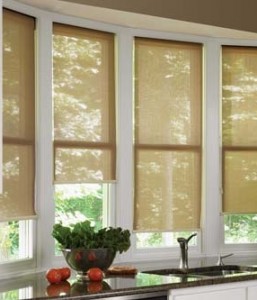 •Garden Windows – Very popular kitchen windows that fit in small areas and provide extra storage space, gives an opportunity to install some sweet cute indoor plants in your kitchen. As the name suggests "garden window" it gives full amount of pleasure to install flower pots, vases, artificial grass and plants etc. to give a kitchen a fresh and green look.
•Picture Windows – Work well for tight areas but don't allow air flow but on the other hand gives a good outside view from your kitchen space.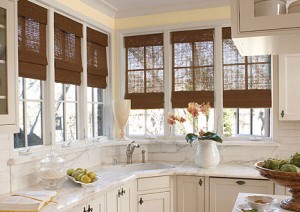 So, after knowing your kitchen window types it is like getting a clearer pictures which one to install and which one not to.  Add more of the beauty to kitchen space by just installing the one and dressing it up well with blinds, curtains, open racks, using the window space by different creative styles etc.
A big window always gives you pleasure of more light, good storage space, styling area and aesthetic look. And on the other hand according to the requirement of small cramped spaces installation of small window covers up the necessity of providing light, outside view and required aesthetic appeal.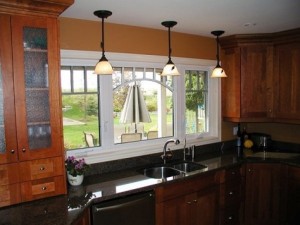 Kitchen windows provides good amount of light , air flow, ventilation and outside view but also they can provide a good storage space if accommodated with deep window sill to them. The home owners gets and can manage valuable green space to install herbs, indoor plant, or one can use the sill by just storing few regular utensils, crockery, some other needful items etc.
So, don't just install a kitchen window in fact you may go for a good and slight makeover of your kitchen space by just replacing your old kitchen window by the new one. Customize your kitchen look, window area with more of the modern and modular look to get most and more of it. It's time to make good utilization of your kitchen window rather just putting it up for light, outside view and ventilation.

comments