Undergoing a kitchen renovation or making a new kitchen then do not forget to filter variety of materials and accessories to get the best one for your kitchen designs, plans, counter top, shelves etc. Adorable and inviting kitchen is made with wonderful kitchen counter tops. Charming, comfortable to work at, well designed counter tops always gives the wow look to your kitchen designs and ideas. To get the most desirable kitchen one must step to select the best kitchen counter top material  which should be long lasting, good in looks, comfortable to work at, easy to maintain, easy to clean up, durable for years and gives a classy and amazing looks as well.  So, what are you waiting for let's start it with the most popular and commonly used kitchen counter top materials.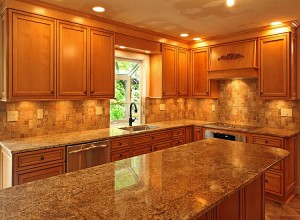 Granite – Special blend of colors & textures .The pros of granite surfaces : Ideal for cooking enthusiasts,  Stain-resistant,  Heat-resistant, Available in dozens of colors, more durable than marble, won't scratch, resistant to heat and water if sealed, low-maintenance and high resale value. But Cons: They are expensive, requires resealing about once a year.
Corina – Creates beautiful, stylish realities spaces that withstand the realities of every day living. Pros: Durable, smooth surface, can seamlessly integrate sink and backslash, easy to sand away stains or scratches, lots of color and pattern options available according to your choice and requirements, can imitate other materials like concrete and marble. Cons: Can be easily damaged by heat, easy to scratch and dent, can get stain easily.

Laminates – Blend of variety, colors and something which is very easy to maintain & affordable by every class. Pros: Stain-resistant, waterproof, lots of color options, low-maintenance and  inexpensive (easy to your pockets to get desired kitchen counter-top color, patter or design). Cons: Can crack and scratch, not heatproof, difficult to repair if get damaged.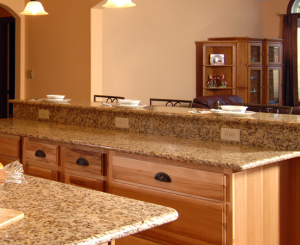 Wood –  One of the country styling way of designing counter-tops. Pros: Good for chopping/prep surface, gentle on delicate glassware/china. Cons: Easily damaged by burns, dents, spills and scratches, requires food-safe protective sealer, needs regular maintenance, will discolor if installed around the sink. Wooden counter-top gives more of disadvantages than advantages.
Marble – A simple and solid way to get a kitchen counter-top. Pros: Comes in a variety of colors and patterns, smooth surface, won't chip or dent, heat-resistant. Cons: Expensive, can be scratched or etched by acids (citrus, coffee, alcohol, some cleaning products) even if you seal it. But after granite its one of the best counter top materials.
Steel – A classy choice to design your counter-top. Pros: Durable, stain proof, spill proof, temperature-proof, easy to clean and maintain, help reflect light. Cons: Can nick and scratch, can show fingerprints, noisy. Its basically choice for the professional kitchens .
So, here we're with so many choices & pros cons of different materials. Choice is all your's to make your kitchen more beautiful and durable.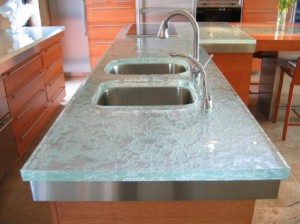 Counter-top design may vary according to the kitchen size, shape, amount of work to be done, type of work expected (more of baking, preserving, oily and spicy food preparations etc.) and number of family members using the kitchen for work. Counter-tops are the base of every kitchen weather it's a residential kitchen or professional kitchen. Comfortable counter-top design gives the pleasure of easy going work without any distraction and interruption.
With more of the designs and materials emerging in the market of kitchen counter-top its easy as well as difficult to choose the most appropriate one for your kitchen. Browse the world of counter-top and choose according to your kitchen requirement, designs and budget. Counter-top is the most basic and vital part of kitchen and can't be replaced every year or after few months. So, it's better to glam up your kitchen with best suitable material and design to serve best for years.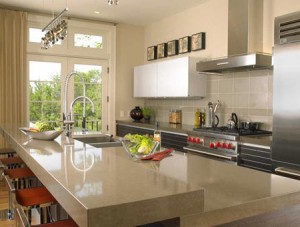 Image Credits: www.gozetta.com

comments