Designing behind the bed or bed headboard wall is one of the most important and playful element for any bedroom and especially when it comes to a "master bedroom". It provides emphasis and the most powerful visual impression to the room.  It creates a drama, a visual impact and a sense of romance with feel; in short, it gives a complete look and touch to any bedroom which is full of romance, sweetness and a seductive invitation to relax back at your room. Apart from atheistic values and hidden treasures of design it gives a trendy and handy look to the room. Well designed and used wall gives comfort for keeping any sort of thing as well as gives a complete feel and atmosphere to the room.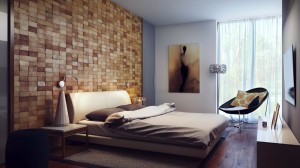 To create or to achieve this romantic feel, super designed background or headboard wall one must try their hands on these valuable suggestion which might work out with wonders and create that missing romance and feel in your bedroom.

v  Keep the room's designing with headboard wall designing light, romantic, less messy and simple: More complicated and over designed work always create mess and ruin up your design ideas and feel you want to achieve. Better play safe and tactfully. Keep it simple but elegant, dramatic but romantic.
v  Use of bright colors or romantic colors can be a useful and working tool to create that required ambiance in the room. It helps clicking up your mood.
v  Texture or different kind of patterns can work equally good. Frame up the couples most romantic and sweet picture on the headboard wall for that charming and sweet look in the room. Different fabrics, materials, texture art etc. helps in spicing up the design settings of the room.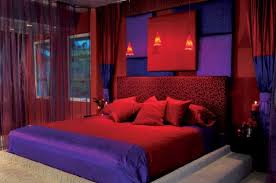 Dramatize the wall with different and effective light effects to create that "wow factor" in the room. Artificial illumination if placed well in the ceiling or hidden the back wall or headboard wall of the bed can sizzle up the chemistry of the room. Cushion up the headboard wall or headboard side with different color or silk pattern cushions for the feel and the charm.
v  Let the room theme get well connected with wall decor's, furniture designs and accessories. Furniture too play a vital role in setting up the room's designing and effect. One need to take care of the furniture setting, placement, utility and design to mix up well with the over all decor and charm of the room. Placement and choice of accessories should get well connected to the room's atmosphere and feel.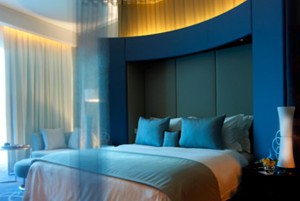 Just having a discussion on tips is not done talks have a brief and smooth  talks about material which can be perfectly suitable for the background or wall design to create love, peace, charm and sense of romance in the room. Texture paints, wall art, some romantic paintings, couple's (wedding picture), laminate works, leather wall paneling,  wall papers, wood wall paneling, etc. are the material which can create equal balance between the design aspects and feel aspects. Let the background wall get well connected to the other walls of the room for a well webbed romantic and peaceful time. For some extra and sweet efforts installation of side table lamps or table vases with flowers is always a nice idea to go with.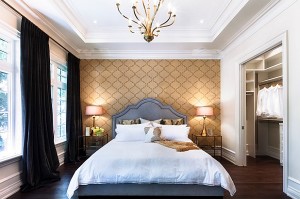 It's just not a background wall or a headrest of bed to design and create effects it directly applies to the emphasis of room and aesthetic feel. Blend the beauty of designs with glow of charm and dramatic effects of lighting. Create a perfect place of romance, peace, calmness and love with your design and decor's. It's time to tickle the mood and play cleverly with the tools of designs and creativity.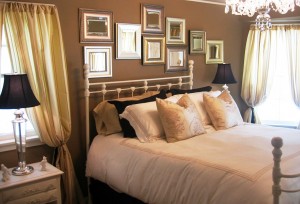 Image Credits: http://www.hgtv.com/

comments