Here it's time for some delicate yet bold designing, if you are planning to remodel or make a new room for your princess daughter, sister or friend. Girl's room designing is as delicate and interesting as a girl herself. There lots of scope to show your skills, to plan your ideas, to implement your creations because girls like colorful, creative, soft and touchy designs for their personal world for their bedroom. It's not at all important to just implement pink everywhere in the room. Try to come out of this myth and grow up with some original and natural ideas to design a soft and sweet den for your angel. I know pink can be an option to design but remember pink is not the only option to be used and implemented. Give your girl a chance to grow better, explore more and understand everything with the help of variations in design ideas and color choice.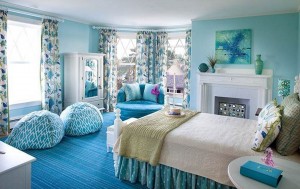 You may experiment with mixing up together bolder colors and patterns. Give some space to the design to grow up and maintain a parallel balance with her age and requirements.  Keep the room decors soft and delicate. Let the wall colors speak up the purity of her heart, thoughts and dreams. Try your hands with brighter combinations of colors or contrast clash speak the language of eclectic yet united palate of design. You may try for the bold combinations like orange, brown, red purple or pink and which perfectly falls in for all the age group and thoughts. Gather up unique and decent designing to make her feel special forever.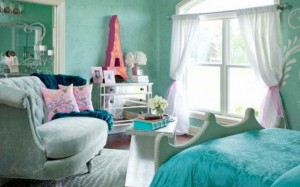 Make her room sense more decent and adorable by putting in some mature furnishing, comfortable floor treatment, some silky and smooth window dressing escorted with impressive and bold furniture. Keep some of the corners of the room bit more girlish or childish to give her a company of comfort and personal touch. If you are in doubts how to create that missing magic simply applies and mix up of white and ivory with muted tones will gather up the missing magic with more of the girlish and chic look.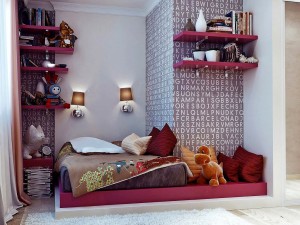 Girls are very touchy and sensitive about their bed placement, behind the bed wall design, storage, wardrobe, well organized study unit and most importantly a simple plain dressing table. Let the bed get placed centrally in the room to get more of the space at both the sides. Placement of the wardrobe shouldn't obstruct her smooth process of storing and organizing her stuff as well as should be well connected to her dressing table or dressing mirror. Let the background bed wall get the focal impressions with some girlish paintings, feminine textures, wall art etc. according to her choice and needs. Implication of wall papers with bright accessories escorted with some graphic rugs gives out a classy and winner combination to the room.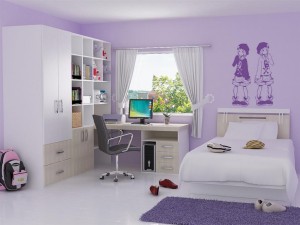 After so much of hard-work and efforts no need to forget about lighting in her room. Place a magical chandelier in her room that can create a whimsical feel forever. A table lamp gives its special touch to the room for those growing up moments and for a silent company during her late night study and dreamy nights as well..! Mix up your ideas well to get the most beautiful room for a beauty. Let each and every corner speak up the language of sophistication she has, make a visible picture of her simplicity in her room and let her rejoice the journey of life and growing up with your special and delicate sense of designing and decoration.
 Image Credits: www.hpmirror.com

comments