The kitchen is one of the most important rooms in the home because it is one of the most lived-in. The kitchen is used to prepare meals, eat, work, and entertaining friends and family.
This space will always hold a soft spot in everyone's heart, but a poorly planned kitchen can naturally be the source of a lot of frustration. If you are planning on remodelling your kitchen make sure that you not only focus on the aesthetic you desire, but also the functions of the kitchen. Upgrading your kitchen is a huge investment, and we all want a space that works well.
Organization and Storage
Not an obvious one in terms of aesthetic, having sufficient storage and good organization will make your life easier. Pots and pans pouring out of cupboards? Say goodbye to this. When you're remodelling make sure you plan for more storage space than you think you need. We all accumulate things as time goes on and you will be thankful later for the extra space. A good rule of thumb is to plan for an extra one third of the storage space you think you need.
Once you have the storage space figured out, it is a good time to plan an organization system. This is often intuitive, but putting thought into it will result in the most efficient system. For instance, store your dining tools like plates, cups, and utensils in one area close together while the cooking materials are in a different section. This will make everything easier when you're setting a table or preparing a meal.
Custom Cabinets
A good way to ensure you get all of the storage space that you need, is to look into custom kitchen cabinets. This is the best way to capitalize on the room that you are working with. Home owners working with a small kitchen might want to get custom cabinets made that are taller than the average ones sold in stores so that they are able to maximize their space. Not to mention that they are made in the exact style and tastes of the home owner. These kinds of features are often worth the investment and tend to be good quality, meaning that they will last for years to come.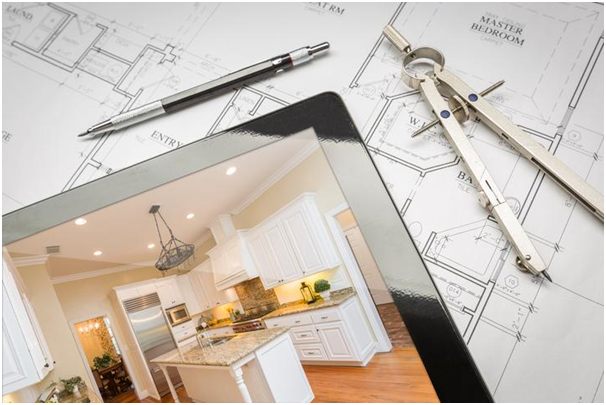 Kitchen Zones
We touched on dividing the kitchen storage into sections, but the truth is that there is a lot more to this process. There are 5 typical sections of the kitchen that should be grouped together in order to form a liveable and workable space. This includes:
Food Storage – This includes the items in the fridge and the pantry. It is a good idea to place these two things in close proximity in order to make cooking as easy and quick as possible.
Food Preparation – You most likely want your food preparation section close to the food storage if the layout of your kitchen allows for it. This will be the counter space that you work on.
Pots, Pans, and Cooking Tools – This section should also be close to the food preparation section of your kitchen to ensure an easy workflow.
Cleaning and Waste – This is very straightforward. Often the garbage and cleaning products are kept under the sink and out of the way of everything else.
Dishes and Cutlery – The dining portion of the kitchen is often like the final touch. It will be the last thing you reach for when preparing and eating your meals.
Appliances
If you are looking for new appliances, always have use in mind as the primary deciding factor. Sure, it's good to know the kind of finish and colour you prefer, but it should not be at the expense of other features. This might be capacity for a fridge or heat on a stove. Always keep in mind what you need from your appliances first. It is also a good idea to ask about energy efficiency when it comes to these appliances in your home. This could save you money in the long run.
comments