A home is probably the biggest investment one will make in his or her lifetime. It is only natural that you want it to be beautiful. You want it to be a place where you will feel relaxed, far away from the stressors that may be giving your anxiety. But how can you achieve a more livable space inside and out? Check out the following tips that you can follow to make your home more liveable.
1. Declutter – one of the best things to make your home an inviting space not just for your family but also your guests is to get rid of unwanted clutter. A home that is messy, or even just messy to look at will not be an inviting space. It can also be a breeding ground for dirt and pests. Make sure to do a regular spring cleaning and determine which things in the house are no longer needed. You can donate them or hold a garage sale for extra income. Clothes that are not in season should be put in storage so as not to take up too much closet space and keep your knick-knacks to a minimum to create a more streamlined space.
2. Make being comfortable a priority – here's something to remember when sprucing up your home. Comfort should still be a priority over aesthetics. You may have thought of a scheme or theme you want to follow, and you are eyeing certain types of furniture for your home. But be sure to check that this new furniture will not just look beautiful but it would serve its purpose of making the inhabitants feel relaxed and comfortable inside the home. A beautiful, sleek couch may tie in well with a modern theme for the living room, but if it would be hard to sit on, then your home would not actually be liveable. It may look beautiful, but if people would rather spend their time elsewhere, then you need to rethink your choices.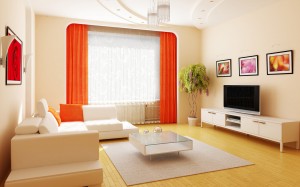 3. Consider using furniture that can do double-duty – a good trick in decluttering your home is to hide the things that can be considered clutter. How do you hide it? By incorporating more storage in different areas of the house. You can do this by using double-duty furniture. For example, how about buying an ottoman that would double as storage for other stuff?
4. Add plants in and outside the house – your house should not just look inviting from the inside, but from the outside as well. People can already form their first impressions of your home without even stepping a foot inside of it. Plants can make the space more beautiful. If there is no space for landscaping, just a few pots can do the trick.
5. The smallest details matter – it's not just about the big furniture pieces that you need to think about, but even details like window treatments can make a big difference.  Anne from Inside and Out Living in Sydney's Northern Beaches said that window furnishings, from curtains to blinds can help create a mood for the room. Check out their line for everything from upholstery to soft furnishings to make your house more livable.
comments