Over-the-sink kitchen windows are effective in attracting attention. As such, you need to ensure that they always radiate a gratifying look. Unfortunately, dressing these kinds of windows can be a daunting affair.
While you need the dressing to look great, you have to ensure it's practical. The sink is one of your kitchen's high-traffic areas where a lot happens, including accidents. The window, on the other hand, provides a lovely view, and a nice distraction from the kitchen tasks.
So, when choosing a window treatment for yourover-the-sink window, you have to ensure that it enhances the beauty of your windows without undermining sink activities.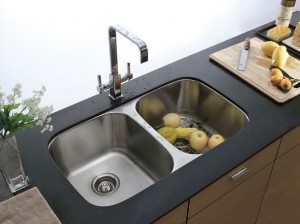 That said, let's look at some tips to help you decorate your over-the-sink kitchen window.
Keep the Window Free of Coverings
One of the most effective window treatment ideas for over the kitchen sink window is to install shades such as wood blinds. This way, you won't need to use window coverings, which are prone to soiling.
These non-fabric treatments will also provide the much-needed privacy without affecting the entry of natural light into your space. If your kitchen window is too large, you can frame it using tapered jabots. Knife-pleated short cascades can also do a perfect job.
Experiment with Designer Finishes
Try to spruce up the area above your kitchen sink with a fancy two-toned interior canopy. You can mount this close the ceiling before adding some adornments like tassel fringe or brush.
Another great idea would be to work from your window's ceiling height. You can install an externally-mounted decorative cornice with a matching clutch-roller shade below the window to create a striking effect.
Try Ready-made Curtain Valances
There is a vast selection of ready-made curtain valances and café curtains that are available on the market todaymade explicitlyfor kitchen windows. If you prefer something that is easy to maintain, you should choose a decorative rod, clips, and rings with café curtains.
If you are more into hard window treatments, you can go for blinds or woven Roman shades.
What if it's a Corner a Window?
If your over-the-sink window is in a corner, you can hang a curtain rod diagonally across the top of your window frame.  You may need to mount a bracket on each opposing wall to support the rod. You'll then need to add a touch of visual interest to the space.
You can achieve that by using lightweight cotton, sheer curtains, linen, or a valance. You may want to use natural silk fabrics, but it's not a good idea to use them above a sink. These fabrics need professional dry cleaning, and food and water stains can be difficult to clean.
Also, be sure that your curtain rods match the rest of your kitchen décor, including paint schemes and cabinets, to create a unified feeling.
Conclusion
Over-the-sink kitchen windows normally offer pleasant views and a nice distraction from the tedious kitchen activities. While dressing such windows is never easy, you can make things easier by keeping the above tips in mind when decorating your over-the-sink windows.
comments