A bedroom connected to a sweet, adorable, beautiful balcony is dream of nearly every individual and especially they are mostly desired by young couples, teens and lovely ladies. After all, the outdoor projection which is so beautifully connected to the world of stars, calm and cool air, and morning sun pampers; etc. should be given a real nice design and décor treatment to fill it with the colors of attraction, appeal and seduction. There is not point of wasting such a beautiful outdoor area which can actually make your room look lovely, more beautiful, pleasing and wonderful. It is like getting an extra space of to sit by and spend lovely time with your loved one under the shiny nights of stars, start your fresh mornings with the lovely hugs of morning sunrays. To make your wonderful balcony more beautiful it is important to pamper it with few things and keep changing the décor's for a fresh look.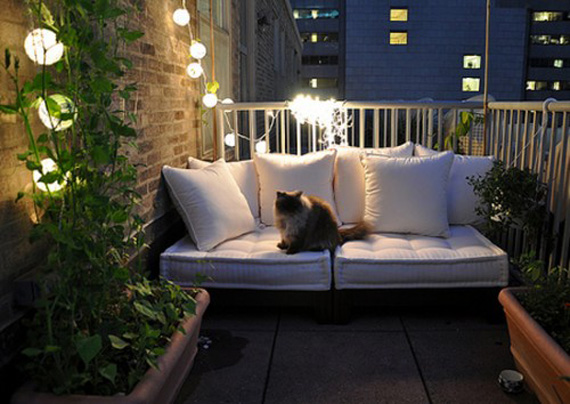 Balcony beautifying tips go as follows. Try them and make your small little heaven more pleasing and sweet.
Fill your balcony space with flowers: Filling your balcony with colorful flowers not only makes it look beautiful, but gives you extra privacy and serves as a distraction from other things, like your drying laundry. It gives balcony more of the complete and sweet look rather than a lonely vacant space. Moreover, the fragrance of the flowers will keep beautifying your bedroom decors as well as keep your balcony smell fresh and healthy all time.
When in Doubt, Hang and Mount flower pots: A great way to get both the beautiful flower filled balcony and still have space for patio furniture is by hanging and mounting all your potted plants. This way you are designing up your balcony well, moreover you don't need to put in extra efforts for wall decors. It is two-in one offer to get a well-designed and decorative balcony.
Make it pop: Make your balcony pop by accenting it with eye-catching colors and patterns. Input of bright colors with bold and noticeable patterns makes it more charming and hip-hop. Create the magic with eye catching colors like yellow, orange, red, blue, green etc.
Set the Style with Patio Furniture: Since your furniture becomes a focal point on the balcony, make sure you choose a set those ties in the theme you are going for. You may keep furniture styling matched up well with the room décor adjoined to your balcony.
Add mood lighting: Cover your balcony in Chinese lantern lights or Christmas lights as a low cost way for making it glow at night and provide it a mood of romance and sentiments.
Floor cushion solution: For very small balconies, face floor cushions in to maximize seating space and leg room. It grooms your balcony to more of the sophisticated and comfortable look.
Ways to bring in color: Hanging colorful lanterns and using brightly colored cushions and rugs are small details that you can use to liven up your balcony. Such slight changes can bring up major attractive décor add on to your balcony.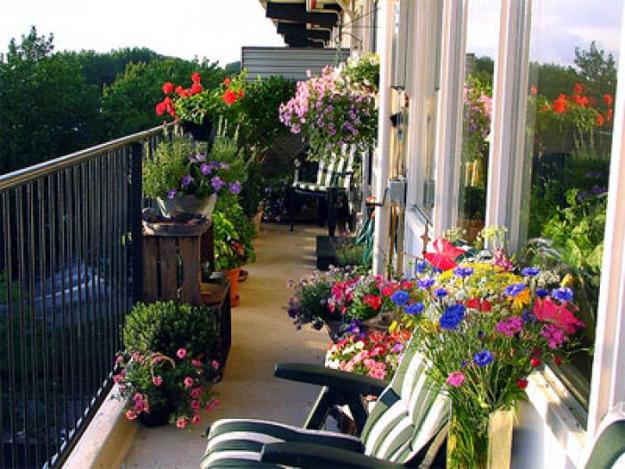 Storage space couch: Keep your eyes out for seating that also has space underneath for storage or comes with cubbies. This is one of the safe way to store in your small cushions, rugs etc. at the time of rains and sunny days.
Make it Zen: Turn your balcony into a peaceful escape by filling it with things that you find most calming like a small fountain, Zen garden and plants, herbs, grass, water blocks etc. It gives a cute feel to the balcony.
The hanging table: Decorating your balcony is all about finding tricks to save space, like using a wall hanging table that can fold up after use. You may go with foldable chairs as well. When not in use keep them aside and enjoy the view without any obstruction.
So, making your balcony look more pleasant and beautiful is not a very hectic and hard-working job. Keep calm with your designing elements, place the colorful palate well mixed up with the outdoor nature, curl up with some sweet and adorable cushions and rugs, and last but not the least a cup of coffee or a tea with your loved one makes it more than perfect…!!

comments