Every year, a survey is conducted by the indoor air health institute in order to find the best air purifiers in different catagories. This list is very useful for first time buyers that don't know about the terms and parameters to check before investing in an air purifier. There are many things to consider beforehand like the air exchanges per hour, the noise it will produce, the space consumption, CADR, efficiency in large spaces and not to forget, the budget. For these reasons and features, Coway has just won more top accolades for best purifiers in 2018 than any other brand. Let's know the benefits of Coway air purifiers and discuss the reasons for such a big statement!
The Coway ap1512hh is amongst the top 5 air purifiers for cleaning the air and removing the pollutants. It leads the list for not only its contemporary look and design but also for efficiently purifying the air several times in a single hour. In other words, the air exchanges per hour of the Coway ap1512hh is exceptionally good and will help your house stay clean and consequently giving you a fresher air to breathe.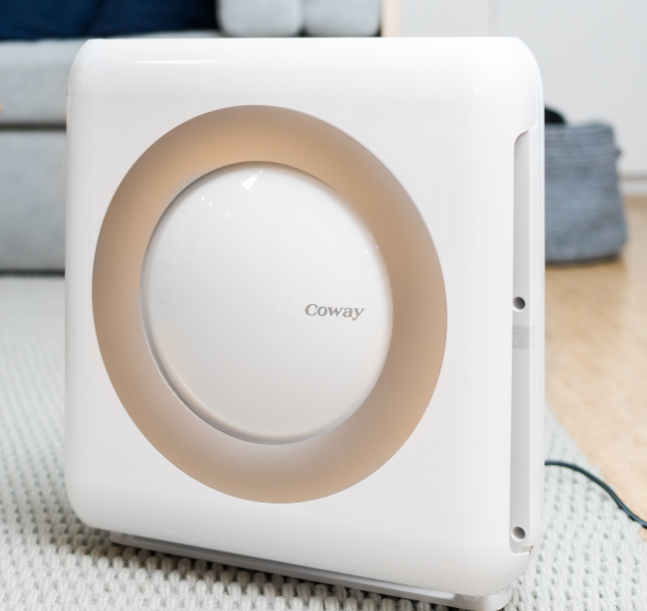 Another major reason for its high popularity among the users is that ts performance doesn't deteriorate in larger rooms above 528 square feet. It has got amazing technology to remove the tiniest particles which are responsible for increasing PM2.5 levels, it can remove the minutest impurities which can be as tiny as 0.3 microns with an efficiency of 99.97%.
Embedded with a four-stage filtration system, the Coway ap1512hh is eco-friendly and designed for energy efficiency and with all Coway products, the manufacturer also offers a 3 year warranty.
Counted among the top air purifiers of 2018, the Coway ap1512hh is a one-time investment with real long term benefits.
The manufacturer also guarantees that the noise levels of this model don't surpass 58 dB. It implies that the most astounding fan setting isn't louder than an ordinary conversation .The pre-washable filter inside this machine makes it easier for the users to clean it once in a few months for better results. Among other advanced features incorporates, the Coway ap1512hh offers to its users is the auto mode, eco mode, multi-speed fan and an inbuilt timer.
comments