Like every piece of household furniture, ottomans have a rich history that goes back several hundred years. The historical allure of these cushioned wonders further adds depth to their use as home decor and as functional pieces of furniture. In this article, we'll briefly examine the history of ottomans and provide some tips for incorporating them into your modern living space.
Ottoman Origins
If the word "Ottoman" sounds familiar, it's also the name of a vast and influential empire that spanned the late 13th century to the early 20th century. The Ottoman, as we know it today, actually evolved from a much simpler piece of furniture used in the Ottoman court. 
Back then, it was a low wooden platform without arms or a back. Like ottomans today, these ancient platforms were adorned with cushions and served various purposes, from lounging to dining and sleeping.
Ottomans quickly spread from the royal Ottoman courts to homes across the empire and beyond. First, it became popular in Turkey, the empire's centre, and then spread to other parts of Europe and Asia. 
One thing that made this piece of furniture stand out was the fact that it was a symbol of functional elegance. It was also quite versatile and easily adapted to suit different living spaces. 
Ottoman Changes Throughout History
Throughout history, ottomans have been used for a wide range of purposes. This included being used for extra seating during gatherings, as relaxation footrests, and even storage units. 
As the Ottoman continued to evolve, each region or culture where this furniture was adopted added its upgrades, styles, and designs. This explains why you can find ottomans in a wide range of shapes, sizes, and materials today, making it easy to find one that complements your home's aesthetic.
The position of this furniture piece in the home has changed over the years too. In the past, it was a large furniture piece that took up a lot of space beside other large furniture pieces. Over time, the ottoman became a compact piece placed in the corner. It has become a centrepiece, typically placed in the centre of a room. 
Incorporating Ottomans into Modern Décor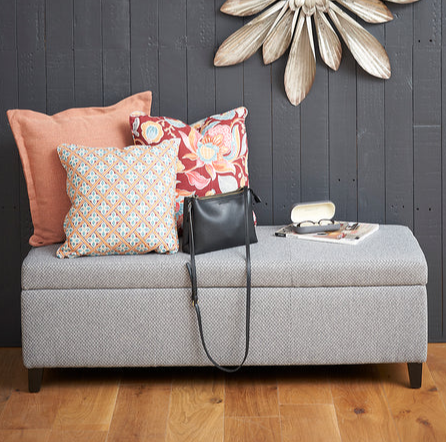 Photo: 1825 Interiors
Ottomans remain a staple in interior decoration. Here are a few ways you can enchant your home with these historically rich pieces:
As functional Coffee Tables: Large, flat-topped ottomans can serve as stylish coffee tables. 
Seating Solutions: Ottomans can be used as standalone seating or complementary pieces alongside sofas and chairs. 
Statement Pieces: Invest in a uniquely designed ottoman that is a focal point in the room. Your decorative ottoman can come in bold colours, an intricate pattern, or an unexpected shape that immediately stands out.
Storage and Organization: Opt for ottomans with built-in storage to keep your living spaces clutter-free. This ottoman type can store blankets, pillows, magazines, or even kids' toys.
comments