The final commercially distributed Womb Chair was a result of countless prototypes and full-scale mock-ups overseen by Eero Saarinen. His industrial and architectural background shines through the structure of this masterpiece. Tinkering around with different shapes and materials, he crafted a versatile chair tool that molded effortlessly to the human form, augmenting the user's experience. With such a fascinating history and even an inclusion of a boat builder, this chair has become a must-have.
Dabbling in the art of decorating is fun, but diving in entirely is the true challenge. Some might want a formal space whilst others prefer casual arenas. No matter what your choice leans towards, if you choose the right elements you can execute a flawless design. We've made this significantly easier for you by outlining a few design ideas:
1. A comfy cocoon of seating in a bright space: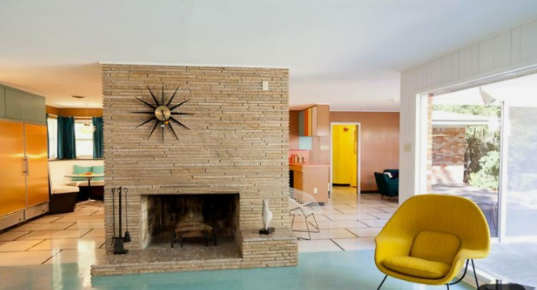 Chairs4me
When the Womb Chair is thrown in with a mix of materials and contrasting patterns, it breaks through traditional design boundaries and leads to renewed, innovative interiors. This room features bright, quirky elements and a myriad of bold patterns woven into an expansive and spacious decorating scheme. The light-colored beachy tones add a cheerful vibe to the entire room. The seat comfy mustard color of the chair stands in stark contrast to the textured fireplace, mismatched blue, and tiled flooring and wooden backdrop. This is ample proof that cozy rooms aren't restricted to warm and dark blueprints, as the sunny theme mix of textiles works wonderfully well.
2. A sleek and modern lounge: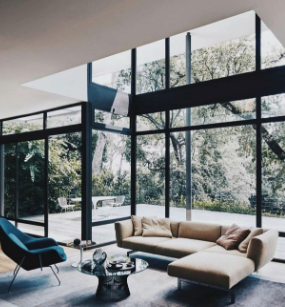 Lekkerhome
The Royal Blue Womb Chair featured above exudes a classic and effortlessly elegant aura that is translated into this contemporary living room. A rich mix of charcoal gray carpeting, matte black panels, and collection of reflective surfaces make this a beautiful refuge. The soft curves and inviting delicate silhouette of the chair atop matte chrome finished matches with the alluring aura of the space itself. With a gorgeous view like that, you don't really need a massive collection of decorations. However, the rich textures of the chair and lavish persona add a touch of flamboyant elegance. The infinite amount of light pouring in from the grandiose window arrangement covers forms a halo of light, highlighting each and every contour of the chair.
3. Art-focused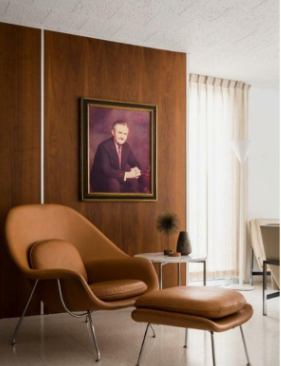 Dwell
Brass, leather and mahogany accents reinforce rustic elements and emphasize a warm and comfortable vibe. The use of the Womb Chair against the walnut wood background and marble flooring feels light and clean. There's a mix of custom elements with the chair like the icon-inspired portrait that you can easily replace with a family heirloom and a sprinkle of tasteful decoration atop the side table that breaks the primitive hazel color palette, this too you can alter with the inclusion of perhaps an arching lamp that'll help in making this focal point even more eye-catching.
4. Urban and streamlined: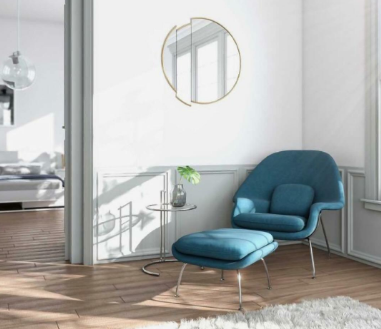 Roveconcepts
Cool neutral lay down the most idyllic foundation for eclectic décor pieces like the eclectic Womb Chair and Ottoman. You can strategically employ this well-designed decorating scheme by the use of minimal decorative objects to create a truly timeless space. As you can see, this corner oozes vintage charm with white walls, glistening, chalky furnishings like the faux fur carpet and stainless steel side table and suspended mirror.
These work together seamlessly to create a room dripping with serenity. The sophistication is further enhancing by the gleaming frame and magnificent body of the Tiffany blue womb chair amidst a cacophony of white. To make sure that the room isn't too monochrome and devoid of life, you can choose to add fresh flowers or even a metallic accent lamp next to the seat.
5. Add layers upon layers of visually stimulating elements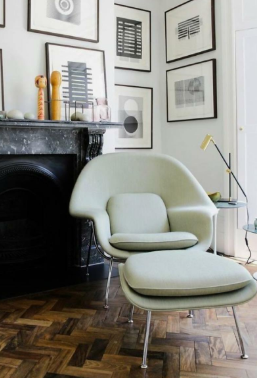 Pinterest
This architectural layout is a fantastic example of underplayed elegance. You can use the Womb Chair to enliven a classic arrangement by surrounding it with diverse patterns and darker undertones to create a new life. The symmetrical and traditional placement of the fireplace behind the snow-white seat and ottoman duo and printed wooden flooring options below, you can create a visually stimulating experience. The collection of contemporary, and humble artwork littered behind prevent the chair from appearing too solitary.
You can never go wrong with the marvelous Womb Chair, and the 5 layout ideas above should prove to be highly useful when you feel like installing or upgrading any indoor space.
comments