There are several types of floors — each of which with its share of unique qualities that make them different from the others. For most people, floor cleaning is synonymous to the word 'vacuuming.' While it is true that the first thing we pick up when we clean our floors is a vacuum — or a broom for the toned down version — each floor type actually has its own cleaning requirements that will help preserve its quality. Vacuuming can be your first cleaning step, but it's best to follow it up with other specific tips for whatever floor type you have.
Here are some simple floor cleaning tips, based on the material of the floor, that you can apply in your cleaning routine.
Ceramic Tile Floors
Ceramic tiles can either come in glazed or unglazed options. The former is shiny, which makes them more resistant to staining, while the latter is matte and has to be sealed in order to prevent stains from forming due to its porous surface.
1) Avoid using harsh and abrasive cleaners that can create scratches on glazed ceramic tiles
2) For unglazed ceramic tiles, never use harsh soaps, abrasives, or acids when cleaning
3) It's best to clean ceramic tile floors with an all-purpose cleaner using a slightly damp mop, then dry it with a soft fabric material.
4) To make the floors really shimmer, use car wax and rub it on the surface
Vinyl Floors
Vinyl floors are normally used in bathrooms and kitchens because of their very easy-to-clean quality.
1) Create your own homemade cleaner by mixing vinegar with a small amount of dish soap and lukewarm water for your weekly floor cleaning.
2)  You can also use an all-purpose cleaner, just like in ceramic tile floor
3)  Wipe it clean with a mop or microfiber cloth
4) You can also try steaming the floors. This serves as both tile and grout cleaning and will also help you remove any bacteria on the floor.
5) Avoid using too much water as it can go into the seams and lessen the hold of the flooring adhesives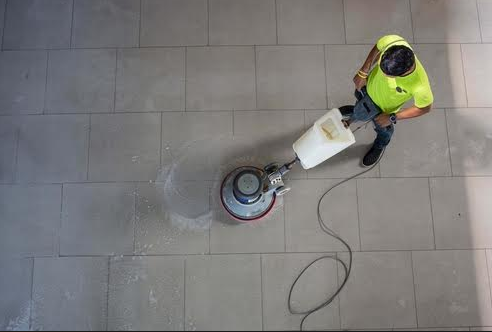 Wood Floors
Wood floors, in general, require a little work, especially hardwood floors. Having them glimmering in our homes creates a sense of pride inside, us as they scream allure and good living. Although they look beautiful and sophisticated, cleaning your hardwood floors can be a pain if you don't have the first clue about how to do it.
1) Determine what kind of material was used for sealing your wood floors
2) If yours used varnish, lacquer, or shellac, then they can be safely cleaned with solvent-based cleaning solutions
3) Never use water, unless if your wood floors have a polyurethane finish
 4) Clean them with a slightly damp mop
5) Use a one-step cleaner after you have vacuumed your floor and wipe lightly using a wax applicator
Laminate Floors
Laminate floors are often mistaken for hardwood floors because of their uncanny resemblance. Despite their physical appearance, they are actually cleaned in a different way.
1) Never use liquid or polish on laminate floors because they will bring in moisture, which could be absorbed underneath and could eventually destroy the floor
2) Dry mop it only
3) You can vacuum it every day
4) Only use a damp cloth — and it should only be slightly wet — if you have certain areas that need some extra TLC
Natural Stone Floors
It's ironic how natural stone floors — being natural themselves — have a great weakness for something natural, not to mention the most natural cleaning miracle solution used in the kitchen and bathroom. Do you know what that is? Vinegar. Yes, dear, your natural vinegar cleanser and other acidic products — ammonia and bleach — are big NO's for natural stone floors.
1) Use a mild cleanser that won't react badly to the natural minerals in your stone floors
2) If your stone floors are not sealed, you can mop it clean with hot water mixed with a mild soap
Linoleum Floors
Linoleum floors are known to be on the gentle side of floor types. As such, they have to be cleaned with extra measures. They are also mostly made with mineral pigments so cleaning them is pretty much the same as how you clean natural stone floors.
1) Put warm water in a spray bottle and add a couple drops of your dish soap
2) Spritz the solution on the surface and use a mop or microfiber cloth to clean the floors
3) You can also mix a cup of vinegar with the water to make the floor shiny and to lessen the frequency of waxing it
4) Do not use solvent-based products
5) Do not flood it with water, and avoid scouring too
6) Mop linoleum floors with all-purpose cleaner for best results
Conclusion
Floors are basic when it comes to the components of our homes and we tend to undermine their value. We use them every single day and yet we fail to appreciate their presence. They are important enough that countless businesses focus on the flooring industry — be it floor cleaning services, floor installations, or floor repairs. Why? Simply because a house is not complete without flooring. Floors keep us 'grounded' in the literal sense. Hopefully, with this article, you have found a simple set of cleaning tips that work for you and your home's flooring type. Happy floor cleaning, homeowners!
comments