Sometimes in the field of interior and space designing, we come across certain statements that are subjective in nature. They can easily be molded to fit your personal interest and yet make complete sense from the perspective of understanding and creativity. Such is the case of our current topic of discussion.
"Making your space lighter", can have various meanings to it and the count can be endless if we go on pondering over the statement. However, we take best 3 ways to interpret this and share our ideas on the same!
Meaning number 1: To play with lights to a good extent in interior designing. Yes! It's absolutely true that lighting makes a lot of difference in creating an influencing of any space. We usually think it's the furniture or the wall décor that creates the impact but if you do not give good reflections over your desirable objects of focus, you will not sail through successfully. Some easy tips to play with lights and brighten it up are as follows:
Use spotlights on focus areas and regular lights all around
Use LED's than CFL's now in order to be trendy, energy efficient and have more impact
In case you have existing false ceiling and do not want to make any structural change but yet make the space brighter, use table lamps for decoration.
Use cove lighting to add more shine to your space with regular light fittings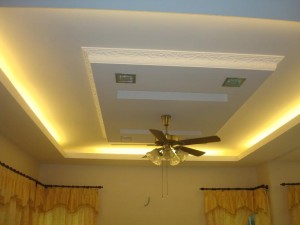 Meaning number 2: To play with colors in order to make the space look lighter and not darker in appeal. Here are some interesting ideas to do so:
Mix and match rich color neutrals and white in your décor: If your home needs some warmth, look to rich bodied neutrals such as espresso brown, camel tan, mushroom gray, and warm rust colors. The brown, white, tan families of colors are extremely versatile and look great when placed next to dark wood floors, doors, and heavy wood furniture.
Open up a dark ceiling with recessed lighting fixtures: For many homes dark painted ceilings or even wood paneled ceiling applications are common. While the darker ceilings create a dramatic mood within the room, they can also leave the room feeling like a cave. Recessed lighting fixtures or commonly referred to as "can lights" can brighten up the ceiling without being obtrusive to the eye. Consider installing a dimmer switch to have versatile lighting control.
Choose Monochromatic Colors
Monochromatic schemes are more peaceful as a rule, as the eye can move easily around the room without abrupt interruption by other colors. Use different color values add depth and interest to the space.
Meaning number 3: To make the space lighter by physically making changes, emptying the space or adding elements that make it look lighter, by disguising it to seem bigger. Here are some interesting ways to do that:
Choose the Right Furniture: Avoid heavy, solid furniture or skirted sofas. Instead choose pieces on raised legs, or made of clear materials, that have less visual weight. Also, remove the unnecessary old dump kept and empty your space up!
Unify Your Flooring: Solid continuous flooring makes rooms look far more spacious. Don't break up your room by installing linoleum in the kitchen space, and hardwood in the living room. Also, avoid most patterned carpets and rugs
Use Paint Strategically: Choose a wall color that's the same as your flooring so that the edge where they meet is less noticeable. Paint the walls and trim in similar shades of one color. Lastly, create the illusion of high ceilings by continuing the wall color onto the ceiling, making wall appear taller in the process.
Divide and rule: Decide what you want to store and keep, what you want to use daily and what you require or not require in a room so that any space can be practically planned. Enlisting these pointers will help you to plan and decide things for the better, create sections and leave empty spaces accordingly.
About the Author:
Sagar Datta heads and operates an interior design consultancy firm, Casa interio.  

comments