Home cinema as the name suggests creating an informal relaxing atmosphere to enjoy movies with your family whenever you want. Home cinema designs and decoration can be collaborated easily with living area zone, family room or any other room. As it's not at all a formal setting of design one is free to put in various kind of activity center less than one roof. When movie is not on the show, one can use the space for different activities as well.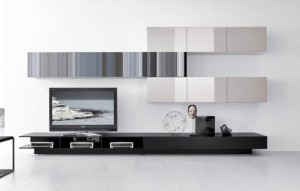 Ultimate home cinema should include luxurious upholstered club chairs, a day bed, sofa set, single chairs if required by the family. Convert your home cinema into a real theater with the amazing box sound effects and 3d visual effects. You may keep your home cinema close to your living area or family room for a smooth and fast access to all the rooms when required. For a comfortable and easy home cinema one can just randomly scatter cushions and soft mattress on the floor for that "wow and unique" informal comfortable seating or lying.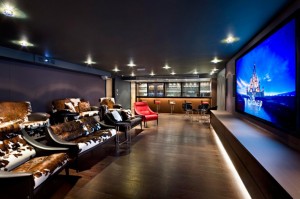 Depending upon the home cinema room size, shape and family members, one can accommodate floor pillows, day beds, etc. according to the comfort of the family. It's not a completion to place a sofa set around for your home cinema room. You can even mix and match bold colors and patterns to give your theater or home cinema desired depth of design  and visual interest, instead of just the obligatory leather seating and wide screen. Get as playful as you'd like to be with, it's your own private lounge or the most desired private place which you always wanted to have one in your residence.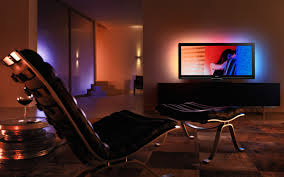 Home cinema doesn't always have to be oversize or huge, multi-leveled or equipped well with crazy and expensive theater seats. Even a small scaled space is surprisingly spacious with lounge style seating accommodated with different color of cushions, pillows, mattress etc. dark walls or a striped wall for some interest when not completely in the dark. One can even adjoin a mini bar counter or soft drink counter to your home cinema for that smooth serve of drinks and snacks during the movie.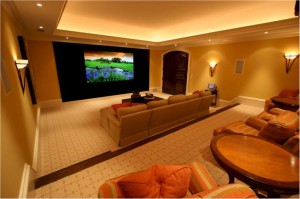 Play with the colors of walls as desired by you. It's not importantly to have dark themed walls for a home cinema. Nourish your home cinema walls with tricky color play, make it sober or soft with light tints of hue, create a contrast combination for a spicy and interesting look. Let the ceiling of the home cinema glow up well with the help of radium stickers on it. Placement of geometrical shape stickers, star shape stickers, etc. creates an incredible dramatic look to the space when the lights are turned off.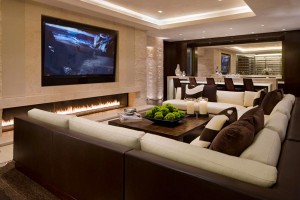 Make good use of space by adding up few storage cabinets or open racks.  If your home cinema is accommodated with living area or family room its important to use wall space or floor space for storage shelves, racks and cabinets. After-all when it comes to the multi-use of any room one has to take care of all the requirements or needs of each and every purpose.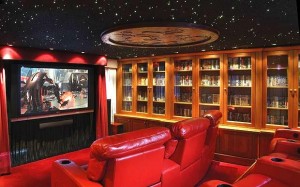 Home cinema, home theater or  luxury home cinema is a dream of mostly every home owner. One can start up with a small space well-designed and decorated according to the requirements of home cinema or theater. One day home cinema can take the shape of home theater in your residence.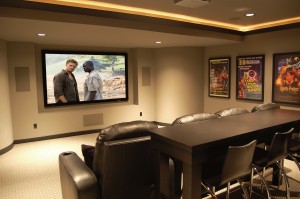 Photo Credits : http://www.zillow.com/
comments