As we step into the valentine season lets enlighten our minds to express our love to our beloved ones with DIY homemade valentine's day gifts that you can do all by yourself.
1. Rope Love Art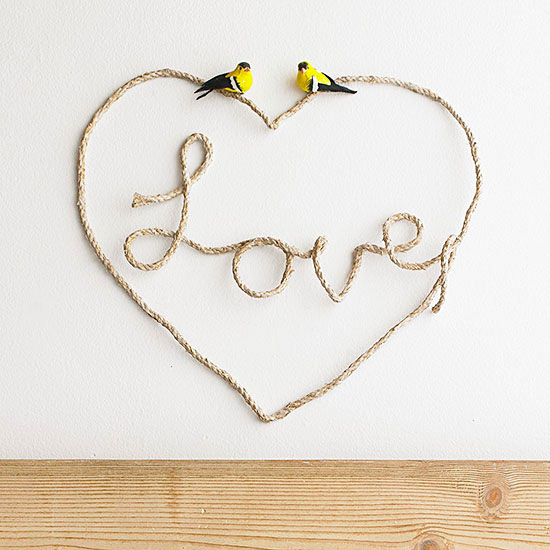 Celebrate this valentine by expressing your love for your special ones with a sweet sentiment made from just a rope. To make this you need to dose a thick natural fiber rope in a mix of 1-1/2 cups of warm water, 1 cup flour, 1 cup cornstarch, 1 cup crafts glue, and 1 teaspoon salt. Once you are done with this you need to shape the rope into a word and a frame, laying the design on a piece of plastic wrap. You can use light-gauge wire too add more stability and to form a tight letter shape. The letters should harden within 24 hours. When dry, tack the lettering on the wall, attaching decorative birds or other embellishments as desired.
2. Painted Mason Jars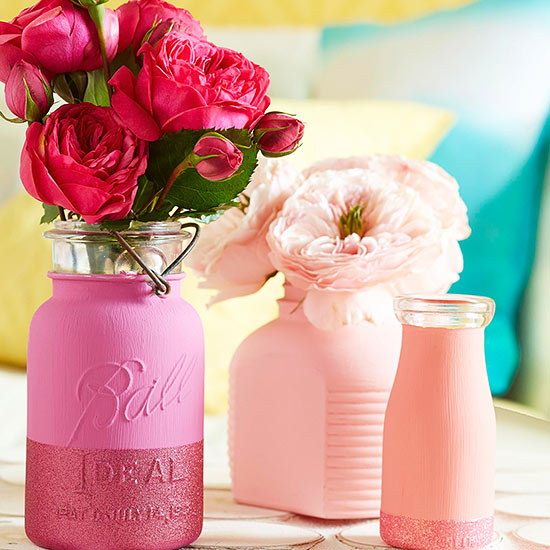 Make this Valentine's day special with Pretty pink and sparkly Mason jars flower gift. To make this you need to paint the outside of the jars with two coats of pink paint. Mix several shades of pink with white to create a range of hues. For a touch of glam, mask the top of the jar with painter's tape and cover the bottom with glitter spray paint.
3. Handmade Memory Board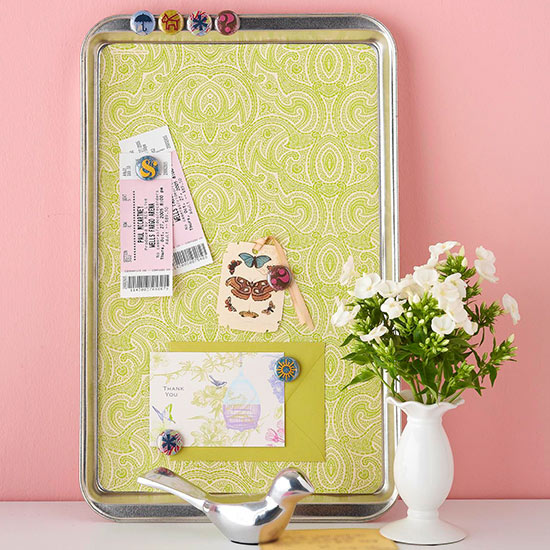 This magnetic memo board is as functional as it is stylish. Simply cut decorative paper to fit inside a cookie sheet and glue it to the pan. To make the board special for Valentine's Day, add photos of you and your loved one, an antique love letter, or a handwritten poem.
4. Photo Transfer Artwork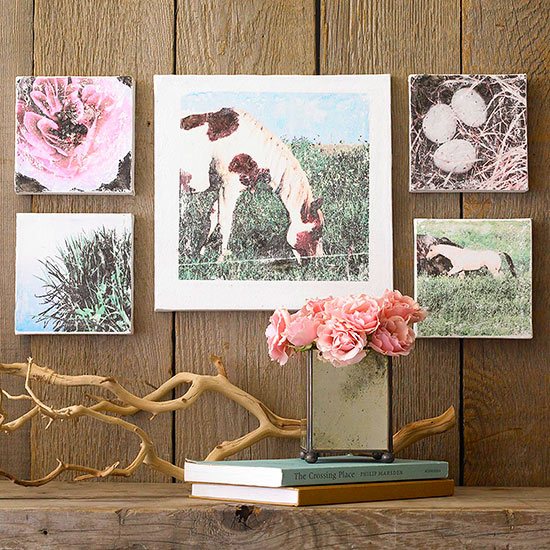 This Valentine's Day, gift a dreamy, stylized set of wall art with our simple and elegant photo transfer project. First, print a favorite photo on an overhead transparency. Cover the surface of a canvas with a thin coat of gel medium, a clear gloss finish that can be found at your local crafts store, then place the transparency ink-side down onto the gel. Burnish it with the back of a spoon. Lift a corner to see if the image has transferred, then peel off the film completely. The resulting image will have an artsy, gritty quality. Transfer several images on different-size canvases and group them for a cool wall display.
5. Triple-Chocolate Truffles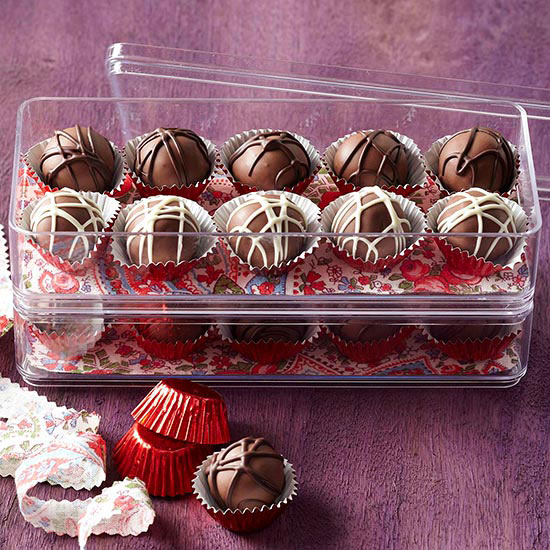 What says "Valentine's Day" more than a box of homemade sweet chocolate truffles? Plastic boxes, cupcake liners, and festive fabric are all you need to gift the decadent candies.
6.Heart-Shape Pillow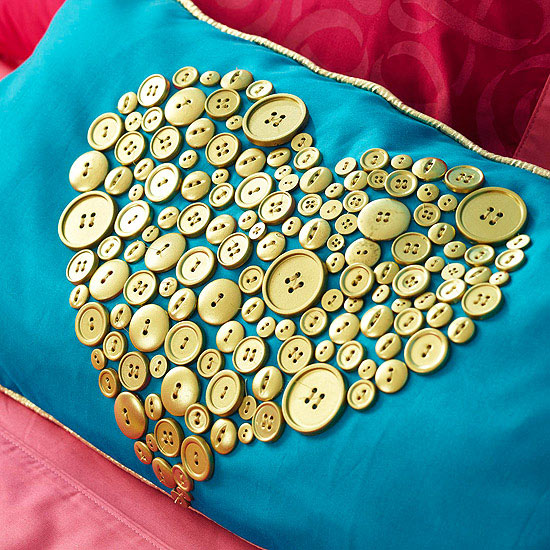 Metallic buttons easily create a too-cute Valentine's Day heart on our too-easy pillow design. Simply gather a collection of mismatched buttons and spray-paint them gold. Stitch each button onto the pillow, making a heart shape.
7. Red Roses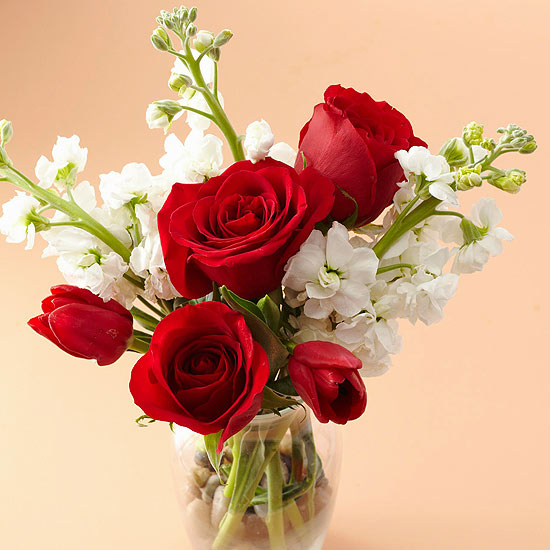 You don't need a dozen roses to make a spectacular Valentine's Day arrangement. Simply cluster a handful in a simple vase with a variety of other flowers and anchor the stems with pebbles.
8. Make-Your-Own Valentine's Day Cards Kit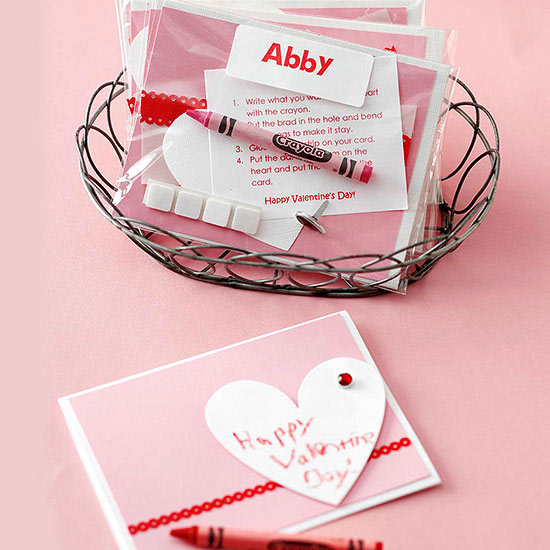 Kick off your Valentine's Day gift-giving with this fun card-making kit for kids. Not only will they love putting together these sweet valentines, but they'll also be able to give a gift of the season to their loved ones. Package a cardstock heart, bejeweled brad, red crayon, and a blank card in cellophane. Include assembly instructions telling kids to write a handwritten message on the paper heart before attaching it to the card with the brad.
9. Framed Love Quote Gift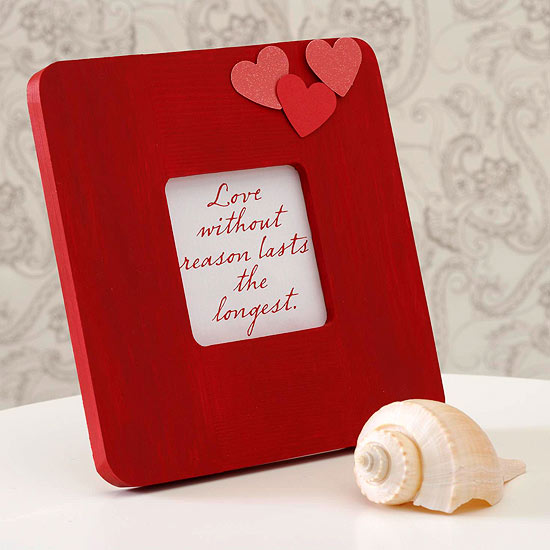 A simple wooden frame embellished with a few heart shapes displays a memorable love quote. Using a word-processing program, type a love quote in red script and print; fit inside the wooden frame. Download our free pattern with the quote, "Love without reason lasts the longest."
10. Stamped Muslin Candy Bags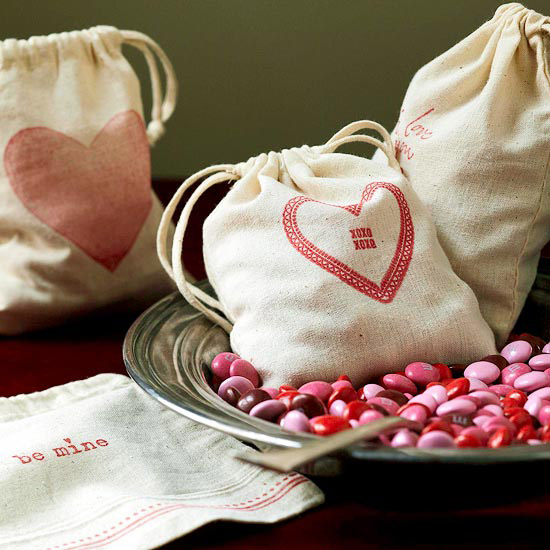 Gift your loved one's favorite candy in a hand-designed muslin bag. Place a piece of smooth cardstock inside a muslin bag and stamp an image onto the front. Remove the cardstock and set the bag aside to dry; fill with candy. Make the gift en masse for coworkers or as a Valentine's Day party favor.

comments