Gone are those days when people used to think of concrete as a lifeless, gray color flooring. On the contrary, concrete flooring has emerged as a preferred choice for many interior designers and home owners as well. You can find it prevailing everywhere, starting from commercial places to residential spaces.
As we know, concrete is chiefly used as a construction material and is well known for its durability, cost-effectiveness, eco-friendliness and long life cycle. The only thing that was lacking before is an appealing look. Well, the good news is, now it's possible to achieve that spectacular look in every possible way that you can imagine. With cutting edge technological innovations, you can add many color variations, textures, patterns, saw cuts, etc. to create a stunning design with this age-old material. What else would you want?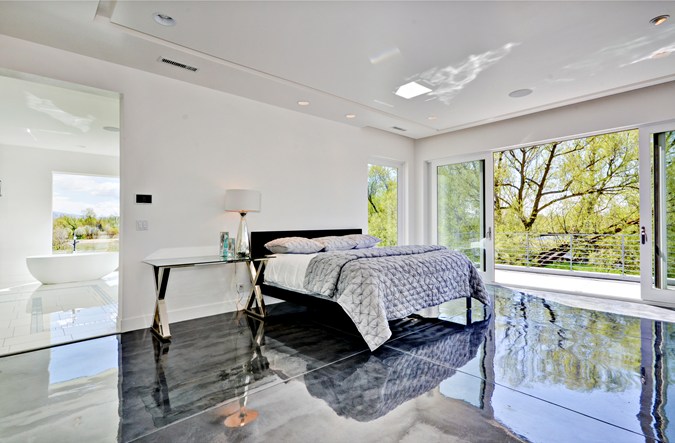 The chief advantage of concrete flooring is the design versatility it offers. Not only concrete floors can be colored or stained to match any shades, but you can also achieve fine finishes like wood, tile, slate, or marble. The limit doesn't end here. You can even enhance concrete floors with decorative stenciled borders, medallions and other custom graphics. No other flooring material gives you this unlimited array of design options and opportunities to create custom one-of-a-kind looks.
Stained Concrete Flooring
No other flooring is comparable to the peerless charm of a stained concrete flooring. Imagine any colors or hues and it's all accomplished with stained concrete. But it's not just about painting or coating colors. Basically, there are two kinds of concrete stains: dye stains and acid stains.
With many colors and finishes to pick from, dye stains offer an endless array of spectacular results. It allows the color pigments to settle down by penetrating the open pores of concrete layers. It is quite simple to apply and there is no chemical reaction involved in it as in case of acid stains. If dye staining is done properly with high quality concrete sealer, it's possible to achieve an outstanding effect.
As the name says, acid concrete stains contain Phosphoric acid and mild Hydrochloric acid along with inorganic metallic salts. These acids open up the concrete pores and allow the salts to react with chemicals for producing the desired effect. Once the work is done, the floor is washed with an ammonia solution to neutralize the chemical reaction and to clean up if any residue is left by the acid. It's then sealed with a professional grade concrete sealer to bring about the final look.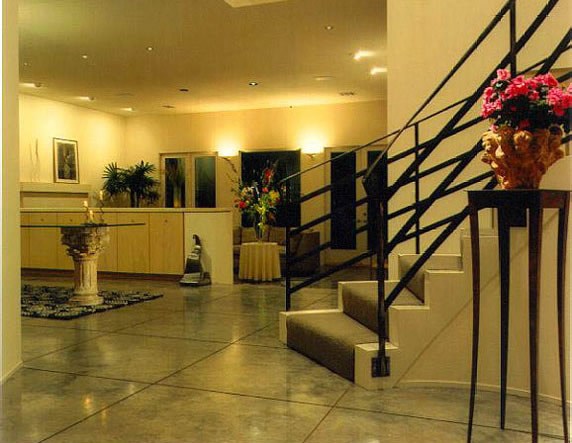 A professionally applied concrete stain can rival the look and feel of much more expensive materials such as polished marble to natural stone or even wood..
Concrete Overlays and Toppings
Decorative concrete overlays and toppings have become incredibly advance and popular in recent years. Concrete overlays are available in hundreds of different patterns, colors and texture combinations, all can be uniquely customized to simulate your interior design elements and personal taste.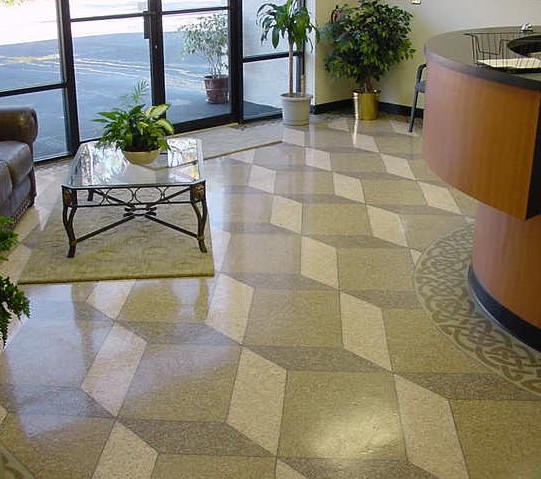 Spray-applied overlays are also a great choice for concrete flooring with paper or plastic stencils which are available pre-colored and pre-designed with infinite options. Besides, you can also apply stains or dyes to get a more exclusive look.
Polished Concrete Flooring
Worried about your old and dull looking concrete floors? Calm down and stop worrying. With recent innovations in concrete polishing equipment and techniques, now you can add a smooth and high-luster finish to your existing concrete flooring. It's no wonder that many people are opting for polished Concreters Gold Coast- Website floors to replicate the look of a polished stone, marble or terrazzo tile.  If you are Sydney area check out best concreters in Sydney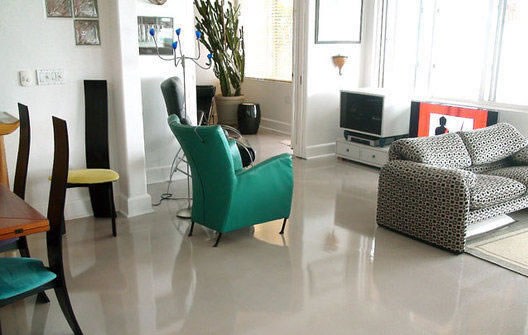 Perhaps, the most fascinating feature of polished concrete is the boundless bundles of design options available. This complete design flexibility allows the craftsman to produce enticing floors that are unique and exotic .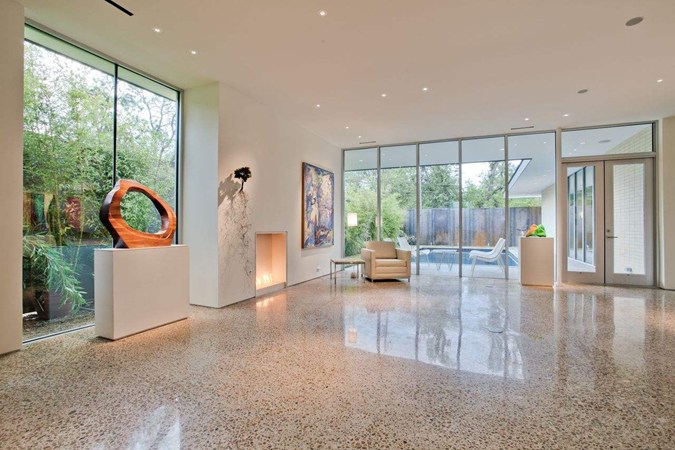 More homeowners,  interior designers and architects are choosing polished concrete as their finished floor of choice. Aesthetics, uniqueness, ease of maintenance, and light reflectivity are a few of the reasons why this flooring system is quickly becoming one of the most sought-after flooring surfaces.

comments